The Supreme Court's split ruling on Thursday that federal courts must stay out of disputes over how states draw up congressional districts has dealt a blow to advocates who want to see an end to partisan politics manipulating the maps.
Chief Justice John Roberts, writing for the conservative majority in a 5-4 decision, ruled that while "excessive partisanship in districting leads to results that reasonably seem unjust," that doesn't mean that federal judges should intervene on the issue known as partisan gerrymandering, which has historically been a way to give one political party power over another or weaken a particular group's voting rights.
Effectively, Roberts has left the issue with the states and members of Congress — who have been unable to agree on a solution in the first place, advocates calling for change say.
"The Supreme Court has walked away from partisan gerrymandering claims," said Michael Li, a senior counsel in the Democracy Program at the Brennan Center for Justice, a nonpartisan public policy institute in New York. "The door was cracked open before, but now they've shut the door and bolted it."
While a decision by the high court to weigh in on partisan gerrymandering was highly anticipated, Li said, "no one in the redistricting world has been waiting like a damsel in distress thinking only SCOTUS can save us."
Still, Thursday's ruling was a disappointing outcome for advocates: "Congress hasn't managed to do anything — that's how we got here," Li added. "This has been going on for a long time."
The dissenting justices, all of whom sit on the court's liberal wing, acknowledged that the high court was abdicating its responsibility to settle such a politically charged constitutional issue.
"For the first time ever, this Court refuses to remedy a constitutional violation because it thinks the task beyond judicial capabilities," Justice Elena Kagan wrote in her dissent.
The resolution on gerrymandering comes on the Supreme Court's final day of decisions before a summer break, and could embolden political line-drawing for partisan gain when state lawmakers undertake the next round of redistricting following the 2020 census.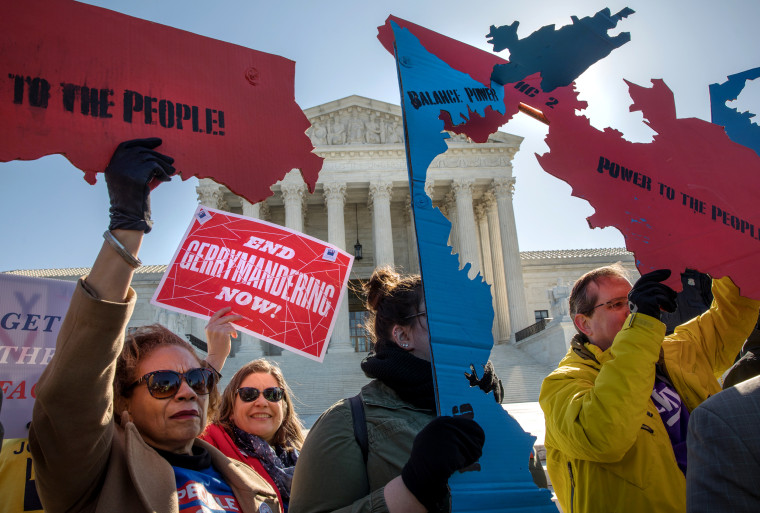 Karen Hobert Flynn, the president of Common Cause, an advocacy group that is a plaintiff in one of two partisan gerrymandering cases that prompted the Supreme Court's review, blasted the justices for having "turned their backs" on voters.
"The Supreme Court had the opportunity to end partisan gerrymandering once and for all, but instead, a narrow majority chose to wash their hands of the undemocratic practice," Hobert Flynn said in a statement.
But not all is lost, Li said.
Proponents of limiting partisan gerrymandering still have several routes open to them, including challenges in state courts.
There is also a pending lawsuit in North Carolina, in which Common Cause is the lead plaintiff. The case has its roots in court decisions striking down some of the state's congressional districts because they were illegal racial gerrymanders.
When lawmakers drew new maps as a result, Republicans who controlled the Legislature sought to perpetuate the 10-3 GOP advantage in the congressional delegation. Democratic voters sued over the new districts, complaining that they were driven by partisan concerns.
The voters won a lower court ruling, as did Democrats in Wisconsin who challenged state assembly districts. But when the Supreme Court threw out the Wisconsin ruling on procedural grounds that did not address the partisan gerrymandering claims, the justices also ordered a new look at the North Carolina case.
In Maryland, Democrats controlled redistricting and sought to flip one district that had been represented by a Republican for 20 years. Their plan succeeded, and a lower court concluded that the district violated the Constitution.
The high court agreed earlier this year to hear the cases in Maryland and North Carolina.
Li said that while Congress has failed to pass bills that could put an end to partisan gerrymandering, that could change if a new president is elected in 2020 or the Democrats gain additional seats in Congress.
State courts also have the ability to enact changes as Pennsylvania's Supreme Court did in 2018 when it redrew the map of the state's congressional districts that had given wider electoral power to Republicans.
"The extreme gerrymandering that you saw in Maryland and North Carolina only exists when one party controls everything," Li said. "If you have a governor of a different party and split legislatures, you have a fairer map."
Allison Riggs, a senior voting rights attorney for the Southern Coalition for Social Justice, which argued the North Carolina redistricting case at the Supreme Court, said another important group still holds power: the voters.
"We can participate in elections at even higher rates to voice our outrage," Riggs said. "We can demand action from Congress and work tirelessly to elect officials to both Congress and state legislatures that will heed our voice."