On Tuesday morning, Jim Obergefell will get to sit inside the Supreme Court and hear nine justices question whether states have the right to refuse marriage licenses to same-sex couples.
The front-row seat to history isn't lost on the soft-spoken Cincinnati man whose name adorns the docket at the heart of the marriage equality debate.
The high court's case is known as "Obergefell v. Hodges" — a consolidation of six separate lawsuits from four states: Kentucky, Michigan, Ohio and Tennessee.
Forty-eight-year-old Obergefell is the namesake because his suit happened to be filed first among the petitioners. Lead defendant Richard Hodges is an Ohio state official.
"I'm hopeful that the ruling will come out in our favor," Obergefell told NBC News on Friday before departing for Washington, D.C. "It's certainly overwhelming to think that our story, our desire to marry and to be recognized will be heard in the Supreme Court."
That story is a key part to the polarizing political fight for marriage equality waged in state legislatures and at ballot boxes, and has been defended and derided on social media, in church pulpits and around family dinner tables. Thirteen states continue to recognize marriage as solely between a man and a woman.
The story is also a personal one for Obergefell, who began dating his future husband, John Arthur, on New Year's Eve 1993. They were in their 20s and had met previously on three separate outings with mutual friends. But it wasn't until that third introduction when they clicked.
Obergefell, the youngest of six children in a Catholic household, found his first serious boyfriend in Arthur.
"Marriage would come up over time, but we always wanted it to be more than symbolic," he said. "We wanted it to carry weight."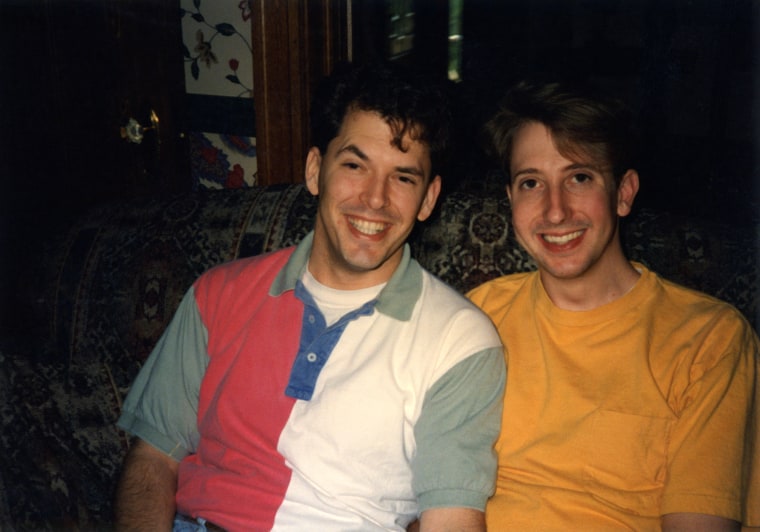 The promise to spend the rest of their lives together cruelly unraveled in 2011, when Arthur was diagnosed with ALS, also known as Lou Gehrig's Disease. He began losing control of his muscle movements and speech. Tall and lean, he used a cane to steady himself.
Two years later, when the Supreme Court cleared the way for the federal government to recognize same-sex marriage in states allowing it, Arthur was completely bedridden.
Ohio doesn't allow gay couples to marry, so Obergefell and Arthur devised a plan that July: With $13,000 raised through family and friends, the pair chartered a medical Learjet to Maryland, where they could be legally wed on a Baltimore airport tarmac.
"Marriage would come up over time, but we always wanted it to be more than symbolic"
Arthur's aunt, who became ordained online, officiated a 7-1/2-minute ceremony inside the small plane. The grooms exchanged vows and rings.
"As you recently said, it was love at third sight," Obergefell told Arthur, the moment captured on video. "And for the past 20 years, six months and 11 days, it's been love at every sight."
Their union official, the jet returned to Ohio. Family threw rice after they disembarked. Posters read, "Congrats Jon & Jim." They called one another "husband" over and over.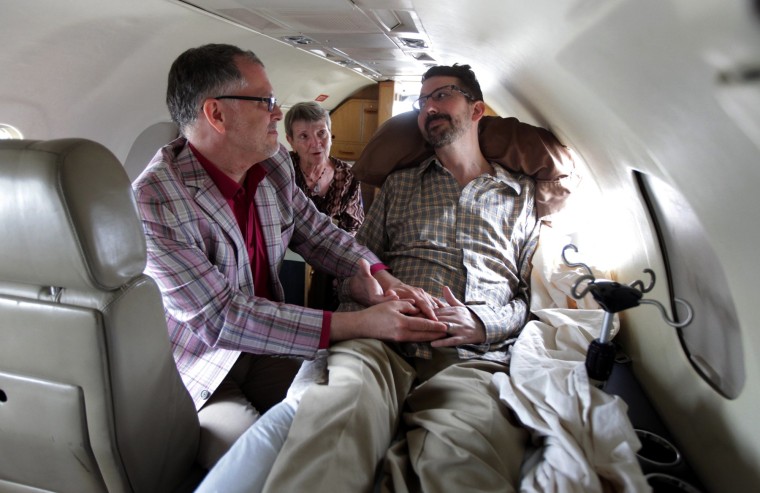 But the couple, knowing Arthur didn't have much longer to live, filed a lawsuit a week later to have their marriage formally recognized on Arthur's death certificate by the state health department. A federal judge ruled in favor of the recognition, but Ohio appealed and won — shuttling the case to the Supreme Court.
Arthur would never see the legal process play out. He died three months after the wedding, at age 48.
Ohio lawmakers first approved the state's same-sex marriage ban in 2004 — part of a sweeping movement that saw similar prohibitions in Wisconsin, Washington and California. But the tide has turned in recent years as federal judges have ruled state bans unconstitutional, and states that once forbade gay marriage flipped in a resounding ripple.
Alabama in February became the 37th state where gays and lesbians can legally wed — although counties there stopped issuing licenses, putting marriages in limbo until the Supreme Court makes its ruling. After hearing arguments Tuesday, the court's final decision is expected to be announced by June.
Meanwhile, defenders of traditional marriage have dug in.
"A lot of states in this union have caved to such unlawful authority, and this is not one," Alabama Chief Justice Roy Moore told NBC News. "This is Alabama. We don't give up the recognition that law has bounds."
As for Obergefell, he wants to know Ohio won't force Arthur's death certificate to be changed. It shows him as having been "married" with a "surviving spouse." The thought of being forced to alter the document terrifies Obergefell — should the justices rule in favor of the states.
"I would like everyone to think about the end of their life and their death certificate, their last official record as a person," he said. "Do they want that record to be accurate or not? Do they want that record to reflect their life, their love and their commitment?"
"That's what John wanted," he added. "He wanted to know his spouse was recognized."
Obergefell never set out to be an activist on gay marriage or a cause célèbre speaking at black-tie events or to have his last name elevated alongside other landmark Supreme Court cases. He lived a quiet life with his husband in their Cincinnati condo, he said. They worked corporate jobs in IT consulting. They enjoyed art. They vacationed in Budapest and Rome.
In Arthur's last days, "we never talked about what would happen (with the lawsuit) specifically," Obergefell said. "We just wanted to live up to our commitment to each other: love, honor, respect."
The men's wedding rings were bought earlier in their relationship during a trip to an antique shop. At the time, they hadn't considered the silver bands could one day be used as symbols for forging a life together.
After Arthur died, a friend suggested to Obergefell to get the wedding rings fused as one. A jeweler cut a channel around the melded band so that some of Arthur's ashes could be delicately sealed within.
"John's always with me," Obergefell said.
The widower will be wearing the wedding ring on Tuesday at the Supreme Court — a quiet reminder to himself that he is not alone.