WASHINGTON — President Donald Trump on Monday nominated Brett Kavanaugh, a federal appeals court judge in Washington, to succeed Justice Anthony Kennedy on the Supreme Court.
Trump made the announcement shortly after 9 p.m. ET at the White House, where he was joined by Kavanaugh and his family. NBC News broke the story shortly before the president made his choice public.
"What matters is not a judge's personal views, but whether they can set aside those views to do what the law and the Constitution require," Trump said in the prime-time announcement from the East Room. "I am pleased to say I have found, without doubt, such a person."
"It is my my honor to announce that I will nominate that I will nominate Justice Brett Kavanaugh to the United States Supreme Court," Trump added.
Kavanaugh then emerged, along with his wife, Ashley, and two young daughters.
Trump praised his nominee as a judge with "impeccable credentials" and said he is "considered a judge's judge."
Kavanaugh, in his remarks following Trump, thanked the president.
"Throughout this process, I have witness firsthand your appreciation for the vital role of the American judiciary," he told Trump. "No president has ever consulted more widely or talked with more people from more backgrounds to seek input about a Supreme Court nomination."
"I am grateful to you and I am humbled by your confidence in me," he said.
Trump called Kavanaugh on Sunday night to tell him he was the pick, a White House official told NBC News. Trump then informed White House Counsel Don McGahn and Vice President Mike Pence of his decision.
Kavanaugh serves on the Court of Appeals for the District of Columbia Circuit, which often rules on major challenges to federal laws and policies. If confirmed, he would make the Supreme Court solidly conservative, joining Chief Justice John Roberts and Justices Clarence Thomas, Samuel Alito, and Neil Gorsuch in a potential five-vote majority.
He would be sure to join the conservatives more often than Kennedy, who sometimes voted with the court's liberals in cases raising hot-button social issues.
In his remarks, Kavanaugh discussed his guiding principles as a jurist.
"My judicial philosophy is straightforward. A judge must be independent and must interpret the law, not make the law," he said. "A judge must interpret statutes as written. And a judge must interpret the Constitution as written, informed by history and tradition and precedent."
"I will tell each senator that I revere the Constitution," he added, referring to one-on-one meetings that will take place as part of the confirmation process. "I believe that an independent judiciary is the crown jewel of our constitutional republic. If confirmed by the Senate, I will keep an open mind in every case and will always try to preserve the Constitution of the United States and the American rule of law."
Kavanaugh was nominated to the appeals court by President George W. Bush and confirmed in 2006 by a vote of 57-36. Four Supreme Court justices have come from the D.C. Circuit in recent years — Roberts, Thomas, Ruth Bader Ginsburg and Antonin Scalia.
Reaction from Capitol Hill was swift, with many Democrats — including potential 2020 contenders Sens. Kamala Harris of California and Cory Booker of New Jersey — announcing their intention to vote against Kavanaugh within minutes of Trump's announcement.
"Judge Brett Kavanaugh represents a direct and fundamental threat to that promise of equality, and so I will oppose his nomination to the Supreme Court," Harris said.
Booker, citing the integrity of special counsel Robert Mueller's investigation into Russian interference in the 2016 race, as well as abortion rights, added, "With all that's at stake, I will fight to stop this nomination every step of the way."
Meanwhile, top Republicans — including Senate Majority Leader Mitch McConnell, R-Ky., and Senate Judiciary Committee Chairman Chuck Grassley, R-Iowa — lauded Kavanaugh as a great pick by Trump, using words like "excellent" and "impressive."
A small group of senators from both parties whose votes on the nomination will be closely watched, however, played their cards close to the vest.
Sen. Susan Collins, R-Maine, said in a statement that she would "conduct a careful, thorough vetting of the president's nominee to the Supreme Court." Collins and Sen. Lisa Murkowski of Alaska are moderate Republicans who support abortion rights and both are likely to feel pressure from Democrats and women's rights groups to vote against Kavanaugh.
Indiana Sen. Joe Donnelly and a handful of red-state Democrats like him who are up for re-election this fall — and who could, thus, face backlash from voters in their own conservative-leaning states if they opposed the president's pick — issued vague statements on Kavanaugh that offered few clues as to how they might vote.
Civil rights and abortion rights groups opposed Kavanaugh, warning his decisions would negatively impact access to health care and overturn Roe v. Wade.
"Brett Kavanaugh is at odds with our ideals of justice and fairness. Millions of people with preexisting conditions might lose their protections with him on the Supreme Court," Vanita Gupta, president and CEO of the Leadership Conference on Civil and Human Rights, said during a conference call.
Added Michael Keegan, president of People For the American Way: "His rulings provide ample evidence that he would not hesitate to overturn Roe v. Wade or gut the Affordable Care Act."
Kavanaugh, 53, was born in Washington, and grew up nearby in Maryland, where his mother became a state court judge. After graduating from Yale University and Yale law school, he clerked for two federal judges and then for Kennedy.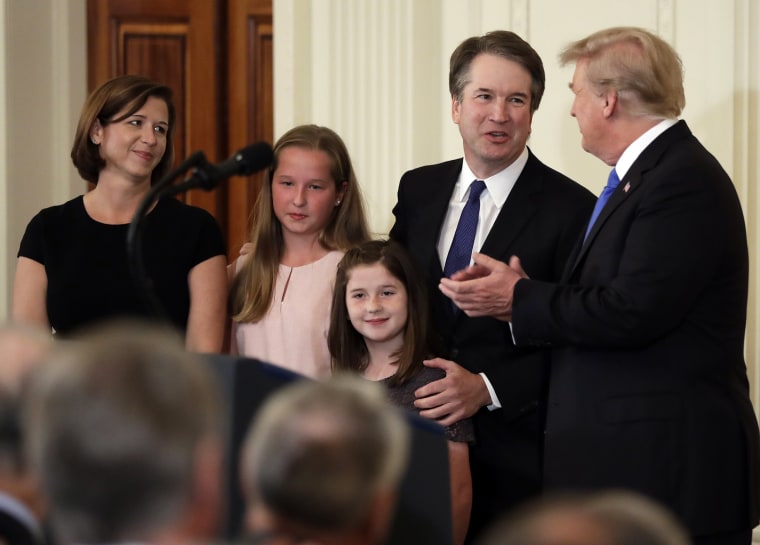 In 1993, he served a one-year fellowship at the Justice Department working for Solicitor General Kenneth Starr. A year later, when Starr was appointed independent counsel, Kavanaugh became a key staff member in the investigations into the death of White House Counsel Vincent Foster and the Whitewater and Monica Lewinsky scandals. He helped write Starr's report to Congress that laid out 11 possible grounds for President Bill Clinton's impeachment.
Following a brief period in private law practice, he became Bush's White House counsel and then staff secretary before he was nominated to be a federal judge. He met his wife while working at the White House, where she was the president's personal secretary.
Noting Kavanaugh's political connections, Sen. Chuck Schumer, D-N.Y., said at Kavanaugh's 2006 confirmation hearing, "If there has been a partisan political fight that needed a very bright foot soldier in the last decade, Brett Kavanaugh was probably there."
In a 2009 law review article, Kavanaugh said his experience in the White House persuaded him that "the job of president is far more difficult than any other civilian position in government" and that presidents should be exempt from civil lawsuits and criminal investigations or prosecutions while in office. But he wrote that such a change would require Congress to pass appropriate legislation.
Even if that happened, he wrote, the Constitution would provide a check against a law breaker in the Oval Office. "If the president does something dastardly, the impeachment process is available," Kavanaugh wrote.
He enjoys widespread support from conservatives, though he was not on the original list of potential Supreme Court nominees released during the Trump campaign. His name was added last November.
Two of his court opinions, however, generated criticism from some conservatives that he did not go far enough in opposing Obama-era policies. In 2011, when his court upheld Obamacare, he wrote a dissent that said a federal law should have prevented the court from deciding the case. His critics said he should have concluded instead that Obamacare was unconstitutional.
More recently, Kavanaugh took a pragmatic approach during a high-profile court battle involving a teenager arrested for illegally crossing the southern border into the U.S. The appeals court ruled that she could temporarily leave immigration detention for an abortion.
In his dissent, Kavanaugh said the Trump administration conceded that the teen had a right to an abortion, but he argued that the court was wrong to conclude that she had the right "to an immediate abortion on demand." He said delaying the procedure until she could be released to a U.S. sponsor would not impose an undue burden on the abortion right.
By contrast, one of his conservative colleagues on the court went further, writing that the woman had no right to an abortion at all because she entered the country illegally and was not a U.S. citizen.
The average time between a Supreme Court justice's nomination and confirmation is about 11 weeks. If Kavanaugh's experience follows that pattern, he could be on the court in time to prepare for the opening of the next term, on the first Monday in October.
No date has been set for his confirmation hearing before the Senate Judiciary Committee.