In the aftermath of the Oklahoma City bombing, Merrick Garland said goodbye to his wife and young daughters and flew out to the scene of the worst act of domestic terrorism on U.S. soil.
As a supervisor with the Justice Department in 1995, Garland's job was to help put away accused bombers Timothy McVeigh and Terry Nichols. The voluminous investigation required that each scrap of evidence be correctly cataloged — and ensured that those behind the brutal deaths of 168 people, including young children, would be brought to justice.
"Perhaps most important is the way he did it," President Barack Obama said Wednesday in recounting Garland's efforts. Obama stood with Garland at the White House as he announced the veteran federal appeals judge as his pick to replace Antonin Scalia on the Supreme Court.
"When people offered to turn over evidence voluntarily, he refused," Obama continued, "taking the harder route of obtaining the proper subpoenas instead — because Merrick would take no chances that someone who murdered innocent Americans might go free on a technicality."
But the president said it was a simple gesture of Garland's that also showed a human side.
"Everywhere he went, he carried with him in his briefcase the program from the memorial service with each of the victims' names inside — a constant searing reminder of why he had to succeed," Obama said.
Related: GOP Leaders Double Down on Pledge to Block SCOTUS Pick
Garland's by-the-book application of the law has been lauded in other high-profile cases he has helped to supervise, including the case against "Unabomber" Ted Kaczynski in 1996.
Garland's robust credentials had often landed him on observers' lists of potential Supreme Court nominees. He was reportedly considered a top pick for the court in 2010 after Justice John Paul Stevens announced he would retire, although then-Solicitor General Elena Kagan was ultimately chosen.
But this year won't be an easy road to the nation's highest court. GOP senators have vowed to block whomever Obama nominates.
The president's selection of Garland could sway some Republicans drawn to his center-left views in a court that, with's Scalia death last month, lost one of its most vocal conservatives.
In 1997, Republican U.S. senator and Judiciary Committee member Orrin Hatch championed Garland's appointment to the federal appeals court, saying "his intelligence and his scholarship cannot be questioned."
Related: Obama Nominates Federal Judge Merrick Garland to the Supreme Court
Born in Chicago, Garland graduated in 1970 from Niles West High School in Skokie, Illinois.
"This is fantastic," Niles West Principal Jason Ness said when informed by NBC News that Garland was Obama's Supreme Court pick. "He's a great role model. We're all very proud."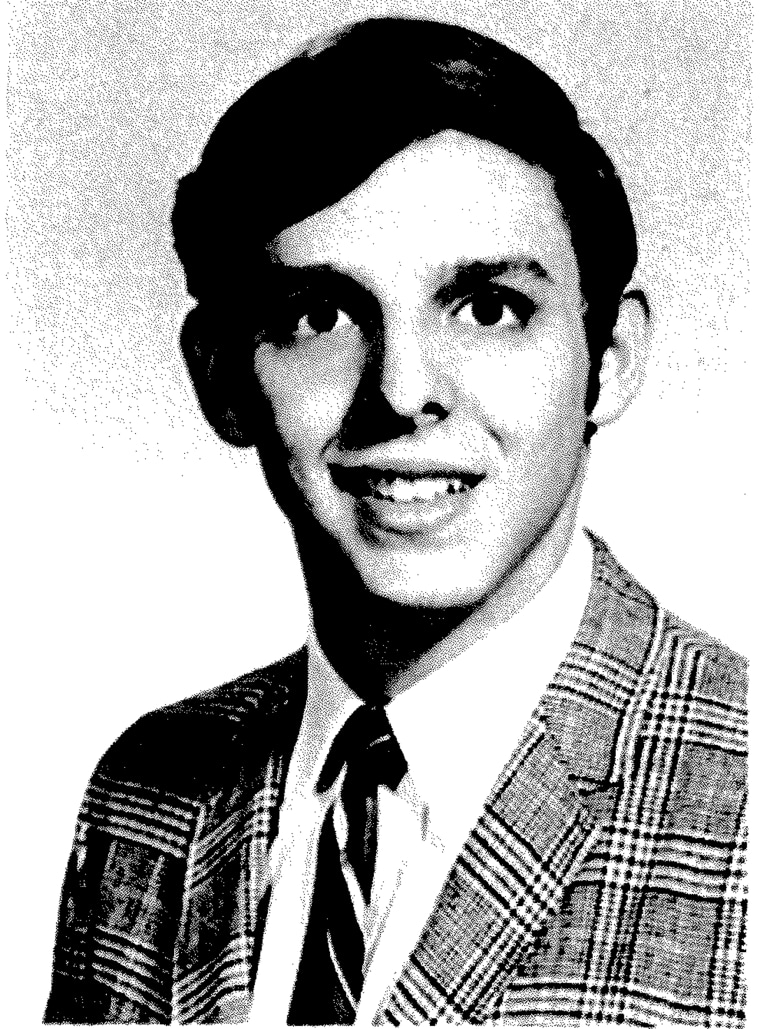 Ness said Garland was "very involved in high school."
Among other things, Garland was president of both the National Honor Society and Student Council, belonged to the debate team, the forensics team and the German Club. He also performed in high school musicals like "Guys and Dolls" and "Pygmalion."
"There were not enough hours in the day for him to do everything he did while in high school," Ness said.
Centrist record
In terms of his views, Garland would not be among the court's most liberal justices, SCOTUSblog publisher Tom Goldstein wrote in a recent post. When his name came up in 2010, some liberal activists opposed the potential pick, calling Garland a centrist and citing his ruling in a case involving Guantanamo detainees, The Washington Post reported at the time.
In 2003, Garland agreed with conservative judges against Kuwaiti detainees at the military prison who tried to challenge their confinement by citing a lack of evidence, the newspaper said.
Garland, when he was first nominated to the appeals court, said a judge's responsibility isn't to legislate in response to a question about judicial activism. He said federal judges "do not have roving commissions to solve societal problems," according to SCOTUSblog.
Garland is a graduate of Harvard Law School and clerked for Supreme Court Justice William J. Brennan before gigs at the Justice Department as deputy assistant attorney general for the criminal division and principal associate deputy attorney general.
His background made him popular even with Republicans when he was first nominated to the D.C. Circuit by President Bill Clinton in 1995, but the full Senate didn't initially act on his nomination.
The issue wasn't Garland, Iowa Republican Sen. Charles Grassley said at the time, but whether the court needed another judge at all. Grassley is now the chairman of the Judiciary Committee, which would oversee any hearings on a nominee.
Related: Poll Finds Majority Disapproves of GOP Plan to Block Nominee
Garland won appointment to the federal appeals court in D.C. in 1997 by a Senate vote of 76-23 — although again, any opposition to his nomination wasn't about his qualifications.
At the time, Hatch, who still sits on the Judiciary Committee, cited his work as a federal prosecutor and judicial credentials.
"I believe he is not only a fine nominee, but is as good as Republicans can expect from this (the Clinton) administration. In fact, I would place him at the top of the list," Hatch said at the time, according to Congressional records.
Seven Republicans who voted for Garland are still in the Senate. In 2013, he was was appointed the D.C. Circuit's chief justice.
As a judge, Garland said Wednesday, "fidelity to the law" has always been a cornerstone to how he rules.
"People must be confident that a judge's decisions are determined by the law and only the law. For a judge to be worthy of such trust, he or she must be faithful to the Constitution and to the statutes passed by the Congress," he added. "He or she must put aside his personal views or preferences and follow the law — not make it."
If confirmed, Garland would also be the fourth Jewish justice currently on the Supreme Court. The other five members are Catholic.
Related: Potential Supreme Court Picks Have History of Partisan Donations
Speaking from the White House, Garland said his Jewish immigrant grandparents fled anti-Semitism in Russia to "make a better life for their children in America."
The son of an advertising executive father and PTA-involved mother, Garland said service to the community is a "responsibility above all others."
"There could be no higher public service," he said, "than serving as a member of the United States Supreme Court."