President Donald Trump's Supreme Court pick is no stranger to partisan politics: Before becoming a judge, he was helping make the case for the impeachment of Bill Clinton and later for the election of George W. Bush.
Twenty years ago, Kavanaugh's story starts amid the highly politicized independent counsel investigation into Clinton. He worked for Starr as a young Yale Law graduate, first when Kenneth Starr was solicitor general and later in the Office of the Independent Counsel, where Kavanaugh was a key player in the slew of investigations into the Clintons, including the Whitewater scandal, the suicide of White House counsel Vincent Foster and Clinton's affair with Monica Lewinsky.
The Starr Report to Congress laid out the details of Clinton and Lewinsky's affair and findings of potential wrongdoing by the president. Kavanaugh was the primary author of the section on the grounds for possible impeachment, Starr would reportedly later say, because "that needed to be very carefully crafted, so I was looking to one of the office's most talented lawyers — of superb and balanced judgment — to take the lead in drafting."
Kavanaugh's involvement in politics didn't end there.
He was a member of the GOP legal team fighting to stop the recount in Florida to clear the way for Bush's election against Al Gore in 2000, later taking a job in the Bush White House in 2001, where he'd serve for five years as counsel and later staff secretary until his confirmation to the U.S. Court of Appeals for the D.C. Circuit in 2006.
Democrats aggressively opposed his nomination — made in 2003 but dragged out for several years — with Sen. Chuck Schumer, D-N.Y., calling Kavanaugh a "political foot soldier" during the confirmation proceedings.
Kavanaugh's views about investigations of a sitting president have drawn renewed attention with his nomination, given the special counsel probe into Trump.
"Looking back to the late 1990s, for example, the nation certainly would have been better off if President Clinton could have focused on Osama bin Laden without being distracted by the Paula Jones sexual harassment case and its criminal investigation offshoots," he wrote in a 2009 article in the Minnesota Law Review that suggested presidents be exempt from criminal investigations and civil suits while in office.
The point, he argued, is not to elevate the president above the law "but simply to defer litigation and investigations until the president is out of office" and let Congress police the president — with impeachment, if necessary — while they are in office.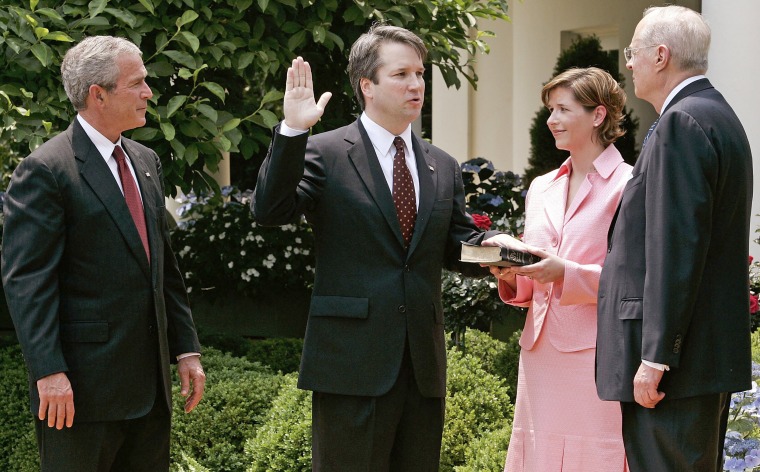 Kavanaugh is a practicing Catholic, which he noted in his remarks at the White House on Monday night. Accepting his nomination in the East Room, he stressed public service and volunteering during his address to the nation.
"The motto of my Jesuit high school was 'men for others,'" he said. "I've tried to live that creed."
He met his wife, Ashley, while working in the White House in 2001; she was the president's personal secretary and now works as town manager of Chevy Chase Village, Maryland, where they live. Their first date was the day before the Sept. 11 attacks in 2001, and they raced out of the White House together during the attacks.
"Through bad days, and so many better days, she's been a great wife and an inspiring mom," he said.
The couple have two young daughters.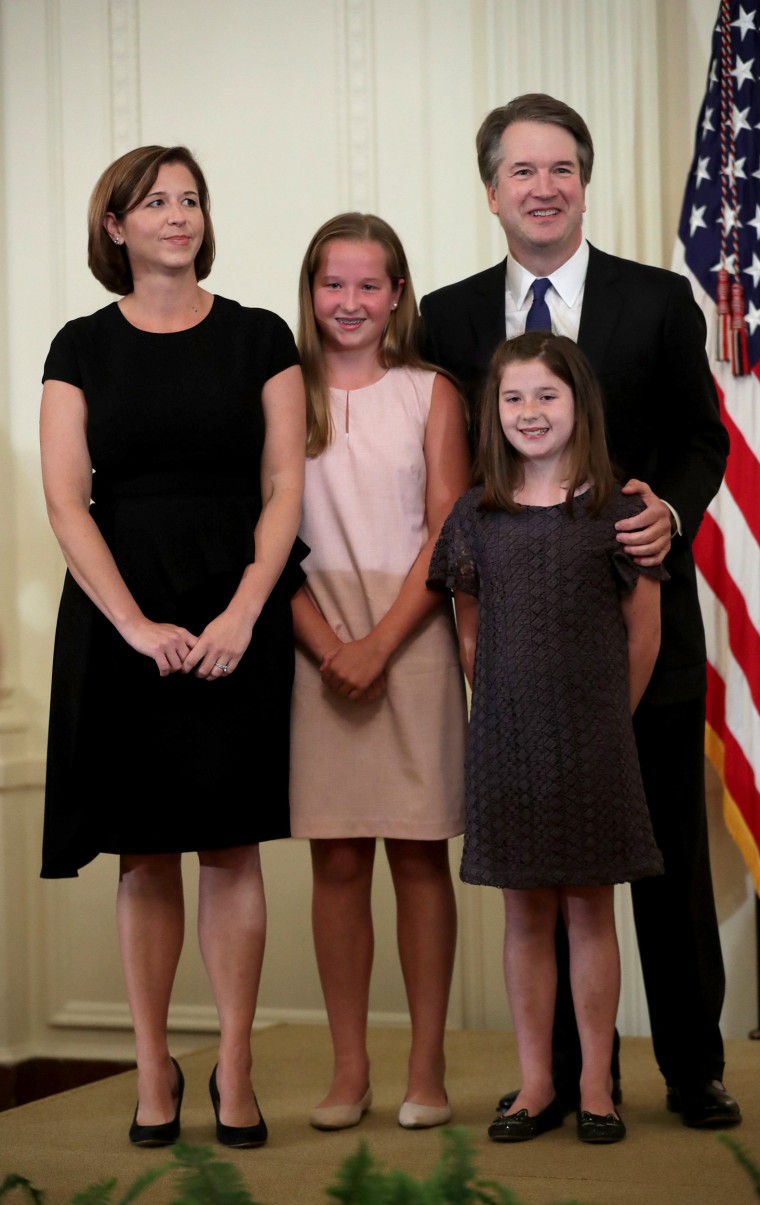 "Margaret loves sports and she loves to read; Liza loves sports and she loves to talk," Kavanaugh said to laughs as he introduced his children on live television at the White House. "I have tried to create bonds with my daughters like my father created with me."
He is both a sports fan and a girls basketball coach; the students call him "Coach K," he said. He's run the Boston Marathon twice.
Kavanaugh also teaches at Harvard Law School — he noted that he was hired by now-Supreme Court Justice Elena Kagan, when she worked as the dean at the school — and he tutors students, too.
He is the only child of two attorneys. His father went to law school at night while working full time. His mother, Martha, was a public school teacher in the 1960s and 1970s in Washington. She went to law school when he was 10, and became a prosecutor and later the first Judge Kavanaugh in the family when she joined the Maryland state bench in 1993.
"My introduction to law came at our dinner table, when she practiced her closing arguments. Her trademark line was, 'Use your common sense; what rings true, what rings false.' That's good advice for a juror, and for a son," he said. "The president introduced me tonight as Judge Kavanaugh, but to me that title will always belong to my mom."