The House Judiciary Committee on Monday heard from lawyers for both Democrats and Republicans on findings from the Intelligence Committee's impeachment inquiry over allegations that President Donald Trump withheld aid to Ukraine in order to pressure its government to investigate former Vice President Joe Biden.
Witnesses for the Intelligence Committee included majority counsel Daniel Goldman and the Republicans' lawyer, Steve Castor. Also on the witness list was Barry Berke, majority counsel for the Judiciary Committee. The hearing began at 9 a.m.
Follow us here for all of the latest breaking news and analysis from NBC News' political reporters, as well as our teams on Capitol Hill and at the White House.
TRUMP IMPEACHMENT HIGHLIGHTS
Download the NBC News mobile app for the latest news on the impeachment inquiry
Analysis: Giuliani is now Exhibit A
One reason that Giuliani's recent trip to Ukraine is so confounding is that it is so central to the Democrats' case that Trump's actions not only merit impeachment, but also require it.
The idea is that the president is corrupt and that his corruption is an ongoing danger, meaning that only removing him from office would protect the nation from him.
That's what Nadler said about Giuliani's "apparent attempt to gin up the same so-called favors" from Ukraine that resulted in the impeachment inquiry in the first place. "This pattern of conduct represents a continuing risk to the country," Nadler said.
Giuliani is now Exhibit A.
The White House lays out its case against impeachment
While the president has already indicated his focus is more on the upcoming release of the DOJ inspector general report later today, the White House is still working to rebut the closing arguments by Democrats on Judiciary.
According to an official working on the strategy, the administration's arguments against this "unfair" and "unprecedented" impeachment process, in their view, boil down to the following: .
They continue to insist there is "no evidence of wrongdoing" by Trump;
They point out Ukraine's leader has said there was no pressure;
They say aid to Ukraine wouldn't even exist without Trump (pointing out that he made the decision to begin providing Ukraine with lethal aid);
And they continue to argue there's no obstruction (since, they say, it's not obstruction "to raise long-standing constitutionally based privileges.")
Watch as InfoWars host interrupts start of hearing, shouting down Nadler for 'Democratic treason'
InfoWars host Owen Shroyer interrupted the start of Monday's second Judiciary Committee impeachment hearing, shouting "Democratic treason" and "Americans are sick of your impeachment scam" among other shouts directed at Nadler.
He was escorted out of the hearing room by Capitol Police.
Shroyer was live-streaming his protest on Twitter.
Earlier this year, Shroyer called for the lynching of former President Obama.
Inside the hearing room...
Quotes from both Speaker Pelosi and Rep. Cedric Richmond are prominently displayed behind the Republican side of the dias.
"We can not accept a second term for Donald Trump," Speaker Pelosi May 7, 2019
"My sole focus right now is to make sure that he's not the president next term," Rep. Cedric Richmond April 29, 2019
A short time later, Republicans replaced the Pelosi quote with one that says "Where's Adam?" This presumably is referring to Chairman Schiff, whom Republicans want to testify.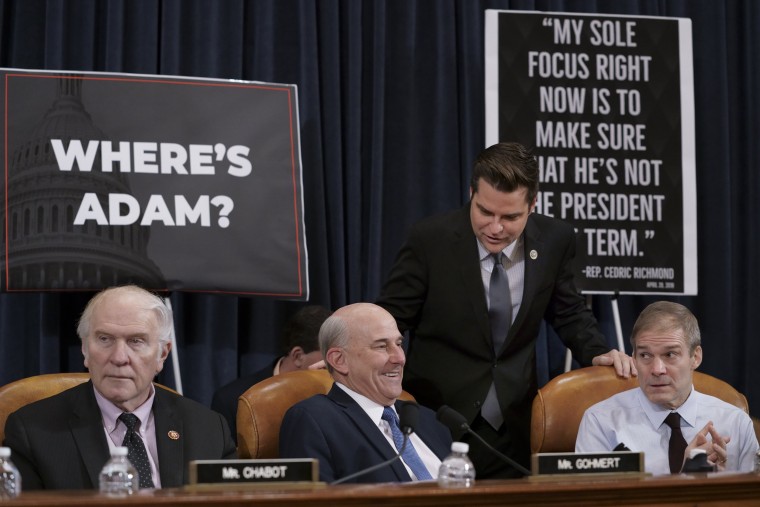 Scalise accuses Schiff of 'spying' on Congress, Giuliani, the press
Rep. Steve Scalise, R-La., accused House Intelligence Chairman Adam Schiff, D-Calif., of "spying" on Congress during a Monday interview with "Fox and Friends."
Scalise was referencing the release of call logs in the Democratic House Intelligence Committee report on Trump's conduct with regards to Ukraine, which showed contacts involving the president's personal attorney Rudy Giuliani and his indicted associate Lev Parnas, as well as Rep. Devin Nunes, R-Calif., the ranking member of the Intelligence Committee, and conservative journalist John Solomon, whose work provided fodder for much of what Trump and his allies have focused on in Ukraine.
"It's a real concern," said Scalise, the second-highest ranking House Republican. "I mean the fact that Adam Schiff has been spying on members of the press, on members of Congress, on the president's own attorney. Who else is Adam Schiff spying on? And where are the rest of these  phone records?"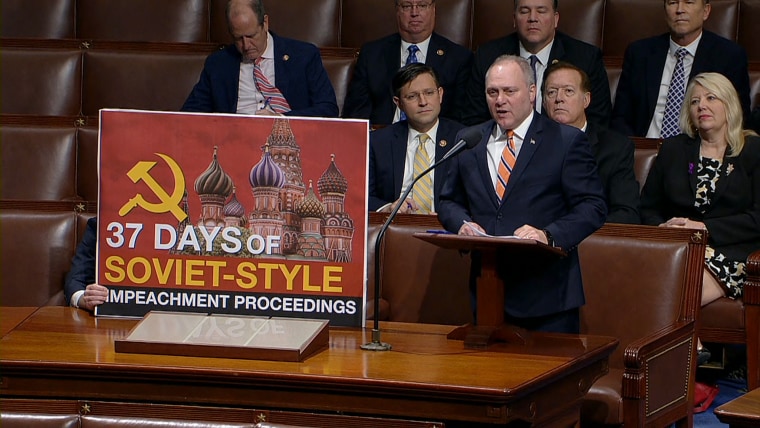 "We don't know who all the people are that he got phone records of," Scalise added. "We do know some people of the press and some members of Congress are people who he had been spying on. The press ought to be outraged by this by the way. It does really go after their ability to do their job."
Speaking with CBS's "Face the Nation" on Sunday, Schiff said the "blowback" to the release of the call logs, which appeared to be obtained through a subpoena to AT&T, "has only come from the far right."
"Every investigator seeks phone records to corroborate, sometimes to contradict, a witness's testimony," he said, adding, "The fact that Mr. Nunes or Giuliani or others show up in this scheme doesn't make them irrelevant, doesn't give them a pass."
Highlights from the Constitutional experts' testimony
Analysis: Why moderates are holding back on impeachment
WASHINGTON — Like many of the 31 Democrats from districts President Donald Trump won in 2016, freshman Rep. Elissa Slotkin, D-Mich., is feeling the squeeze of impeachment.
A former CIA, Pentagon and National Security Council staffer before winning election to the House last year, Slotkin helped launch the House inquiry into Trump's Ukraine scandal by co-writing an opinion column calling for a probe after an intelligence community whistleblower accused the president of abusing his office.
But now, as the House Judiciary Committee drafts articles of impeachment and Democrats from politically competitive districts wait to see how they are written, Slotkin is being lobbied by Republican colleagues who argue that Trump's actions — even if imperfect — don't amount to impeachable offenses and that she should accept, given her background, that the president needs room to use leverage in foreign policy.
"I feel very strongly that in my prior life, we often went to other countries and foreign governments when I was at the Pentagon and said, 'We want you to do X in exchange for Y,' but that exchange was exclusively for the national security interests of the country, not for Elissa Slotkin's personal or political gain," said Slotkin, who hasn't committed one way or the other on impeachment. "And that's a pretty fundamental difference and that was the conversation I had with one of my peers."
While the GOP push hasn't been persuasive, moderate Democrats are worried that liberals in their own party are going to put forward articles of impeachment that are hard to vote for and even harder to explain voting for.
Democrats split on whether to include Mueller obstruction in articles of impeachment
Democrats are publicly split on whether to include evidence from former special counsel Robert Mueller's report in the articles of impeachment being drafted against President Donald Trump.
Democrats, as NBC News has reported, are considering one article of impeachment related to the Mueller report and obstruction of justice in addition to articles of impeachment directly related to Trump's conduct toward Ukraine. House Speaker Nancy Pelosi, D-Calif., said Thursday that Democrats would proceed with drafting articles of impeachment.
Speaking with both NBC's "Meet the Press" and CNN's "State of the Union" in interviews broadcast Sunday, House Judiciary Committee Chairman Jerry Nadler, D-N.Y., would not commit to including evidence of obstruction contained in the Mueller report in the articles of impeachment, telling CNN, "We're going to have to take a lot of considerations into account."
On Trump's push for Ukraine to investigate former Vice President Joe Biden, his son Hunter and Democrats, Nadler said there was "considerable direct evidence" and that the Democrats' case "if presented to a jury would be a guilty verdict in about three minutes flat."
House Intelligence Committee Chairman Adam Schiff, D-Calif., told CBS' "Face the Nation" he believed Democrats should focus articles of impeachment "on those issues that provide the greatest threat to the country." Pointing to his pre-congressional career as a prosecutor, Schiff said his advice for colleagues is to file articles for which "there is the strongest and most overwhelming evidence," not to charge everything they possibly could.
Impeachment rewind: Top moments from Gordon Sondland's testimony
Meet the lawyers who will be heard from in second hearing
Testimony will be heard from the attorneys for the Democrats, Daniel Goldman, and the Republicans' lawyer, Steve Castor. Barry Berke and Castor will provide opening statements for the majority and minority, respectively, according to a statement from the Judiciary Committee on Friday.
Daniel Goldman
Goldman is a former prosecutor for the U.S. attorney's office for the Southern District of New York from 2007 to 2017, where he served as the deputy chief of the organized crime unit. This past March, Rep. Adam Schiff, D-Calif., who is the chairman of the House Intelligence Committee, tapped him to be the committee's senior adviser and director of investigations.
He received his undergraduate degree from Yale University and his law degree from Stanford University. He is a former legal analyst for MSNBC.
Steve Castor
He was brought over to the Intelligence Committee from the Oversight Committee by Rep. Jim Jordan of Ohio.
Castor has served as counsel for Oversight for 14 years and helped question witnesses during its probes of the attack on the U.S. embassy in Benghazi and into allegations the IRS was focusing on political targets during the Obama administration.
He earned his law degree from George Washington University and previously worked in commercial litigation in Philadelphia and Washington, according to a biography on the Federalist Society website. 
Barry Berke
A New York-based defense attorney, Berke is described by the committee as a leading trial lawyer and an expert on federal criminal law, including public corruption. 
Impeachment rewind: Highlights from Fiona Hill and David Holmes' testimony
How the second day of testimony will go
House Judiciary Committee Chairman Jerrold Nadler, D-N.Y., on Friday released the procedure for their second hearing:
"Monday's hearing will proceed in two phases. First, Majority and Minority counsel for the Judiciary Committee will present opening statements for up to one hour, equally divided. Second, Majority and Minority counsel for the Intelligence Committee will present for up to 90 minutes, equally divided. Majority and Minority counsel for the Intelligence Committee will then take questions from the Committee."
The hearing begins at 9 a.m.
'Weird': Congress reacts to Giuliani's latest Ukrainian venture
One of President Donald Trump's staunchest allies said it was "weird" and "odd" that the president's personal attorney, Rudy Giuliani, was back digging for dirt on former Vice President Joe Biden in Ukraine.
However, Rep. Matt Gaetz, R-Fla., told ABC's "This Week" it was promising to hear that Trump said Giuliani wants to speak to Congress about his latest trip to Ukraine.
Echoing earlier remarks he made about it being "weird" that Giuliani was back in Ukraine, Gaetz said he believes Trump "urging Mayor Giuliani to provide that clarity to the Congress will be helpful in resolving what seems to be odd having him over there at this time."
The Florida Republican's comments came after Trump told reporters Saturday that he believed Giuliani would deliver findings from his recent trip to Ukraine to Congress and Attorney General William Barr.
Esper declines to say if he knew of political considerations involved with Ukraine aid
Defense Secretary Mark Esper declined to say Sunday whether he was aware of any political considerations regarding the months-long hold on nearly $400 million in U.S. security aid to Ukraine.
"I'm not going to get into any of that," Esper told "Fox News Sunday." "Again, there is a congressional inquiry underway and I'll leave that process unto itself."
Esper said there were "technical and legal issues" preventing the Pentagon from providing Congress with requested documents pertaining to the hold on military aid.
Swalwell: Mueller Report will be included in articles of impeachment as pattern of behavior
Rep. Eric Swalwell, D-Calif., gave brief remarks after exiting a Judiciary Committee meeting in Longworth Office Building.
He discussed forthcoming potential articles of impeachment, indicated that the Mueller Report would at least be included in articles as far as establishing the president's pattern of behavior. 
"I can promise you that the pattern of inviting foreign governments to help him cheat an election, and covering up investigations, that will be included," Swalwell said. 
He noted that Monday's hearing will present to the American people evidence not previously revealed in live hearings, including phone calls involving the House Intelligence Committee's ranking member, Rep. Devin Nunes. 
Nadler: Impeachment articles will go before Judiciary this week