White House says Trump wants Senate trial
The White House continued on Thursday evening to lash out at the House's impeachment inquiry, calling on Democrats to "stop these illegitimate sham hearings immediately."
"If they don't, President Trump wants to have a trial in the Senate because it's clearly the only chamber where he can expect fairness and receive due process under the Constitution," White House Principal Deputy Press Secretary Hogan Gidley said in a statement. "We would expect to finally hear from witnesses who actually witnessed, and possibly participated in corruption - like Adam Schiff, Joe Biden, Hunter Biden, and the so-called Whistleblower, to name a few."
Article II - Bonus: The Witnesses: Hill and Holmes
A bonus episode of Article II is live.
Today on Article II, Steve Kornacki talks to Garrett Haake, Washington Correspondent for MSNBC, about the testimony provided today by Fiona Hill, the former top Russia expert on the National Security Council, and David Holmes, an aide at the United States Embassy in Kyiv. 
The two discuss:
Hill's accounting of Trump's pressure campaign on Ukraine, and the dangers of a narrative perpetuated by Republicans that Ukraine, not Russia, interfered in the 2016 elections
Holmes's recollection of the July 26 phone call he overheard between Trump and Sondland
How lawmakers from both parties handled what is expected to be the final phase of public testimony
What happens next in the impeachment inquiry
What happens next on the impeachment inquiry process?
Multiple members on both sides of the aisle say they don't anticipate any additional depositions or hearings before the House Intelligence Committee at this point. Given this information and Schiff's lengthy closing statement this afternoon, this appears to be the end of the fact-finding portion of the inquiry.
Rep. Raja Krishnamoorthi, a Democrat on the committee, told NBC News, "I don't see anything scheduled for this weekend, next week. But I don't know about past that. I mean we've seen so much testimony at this point that, maybe there's another David Holmes out there, I'm not really sure but let's see.
He added, "my understanding is that we would produce a report to submit to the Judiciary Committee. And then it's up to them to decide the next steps."
We are expecting both the Democratic and Republican sides to write reports about the Ukraine investigation. Members also said they anticipate staff on both sides will be working on their reports during part of next week.
Schiff will turn the Democratic report from the three committees headling the impeachment inquiry (Intelligence, Oversight, Foreign Affairs) over to  House Judiciary Chair Jerry Nadler to begin the next phase of the impeachment inquiry.
There are also two closed-door transcripts, with former White House budget official Mark Sandy and Diplomat Phillip Reeker, that have yet to be released. 
The House is on recess now until Dec. 3.
White House, GOP senators discuss limiting impeachment trial to two weeks
A senior White House official confirms that a group of Republican senators and senior White House officials met privately Thursday to discuss a strategy for a potential impeachment trial of President Trump, including proceedings in the Senate that could be limited to about two weeks. No final decision has been made, per this official.
The Washington Post first reported the news.
Among those in attendance: Republican Sens. Mike Lee of Utah, Ron Johnson of Wisconsin, John Kennedy of Louisiana, Lindsey Graham of South Carolina, Ted Cruz  of Texas and Tom Cotton of Arkansas met with White House counsel Pat Cipollone, acting chief of staff Mick Mulvaney, senior adviser Jared Kushner, and counselor to the president Kellyanne Conway. 
The meeting was organized by White House legislative affairs director Eric Ueland.
Ueland was also in attendance along with advisers Pam Bondi and Tony Sayegh, recently hired by the White House for impeachment messaging and strategy.
Graham spoke to NBC News following the meeting, saying that, "I just think the best thing for the country is to get this done quickly, but it's got to be done in a way that is acceptable to the body."
Trump campaign rips 'sham impeachment circus'
Tim Murtaugh, Trump 2020 communications director, criticized Democrats after Thursday's hearing.
"Two more witnesses and two more whiffs by Democrats in their sham impeachment circus," he said. "Let's remember that Nancy Pelosi promised she would not proceed with impeachment unless it was a bipartisan endeavor, which it clearly is not."
Witnesses depart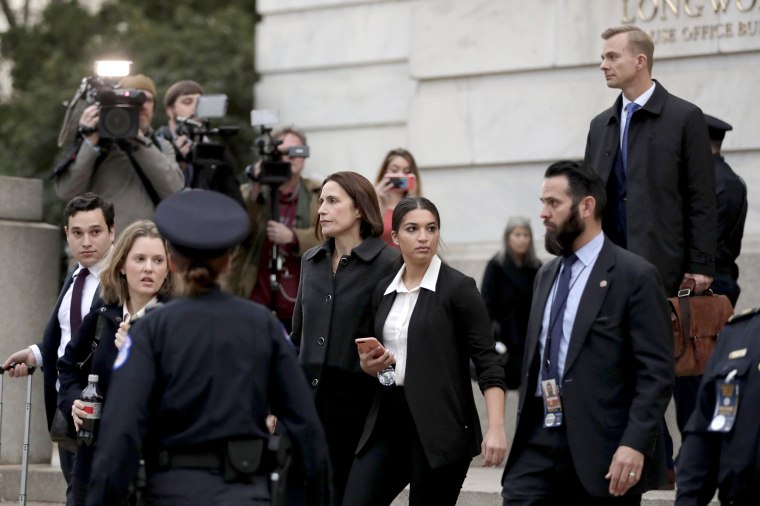 Jordan lashes out at Democrats after hearing
After the hearing wrapped, Jordan answered several questions about the hearings and what comes next. On what happens going forward he said, "frankly I don't know where it goes next or what they got planned. We just have to wait and see." 
Jordan also said, "I think the American people see through it, they see that the facts are on the president's side, and they know this process is going entirely unfair."
He continued to attack Democrats and the process by saying, "Democrats have never got over the fact that this new guy who's never been in this town, never been in politics. This new guy came in here and has shaken this place up, and that drives them crazy. They've never accepted the will of 63 million Americans they never accepted the fact that Donald Trump won an electoral college landslide. And they are trying to do everything they can. It was first FBI investigation and it was the Mueller investigation. Now it's this."
Hearing concludes
The Fiona Hill and David Holmes impeachment inquiry hearing concluded at roughly 4:18pm after nearly 5.5hours of testimony. 
Schiff closes with searing criticism of Republicans who 'cower' to Trump and Watergate comparison
Closing what is, at the moment, the last scheduled public hearing in the House Intelligence Committee's impeachment inquiry, Schiff took direct aim at his Republican counterparts, slamming them for "gratuitous" attacks on witnesses like Hill, Holmes and, before them, Vindman.
"They don't question the facts," Schiff said. "So why attack?"
And, raising his voice, he ripped Republicans for falling in line behind Trump — especially when it comes to his refusal to stand up to Russia.
"They'll show indignation today, but they will cower when they hear the president questioning the very conclusions our intelligence community has reached" on Russian interference in the 2016 election, Schiff said.
Later, he summarized the case his party has attempted to build against Trump. He discussed everything from Trump's attacks on Yovanovitch to how, "in all the companies in all the world, Rudy Giuliani just happened to be interested in this one" — referring to Burisma, the Ukrainian gas company on whose board Hunter Biden sat.
"That's absurd," Schiff said. 
Over his lengthy statement, he also compared Trump's defense to how Richard Nixon defended himself during the Watergate scandal.
"This is the 'I'm not a crook' defense," Schiff said, referring to Trump's "no quid pro quo" statements.
In closing, Schiff said that "this president believes he is above the law."
"In my view there is nothing more dangerous," he added.
"We are better than that," he exclaimed — and adjourned the hearing.
Ranking member Nunes questions witnesses as Chairman Schiff listens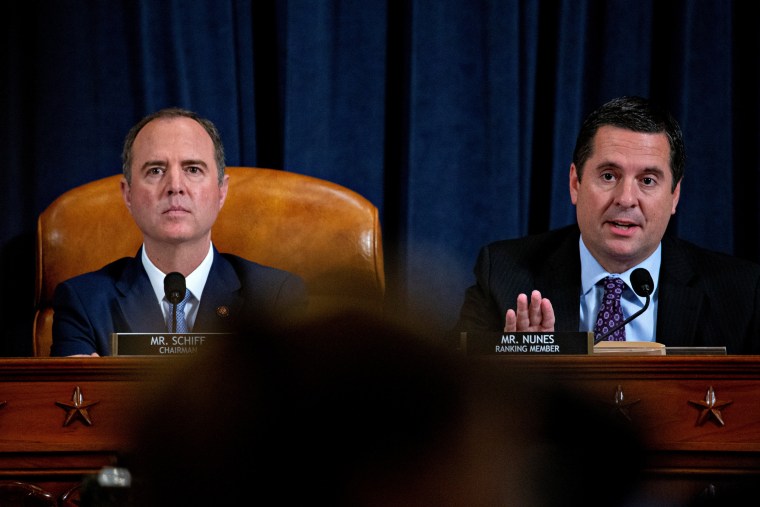 Nunes closes with summary of yearslong effort to oust Trump
The Steele dossier. The Russia investigation. And many other things.
In his closing statement, Nunes reached back to the 2016 campaign and brought up every which way he felt Democrats and "Never Trumpers" have made efforts to beat Trump in recent years.
That included, not least of all, the ongoing impeachment inquiry and the whistleblower complaint that helped prompt it. Nunes called the latter a "pretext" for Trump's political opponents "to do what they've been trying to do for years."
"Oust him from office," Nunes said. 
"What you've seen in this room over the last two weeks is a show trial," he added, the "result of political operations and dirty tricks."
Hill says Sondland had to know Burisma meant Biden
Hill testified that Sondland was 'not credible' when he testified it was not clear to him that when Burisma was uttered there was a connection to Biden. 
"It was clear that Burisma was code for the Bidens because Giuliani was laying it out there," she said under questioning from Rep. Sean Patrick Maloney, D-N.Y. 
Holmes shoots back at GOP accusation that he showed 'indiscretion' in sharing Trump phone call
Rep. Mike Conaway, R-Texas, on Thursday suggested that David Holmes was wrong to share information about the phone conversation he overheard on July 26 between Trump and Sondland. 
"I would argue that the information is unflattering to the president, unflattering to the ambassador and that your discretion is at odds here," Conaway said. 
Conaway said that Holmes testified that he shared the information about the key phone conversation where Trump and Sondland discussed "investigations. Conaway said that lawmakers, however, "couldn't figure out" from Holmes' deposition how many people he spoke to. 
Conaway then asked Holmes "to articulate that in the future, when he's privileged" to certain circumstances that would be embarrassing to the president, to not share it with others. 
Holmes shot back, "Sir, I think it was Gordon Sondland who showed indiscretion by having that conversation over a public phone line."
What do these names have in common? asks GOP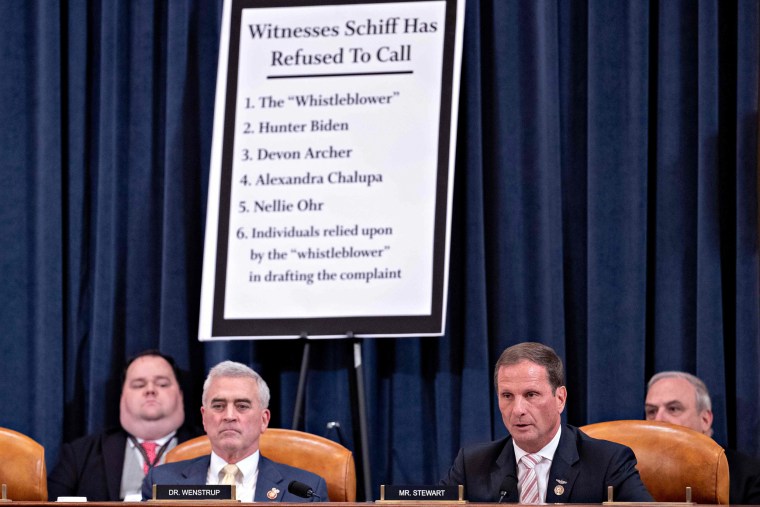 Outgoing Rep. Hurd says he hasn't heard impeachable conduct
Rep. Will Hurd, R-Texas, used his questioning period to make clear he will not support impeachment, saying the case against Trump lacks compelling evidence of wrongdoing.
Hurd said: "An impeachable offense should be compelling, overwhelmingly clear and unambiguous, and it's not something to be rushed or taken lightly. I have not heard evidence proving the president committed bribery or extortion."
Hurd also chided the president, characterizing his July phone calls as "inappropriate." "I disagree with this bumbling foreign policy," Hurd said.
Early on, Hurd — who's retiring and has publicly disagreed with Trump at times — was seen as one of the few Republicans who might have sided with Democrats on the issue of impeaching Trump.
A moment of levity about a decades-old haircut
Speier, in a moment of levity, told Hill that she'd come across a news article over the course of the day's hearing that told a story about Hill's childhood that demonstrated her toughness.
An 11-year-old Hill, The New York Times reported, had one of her pigtails set on fire by a boy in her school while she was taking a test. Hill, the newspaper said, "put the fire out with her hands, and finished the test."
Hill smirked and said the incident "had some very unfortunate consequences."
"My mother gave me a bowl haircut," she said. "I looked like Richard III," referring to the 15th century British monarch.
The exchange offered a moment of levity in an otherwise long and winding public hearing.
Fiona Hill speaks of the 'moral obligation' she felt to testify
Hill gave an eloquent response to an angry speech from Rep. Brad Wenstrup, R-Ohio, who continued to claim that Ukraine interfered in the 2016 election and accused Democrats of attempting a coup. Wenstrup also said that hatred makes people blind and that hyperpartisanship is not healthy in a democracy. 
Hill, however, responded in a measured tone by explaining that she and others are testifying to discuss the facts and they are not partisan. 
"All of us who came here under a legal obligation also felt we had a moral obligation to do so. We came here as fact witnesses," she said. "We are here to relate to you what we saw, what we heard and what we did and to be of some help to all of you to make a momentous decision here. We are not the people who make that decision."
She said interference from any government is bad and that unity in America is important to thwart any attempts to do so. 
Hill says she's still being harassed on Twitter, defends Yovanovitch
Hill said the harassment she previously testified to last month is still ongoing. She said she's "constantly" dealing with her address being posted.
"This could happen to any single person in this room," Hill said. "We have to find ways of combating this. Again, this gets back sadly to things that our adversaries can exploit."
She and Holmes both lamented what they said was a "smear campaign" to oust Ambassador Yovanovitch. 
Removing an ambassador is always the president's prerogative, Hill said, "I just did not see why it was necessary to malign Ambassador Yovanovitch."
6 things we learned from Fiona Hill and David Holmes' testimony
Holmes and Hill were the last witnesses to testify this week following days of public hearings in the House impeachment inquiry.
Hill, a career Russia expert, focused much of her testimony on using her considerable knowledge of Moscow to shed light on various issues at the center of the inquiry, while Holmes laid out additional details about the critical July 26 call he overheard between Trump and Gordon Sondland, U.S. ambassador to the European Union.
Here is what we've learned from today's public hearings — so far.
Hill: By July 10, it was clear Burisma was 'code for the Bidens'
Hill said that by July 10, it was very clear to her that any mention of the gas company Burisma was associated with investigations into the Bidens.
While answering a question from Schiff, Hill recounted the events of July 10, when Ukrainians met with U.S. national security officials at the White House, including then-national security adviser John Bolton, Hill, U.S. ambassador to the EU Gordon Sondland and NSC official Lt. Col. Alexander Vindman. 
Hill has testified that Bolton abruptly cut a first meeting in his office short because Sondland brought up investigations. Afterward, Hill said some of the officials took a photo outside the White House and went back inside to the Ward Room to speak further with the Ukrainians. 
Bolton told Hill to go down to the room and find out what was being discussed, Hill has testified. 
"When I came in, Gordon Sondland was basically saying, 'We have a deal here'" that there would be a White House meeting [between Trump and Zelenskiy if the Ukrainians announced the investigations, Hill said Thursday. 
Hill said that during that time, Rudy Giuliani was speaking about Burisma and the Bidens "over and over again" on TV. 
"By this point, it was clear that Burisma was code for the Bidens because Giuliani was laying it out there," she said. 
Fiona Hill and David Holmes answer questions from Intelligence Committee members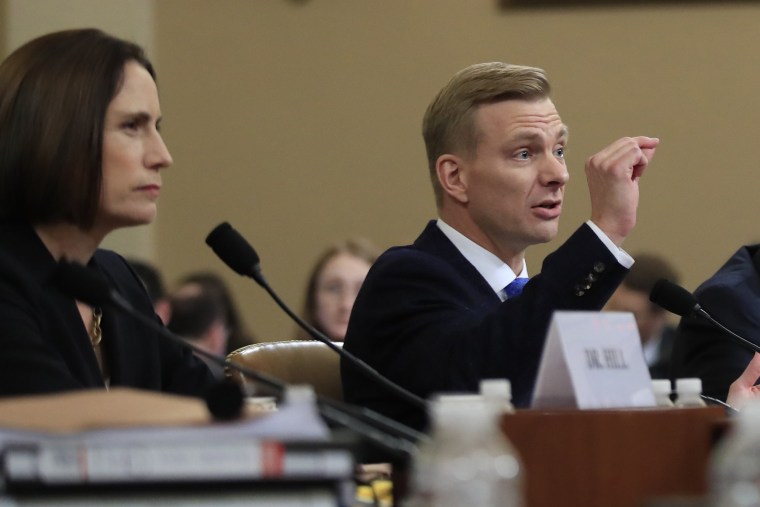 Holmes shoots down Jordan on Sondland-Trump call
In one of the most contentious moments of the hearing so far, Rep. Jim Jordan shouted at Holmes while lamenting that Ukrainian Amb. Bill Taylor hadn't during his closed-door testimony brought up the call Holmes testified to overhearing between the president and Ambassador Sondland. He first mentioned the call during his public testimony earlier this week.
Holmes fired back, claiming that the call was unremarkable to Taylor because he already knew the president was seeking an investigation into Bidens.
"It was not news for him," Holmes said. "Of course that's what's going on, of course the president is pressing for a Biden investigation. There was nodding agreement."
Holmes said the call was a "touchstone experience for me that validated what we believed," but said he wasn't surprised it wasn't for Taylor.
"He was involved in a number of other interactions that you've outlined that brought him to the same conclusion," Holmes concluded.
Hill blasts dual loyalty trope as 'deeply unfair'
Schiff asked Hill to discuss her feelings about the dual loyalty trope that has been used to try to discredit other witnesses, such as Lt. Col. Vindman, whose family immigrated from Ukraine. Hill is an immigrant from the United Kingdom and sharply retorted that America is a country of immigrants and "this is really what makes America great."
She said that she does not feel any loyalty to the British monarchy and that her loyalty is to America, and she said the same can be said about a lot of naturalized citizens in U.S. foreign service.
Holmes shuts down conspiracy theory about 'black ledger'
Holmes on Thursday shot down a conspiracy theory pushed again by Nunes during the hearing.
Nunes asked Holmes if he has met with Serhiy Leshchenko, who previously served in Ukraine's Parliament and is now an investigative journalist. Holmes said that he has met with him but said he's not aware, as Nunes claimed, that Leshchenko had provided information to a Fusion GPS operative. 
Asked if he knows what the "black ledger" is, Holmes responded in the affirmative. They were secret papers released in 2016 that showed Ukraine's former president, Viktor Yanukovych, made $12.7 million in cash payments to Paul Manafort, one of Trump's 2016 campaign chairmen. 
Nunes asked if the black ledger contains credible information — a reference to the conspiracy theory, which holds that the ledger is a fabrication cooked up by Ukrainians to damage Trump's campaign.
"Yes," Holmes said. 
"The black ledger is credible?" Nunes said incredulously, attempting to get Holmes to clarify.
"Yes," Holmes repeated. 
Nunes claimed that former special counsel Robert Mueller didn't find it credible. Asked if he disputed Mueller's supposed findings, Holmes said: "I'm not aware that Bob Mueller did not find it credible. I believe it was used in other corrupt proceedings. Its credibility was not questioned in those proceedings."
Nunes then said that Leschenko's motivation was to "go after a Trump campaign official," but Holmes rejected that, saying only that his motivation that he always expressed was "to expose corruption in Ukraine." 
Hill describes blowup with Sondland
Hill described increasingly vexatious interactions with Sondland, saying that she often had terse exchanges with him because she felt that she and other national security officials were being left out of what he was doing in Ukraine. 
She said often when women express anger it is not well received and was characterized as women being "emotional." She said she confronted Sondland, asking him who put him in charge to which he told her "the president."
That "shut me up," she said.
But, she conceded, Sondland was right because he was being drawn into a "domestic political errand," an apparent reference to the pressure campaign on Ukraine, and that official NSC channels were being deliberated usurped. She said she told Sondland, "I think this is all going to blow up."
"And here we are," she noted. 
Highlights from Holmes' opener
Holmes, a senior aide in the U.S. embassy in Ukraine, went into details publicly Thursday about some of the things he told lawmakers in his close-door deposition. Here are some additional highlights:
Trump seemed more concerned about investigations of Burisma and the Bidens than in broader issues of corruption.
Shortly after Bill Taylor arrived as the top diplomat in Kyiv in mid-June, they set to work to deliver things they thought Trump might want in order to convince him to hold a meeting with Ukrainian President Volodymyr Zelenskiy. "Within a week or two, it became apparent that the energy sector reforms, commercial deals, and anti-corruption efforts on which we were making progress were not making a dent in terms of persuading the White House to schedule a meeting between the presidents," Holmes said in his opening statement.
Taylor told Holmes that Sondland told him in a June 27 call that Zelenskiy needed to make clear to Trump that he was not "standing in the way of 'investigations.'" Holmes said. "I understood that this meant the Burisma/Biden investigations that Mr. Giuliani and his associates had been speaking about in the media since March."
Taylor also told Holmes that on a call between him, Zelenskiy, and the three amigos — a nickname for the alleged shadow policy team in Ukraine of Sondland, Perry and Volker — "it was made clear that some action on a Burisma/Biden investigation was a precondition for an Oval Office meeting," Holmes said. 
Holmes says after July 26 call, Sondland said Trump only cares about 'big stuff'
After the call ended, Sondland remarked that Trump was "in a bad mood, as Ambassador Sondland stated was often the case early in the morning," Holmes recounted. "I then took the opportunity to ask Ambassador Sondland for his candid impression of the president's views on Ukraine. In particular, I asked Ambassador Sondland if it was true that the president did not 'give a s--- about Ukraine.' Ambassador Sondland agreed that the president did not 'give a s--- about Ukraine.' I asked why not, and Ambassador Sondland stated that the president only cares about 'big stuff.' I noted that there was 'big stuff' going on in Ukraine, like a war with Russia, and Ambassador Sondland replied that he meant 'big stuff' that benefits the president, like the 'Biden investigation' that Mr. Giuliani was pushing."
Holmes notes he is testifying because he has 'firsthand knowledge' of events
Holmes said he has read recent reports that "certain senior officials may have been acting without the president's knowledge, or 'freelancing,' in their dealings with Ukraine. At the same time, I also read reports noting the lack of 'first-hand' evidence in the investigation and suggesting that the only evidence being elicited at the hearings was 'hearsay' — an apparent reference to talking points furthered by Trump and Republican allies. 
"I came to realize I had firsthand knowledge regarding certain events on July 26 that had not otherwise been reported, and that those events potentially bore on the question of whether the president did, in fact, have knowledge that those senior officials were using the levers of our diplomatic power to induce the new Ukrainian president to announce the opening of a criminal investigation against President Trump's political opponent," Holmes said.
ANALYSIS: Hill has studied up
Hill details Obama admin's view on Ukrainian aid
When questioned by Castor about the history of giving Ukraine military weaponry, she agreed that Obama did not give military aid to Ukraine on the same level as Trump. But, she explained, it was because of geopolitical concerns, such as provoking Russia. In doing so, she undermined the GOP argument that Obama didn't want to help Ukraine.
Putin quote shown on screen during hearing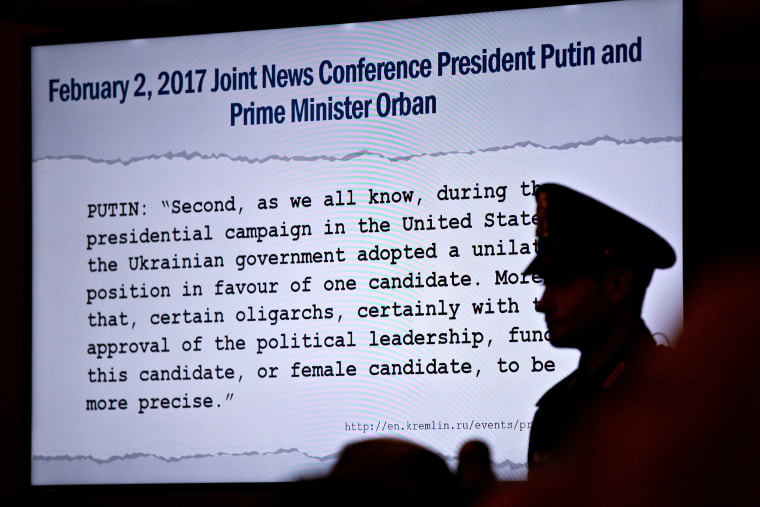 Bolton testimony before the House? Very unlikely
The testimony of Fiona Hill and Gordon Sondland has revived chatter about John Bolton appearing before the Intelligence Committee as part of the impeachment inquiry. But the reality of that actually happening is close to zero.
Committee member Rep. Peter Welch, D-Vt., told NBC News on Thursday that the only thing that "would inspire Bolton to talk is his $2 or $3 million book deal. He's saying he's got to have a lawyer tell him whether he comes, but apparently he's already signed a book deal to tell what he knows, not the Congress." Welch added that he doesn't think anything will convince Bolton to come in.
Pelosi said in her press conference that people who haven't complied with requests from the House could perhaps appear in the Senate trial if it gets to that point, which strongly suggests that the House will not press Bolton to appear and won't wait on the courts to decide if he must appear.
The committee requested Bolton's appearance but won't issue him a subpoena, which they think he'd use to take them to court like Kupperman did.
Schiff reconvenes hearing after break for votes
Schiff gaveled in the hearing at 1:01 p.m. after about an hour break for votes. Nunes has started on GOP questioning.
What happens next in the impeachment inquiry?
Here's a quick rundown of what to expect over the next few weeks:
Members of Congress depart Washington later Thursday for the Thanksgiving break and will return on Dec. 3.
We expect the Intelligence Committee next week will pore over the tapestry of evidence and testimony they've stitched together and report out the findings.
The Committee has not announced any additional public hearings or private depositions. That could, of course, change.
The report then heads to the House Judiciary Committee, which has responsibility for drafting articles of impeachment. The Judiciary Committee could hold its own public hearings, which would potentially feature constitutional experts and historians as opposed to fact witnesses. House leadership would help guide those proceedings.
The Judiciary Committee would then vote potential articles of impeachment out of committee, sending them to the House for a full floor vote.
While the timeline is fluid, Democrats have signaled for months that they hope to complete this process by the end of the year.
Hill testimony may satisfy need for Bolton testimony
McFaul: Hill's testimony is 'very damning for the president of the United States'
'Evidence is clear': Pelosi says hearings show Trump used office for personal gain
House Speaker Nancy Pelosi, D-Calif., said Thursday after three days of impeachment hearings this week that the "evidence is clear" that President Donald Trump has used his office "for his own personal gain."
Pelosi told reporters that lawmakers had "no choice" but to act after they observed what she called a violation of the Constitution by the president.
"The evidence is clear that the president has used his office for his own personal gain and in doing so undermined the national security of the United States by withholding military assistance to the Ukraine, to the benefit of the Russians," Pelosi said.
White House seizes on Hill's point that Russia seeks to undermine presidency
Trump hosting lunch with senators who declined to condemn impeachment
Trump invited Sens. Mitt Romney, R-Utah, and Susan Collins, R-Maine, and others to lunch at the White House on Thursday — breaking bread with Republicans who could go against him in a Senate impeachment trial.
Romney and Collins are two of only three Senate Republicans who declined to sign on as co-sponsors to a GOP resolution denouncing the House Democrats' impeachment inquiry, raising questions about how they would vote in a Senate trial to convict and remove Trump from office. The other Republican not to sign on is Sen. Lisa Murkowski of Alaska, another moderate vote who could break from the party.
Collins has said that it would be "inappropriate" for her "to reach conclusions about evidence or to comment on the proceedings in the House" because she will be expected to be essentially a juror once the Senate trial begins.
Romney has been more critical of Trump, tweeting earlier this month: "By all appearances, the President's brazen and unprecedented appeal to China and to Ukraine to investigate Joe Biden is wrong and appalling."
Hearing breaks for House votes
The hearing has broken for House votes, which are expected to take about an hour, so the committee will reconvene at about 12:30 p.m. at the earliest. 
Trump campaign spokesman weighs in
The restaurant in Kyiv where Sondland-Trump call happened
Key GOP members leave hearing
Several Republicans have left the committee room, including Nunes, Jordan, Hurd and Ratcliffe.
Hill: Bolton looked pained about smear campaign against Yovanovitch
Holmes acts out Sondland's call with Trump
Under questioning from Goldman, Holmes explained that he was able to overhear the July 26 conversation between Trump and Sondland because Trump was speaking on the phone extremely loudly.
Trump was speaking so loudly, in fact, that Holmes said Sondland "winced" in discomfort and had to hold the phone away from his ear.
Using his hand, he acted out the scenario for members of the committee.
"He held the cellphone away from his ear like this," Holmes said.
White House responds to Holmes' testimony
Meet the two seasoned staff prosecutors now in impeachment spotlight
The fast-moving impeachment inquiry into President Donald Trump's efforts to get Ukraine to investigate his political rivals is not only putting the partisanship on the House Intelligence Committee on full display, it's also catapulting the lead lawyers for both parties into the national spotlight.
Daniel Goldman is the Democrats' lead counsel and Steve Castor represents the Republicans. Both lawyers have extensive experience in Washington and in the courtroom and led the questioning of the closed-door depositions of witnesses in the inquiry. Both will have 45 minutes to grill witnesses on behalf of their respective sides as the inquiry moves forward.
Hill: Russia's interest 'is to delegitimize the president'
After an opening statement that largely focused on how Russia has "perpetrated and propagated" the "fictional narrative" that Ukraine interfered in the 2016 election, Hill is prompted by Schiff to expand on Russia's prerogatives.
Russia's interest "is to delegitimize the president," Hill explained. Their goal was to put whoever became president in 2016 — Trump or Clinton — "under a cloud." She says that the misinformation Moscow has put forth about Ukraine and the 2016 election advances that goal.
Holmes lays out damage to Ukraine
Holmes: Sondland told State Dept. staffer CNN interview was 'supposed' to occur in mid-September
Holmes said in his opening statement that he and his colleagues were concerned after the hold on U.S. aid to Ukraine was lifted on Sept. 11 that Zelenskiy had committed "in exchange for the lifting" to give a requested CNN interview. 
Holmes said that they received several indications that the CNN interview would occur. On Sept. 13, Holmes said one of his colleagues received a phone call from Sondland.
"My Embassy colleague texted me regarding the call that, 'Sondland said the [Zelenskyy] interview is supposed to be today or Monday [Sept 16] and they plan to announce that a certain investigation that was 'on hold' will progress. [Sondland's aide] did not know if this was decided or if [Sondland] is advocating this. …'"
Ultimately, the CNN interview never occurred. 
Holmes says he tried to raise Ukraine's profile
Holmes: Sondland said of Giuliani, 'Dammit Rudy. Every time Rudy gets involved, he goes and f---s everything up'
David Holmes, a career foreign service officer who overheard a phone call between President Donald Trump and E.U. Ambassador Gordon Sondland in July, said that Sondland slammed Rudy Giuliani's efforts to influence U.S. foreign policy toward Ukraine during a meeting in May. 
Holmes said in his opening statement before the House Intelligence Committee that Sondland's comment came during a preliminary meeting of the U.S. delegation to Zelesnkiy's inauguration in Ukraine. 
"At one point during a preliminary meeting of the inauguration delegation, someone wondered aloud about why Mr. Giuliani was so active in the media with respect to Ukraine," Holmes said. "My recollection is that Ambassador Sondland stated, "Dammit Rudy. Every time Rudy gets involved, he goes and f---s everything up. 
Sondland testified before the committee about his role in Ukraine on Wednesday. 
Holmes, counselor for political affairs at the U.S. Embassy in Ukraine, said in his opening statement that the situation at the embassy "changed dramatically" in March 2019. 
"Specifically, the three priorities of security, economy, and justice, and our support for Ukrainian democratic resistance to Russian aggression, became overshadowed by a political agenda being promoted by former New York City Mayor Rudy Giuliani and a cadre of officials operating with a direct channel to the White House," Holmes said. 
Embracing allegations by a former Ukrainian prosecutor, Holmes said that Giuliani smeared Marie Yovanovitch, who had served as U.S. ambassador to Ukraine and who testified before the House Intelligence Committee last Friday. 
"Mr. Giuliani was also making frequent public statements pushing for Ukraine to investigate interference in the 2016 election and issues related to Burisma and the Bidens. For example, on May 1, 2019, The New York Times reported that Mr. Giuliani had 'discussed the Burisma investigation, and its intersections with the Bidens,'" Holmes said. 
Holmes added, "The barrage of allegations directed at Ambassador Yovanovitch, a career ambassador, is unlike anything I have seen in my professional career."
An unexpected Jay Leno reference
Fiona Hill and David Holmes are sworn in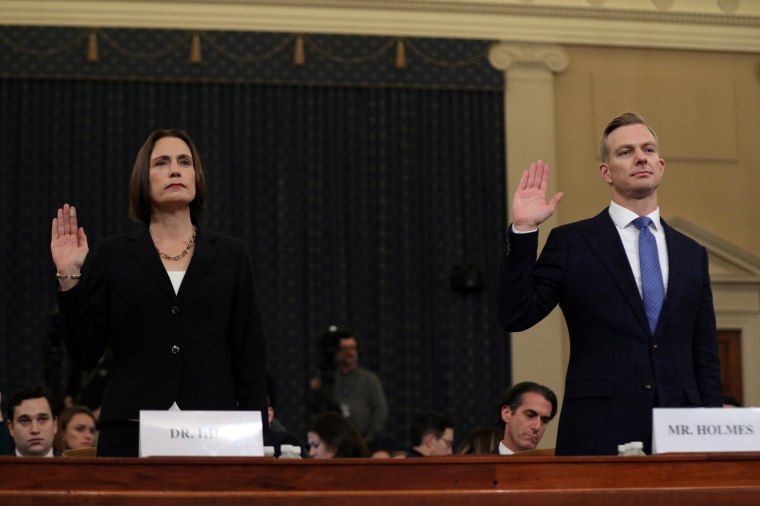 Schiff speaks during the House Intelligence Committee hearing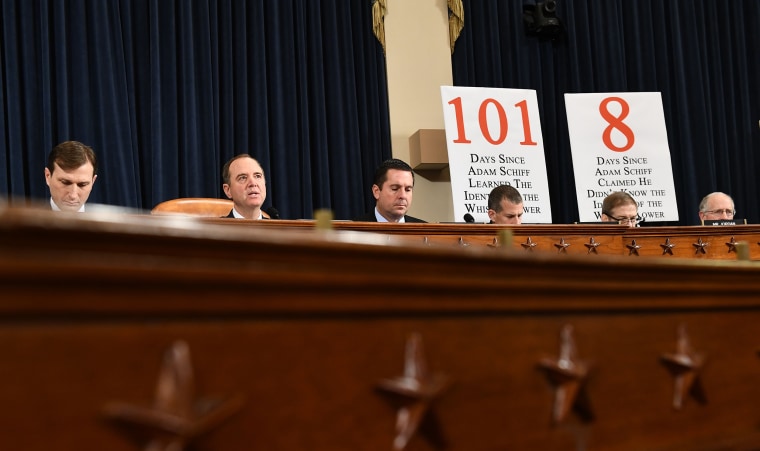 Trump denounces impeachment, media coverage
Schiff and Nunes deliver last opening statements of the week
Schiff is using his opening statement to discuss the concerns Hill had expressed in her prior, closed-door testimony of the parallel Ukraine policy process overseen by Rudy Giuliani.
He's also summarizing how Holmes has testified privately that he overheard the phone conversation in which Trump asked Sondland if Ukraine would investigate the Bidens and a conspiracy related to the 2016 election.
Schiff wrapped up by hinting at what House Democrats might do next in their impeachment inquiry.
"In the coming days, Congress will determine what response is appropriate," Schiff said. "If the president abused his power and invited foreign interference in our elections, if he sought to condition, coerce, extort or bribe a vulnerable ally into conducting investigations to aid his re-election campaign and did so by withholding official acts — a White House meeting or hundreds of millions of dollars of needed military aid — it will be up to us to decide whether those acts are compatible with the office of the presidency," he said.
Nunes, on the other hand, accused Democrats of utilizing a "carousel of accusations" against Trump that change "by the day."
He also said that Trump "had good reason to be worried about election meddling" by the Ukrainians — a debunked conspiracy theory that Hill, according to her prepared remarks, will demolish as "a fictional narrative that has been perpetrated and propagated by the Russian security services themselves."
Read the full text: Holmes' opening statement
Fiona Hill and David Holmes arrive to testify before the House Intelligence Committee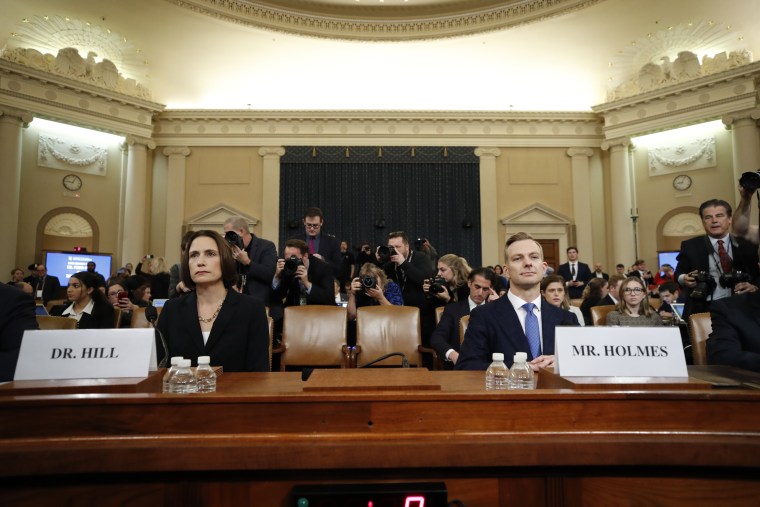 Read the full text: Fiona Hill's opening statement
Fiona Hill, the former White Hill official who is one of the foremost U.S. experts on Russia, is set to testify publicly Thursday as part of the Democratic-led impeachment inquiry into President Donald Trump.
Appearing to take aim at Republicans on the House Intelligence Committee, she will accuse lawmakers of echoing Russian propaganda by fomenting the "fictional narrative" that Ukraine meddled in the 2016 election, according to her prepared testimony obtained by NBC News.
Here's the full text as prepared for delivery.
Former White House aide Fiona Hill appears to take aim at GOP lawmakers for ignoring Putin election threat
Former White House official Fiona Hill on Thursday will accuse lawmakers on the House Intelligence Committee of echoing Russian propaganda by fomenting the "fictional narrative" that Ukraine meddled in the 2016 election, according to her prepared testimony obtained by NBC News.
Hill, one of the foremost U.S. experts on Russian President Vladimir Putin, appears to take aim at Republicans on the panel, led by ranking member Rep. Devin Nunes of California, who have repeatedly questioned witnesses about alleged efforts by Ukrainians to hurt President Donald Trump during the 2016 campaign.
She will say during her impeachment testimony that "some of you on this committee appear to believe that Russia" and its spy services didn't attack the U.S. in 2016" and that perhaps, somehow, for some reason, Ukraine did."
"In the course of this investigation, I would ask that you please not promote politically driven falsehoods that so clearly advance Russian interests," Hill plans to say. "I refuse to be part of an effort to legitimize an alternate narrative that the Ukrainian government is a U.S. adversary, and that Ukraine — not Russia —attacked us in 2016."
What does Giuliani's longtime go-between know about Rudy's work in Ukraine?
In July, Rudy Giuliani was desperate for more information about Hunter Biden's work in Ukraine.
So he turned to his longtime go-between for Ukrainian deals, a 44-year-old New York-based businessman named Vitaly Pruss.
According to Pruss, Giuliani asked him to call Pruss' close friend, the owner of Burisma, the Ukrainian natural gas company that formerly had Hunter Biden on its board. Giuliani wanted to know if the owner, Mykola Zlochevsky, would meet with him to talk about Biden.
But Zlochevsky made it clear "he wanted nothing to do with it," Pruss told NBC News in an interview at a restaurant in midtown Manhattan.
Among the unresolved mysteries in the impeachment saga is how Giuliani, the president's lawyer and a man with little known background in foreign policy, became the White House's point man on Ukraine. The answer in part lies with his relationship to Pruss, who has acted as the former New York mayor's political and business matchmaker in the former Soviet Union for years.
OPINION: Trump impeachment inquiry bombshells imperil Republicans' evidence defense
Did President Donald Trump abuse his power when he pressured Ukraine into announcing investigations that would benefit him personally? This, in a nutshell, is the question at the heart of the impeachment inquiry.
Democrats say Trump wanted Ukraine to announce an investigation into the company Burisma, which would allegedly implicate political rival Joe Biden and his son Hunter, and to investigate (debunked) allegations that Ukraine, not Russia, interfered in the 2016 election in order to help Hillary Clinton.
On Wednesday, Gordon Sondland, the American ambassador to the European Union, backed up this assessment, clearly and repeatedly explaining Trump's role in this scandal. Even Ken Starr said that it was "one of those bombshell days." But Republicans have yet to budge from their line of attack. The GOP has been trying to rebut a stream of increasingly compelling evidence by arguing — absurdly — that the case against Trump falls apart if no witnesses actually heard Trump say he himself intended to pressure the Ukrainians to launch the investigation, or if no witnesses personally watched Trump pressure the Ukrainians.
In other words, conservatives in the House are trying to persuade the American people that unless Trump signs a confession or is caught on video actually telling someone to commit an impeachable act, there is no case against him. This, of course, is absurd. People are often found to have committed wrongful acts without having confessed or without, say, the act being caught on video. Indeed, most of the time, people don't confess or mention to someone that they intend to commit a wrongful act.