WASHINGTON — Attorney General William Barr is harming America's relationships with its closest allies by pressuring them to produce intelligence about the Russia investigation in an effort to help President Trump politically, the ranking Democrat on the Senate Intelligence Committee charged Thursday in an exclusive interview with NBC News.
Sen. Mark Warner of Virginia, who has presided with his Republican counterpart over a two-year, bipartisan investigation into 2016 election interference efforts, said Barr's outreach to foreign governments, confirmed by the Department of Justice, threatens to undermine decades of U.S. intelligence sharing.
"U.S. intelligence leaders have expressed their concerns to me privately on this," said Warner, who is committee vice chairman. "This idea that Australia's intelligence product might be being used to go after a political opponent in domestic American politics… That's just not what the intelligence community is about."
The senator said he is particularly worried about the foreign requests and their impact on an intelligence sharing pact known as the Five Eyes, which includes the U.S., Canada, the U.K., Australia and New Zealand. Those countries cooperate extremely closely, sharing communications intercepts and other intelligence.
"Throughout the last 75 years, every administration has valued the sanctity of the five eyes relationship," Warner said. "It appears this administration doesn't value that relationship because if you did, you wouldn't ask your allies for their intelligence for political purposes."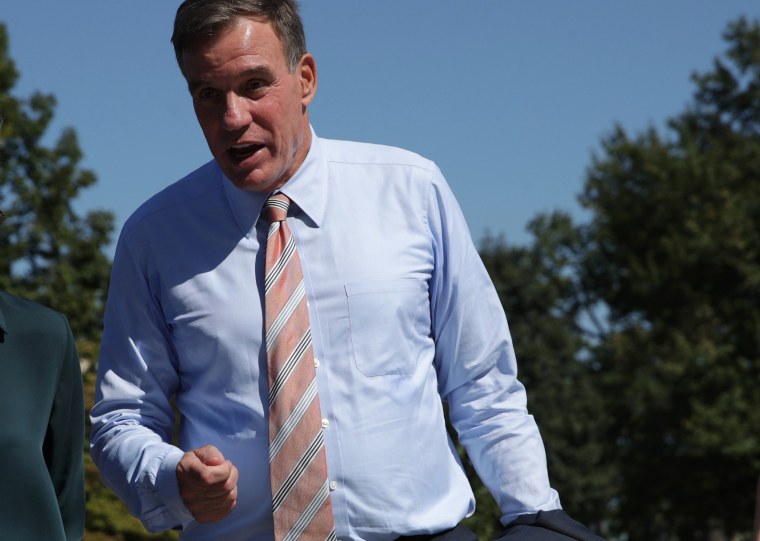 Warner added: "Can you imagine if the CIA was asked to provide damaging evidence on a political opponent in Australia? There would be outrage in our political establishment."
A Justice Department official acknowledged to NBC News this week that Barr has conducted two overseas trips to meet with foreign leaders to urge them to cooperate with an inquiry he has commissioned into the origins of the Russia investigation. Barr has also enlisted Trump to ask heads of state for cooperation, the official said. Critics say the inquiry is designed to discredit special counsel Robert Mueller's investigation and boost Trump.
Barr has visited the U.K. and Italy in this effort, and Trump has called the prime minister of Australia. The inquiry is being run by the U.S. attorney in Connecticut, John Durham, who previously investigated CIA torture. It's unclear how many foreign trips Durham has made.
In a letter released Thursday, the Australian ambassador confirmed to Sen. Lindsey Graham, R-S.C., that his government is assisting the Barr/Durham inquiry, but he pushed back against Graham's characterization of the role of an Australian diplomat whose tip to the FBI about a Trump campaign aide boasting about the Russians having Democratic emails launched the FBI investigation.
Graham had charged in a letter that the diplomat was directed to contact Trump campaign foreign policy adviser George Papadopoulos and "relay information obtained from Papadopoulos regarding the campaign to the Federal Bureau of Investigation."
"In your letter you made mention of the role of an Australian diplomat. We reject your characterization of his role," Ambassador Joe Hockey wrote.
Warner said the Senate Intelligence Committee has asked for a briefing on Durham's inquiry but has not received one.
Barr spokeswoman Kerri Kupec referred NBC News to Barr's past statements about the review. Barr has said that he has seen information suggesting there were irregularities with the way surveillance was conducted by intelligence agencies in the Russia investigation. He has said it's particularly important to determine whether there was inappropriate "spying" on an American political campaign.
Asked about that, Warner said, "If Mr. Barr was actually interested in getting the facts, why wouldn't he have first turned to our committee, which spent two years examining the intelligence community assessment which talked about the origins of the investigation."
The Senate Intelligence Committee has not released a full report on its investigation, but last year it issued a conclusion backing the intelligence community assessment that Russia interfered in the 2016 election to help President Trump.
"We see no reason to dispute the conclusions," the committee's chairman, Sen. Richard Burr, R-N.C., said at the time in a joint statement with Warner. The Democrat added, "The Russian effort was extensive, sophisticated, and ordered by President Putin himself for the purpose of helping Donald Trump and hurting Hillary Clinton."
Warner has sought to temper his public remarks about the burgeoning whistleblower scandal in an effort to maintain a working relationship with Burr. Burr's office did not respond to a request for comment.
In the telephone interview with NBC News Thursday, Warner reiterated his criticisms of Trump's attacks on a whistleblower and others inside the government who raised questions about his July phone call with the president of Ukraine.
Warner also faulted the acting director of national intelligence, Joseph Maguire, for failing to speak publicly in recent days in defense of intelligence community employees.
Maguire testified before the House last week and praised the whistleblower, but he has been invisible since, as Trump has used words such as "traitor" and "spy" to describe members of the intelligence community.
"I was hoping the leadership of the intelligence community would do the right thing and put out a public statement saying he's going defend his people," Warner said. "His failure to voice any public support for them I find very disturbing. He may have said things privately, but this is not a time for private reassurances only."
A spokeswoman for the DNI pointed NBC News to Maguire's congressional testimony and declined to respond to the criticism.