WASHINGTON — Politicians from the president down are talking about new legislation and executive action after a gunman murdered 17 people at Marjory Stoneman Douglas High School in Parkland, Florida.
The mass shooting has prompted the most intense sustained debate over gun laws since another school shooting at Sandy Hook Elementary School in Connecticut killed 26 people, 20 of them children, in 2012.
Here's a look at some of the biggest ideas that President Donald Trump and lawmakers have put forward, what they would do, and their chances of being put in place.
1. Background checks
There are several major bipartisan bills drawing renewed attention in the Senate this month that aim to expand background checks for gun sale.
The first is the Fix NICS Act, which was introduced last year by Senate Majority Whip John Cornyn, R-Texas, and Sen. Chris Murphy, D-Conn. The White House has signaled its interest in the bill and the NRA is not opposed, removing two big obstacles to passage; Senate leaders are planning to move ahead with a vote.
Like a lot of proposals being discussed, it was crafted as a response to a prior shooting. It aims to correct failures in the National Instant Criminal Background Check System that allowed the shooter who killed 26 people at a church in Sutherland Springs, Texas, in 2017 to legally buy a gun despite a domestic violence conviction in the Air Force that should have come up in a background check if it had been properly updated. The bill also would provide more funding to states to improve their background check system and penalize political appointees at federal agencies if they don't take steps to maintain their records.
But gun safety groups are much more interested in a second bill that would make more fundamental changes.
Manchin-Toomey, introduced in 2013 after the Sandy Hook attack, would have required background checks on online and gun show sales of firearms, closing what critics call the "gun show loophole," while exempting private sales between friends and family. One study by researchers at Northeastern University and Harvard University estimated that 22 percent of gun sales occur without a background check under the current system. Facing opposition from the NRA, the bill secured 54 votes in 2013, but fell short of the 60 votes needed to overcome a filibuster. Both Sens. Joe Manchin, D-W.Va., and Pat Toomey, R-Penn., have talked about reviving it since the Parkland shooting.
The Fix NICS Act is much more likely to pass in the short term, but could become tripped up by politics as well. The House passed its own version of the bill in December, but it contained a major pro-gun provision that ensures it has no chance in the Senate: Forcing states with stricter gun laws to recognize concealed carry permits from other states.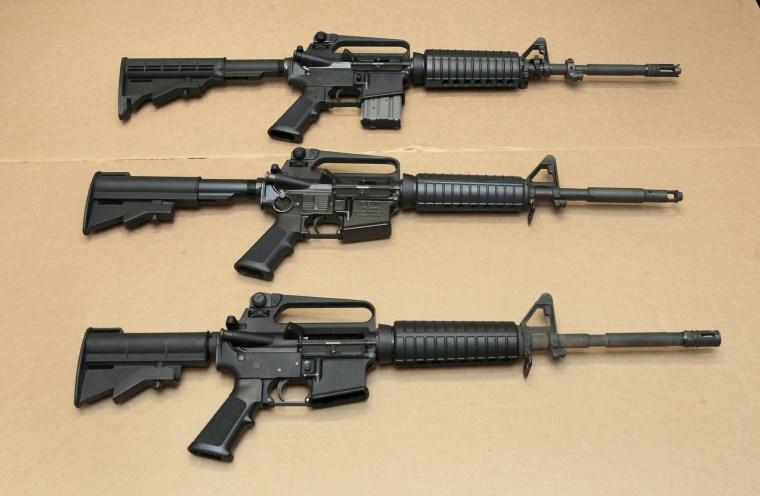 Democrats also could be wary of passing a background check bill that falls short of Manchin-Toomey. "If we only pass Fix NICS, we'll be right back here after the next shooting in nearly the same place," Senate Minority Leader Chuck Schumer, D-N.Y., said in a floor speech on Monday.
Another bipartisan proposal that's gained some renewed attention: The "No Fly, No Buy" bill by Sen. Susan Collins, R-Maine, which would restrict firearm sales to people on a terror watch list while giving them the ability to appeal. The Senate and House have previously rejected both the Collins bill and related legislation amid concerns from gun rights groups and civil liberties groups like the ACLU, who complained that it would violate due process by using broad watch lists in ways they were not intended.
2. Raising the age to buy guns
Trump and Florida Gov. Rick Scott have both called for raising the minimum age to buy rifles like those used in the Parkland attack from 18 to 21 years old, where it currently stands for handgun purchases through licensed dealers. Sen. Jeff Flake, R-Ariz.. is working on legislation with Sen. Dianne Feinstein, D-Calif., that could restrict AR-15 sales for nonmilitary buyers under 21.
Gun rights groups are generally against the idea, however, with the NRA's top lobbyist calling it "gratuitous gun control," and some key senators have also expressed skepticism, making a federal law an uphill climb.
3. Assault weapons ban
After a series of high-profile mass shootings, President Bill Clinton signed the 1994 Assault Weapons Ban, which restricted features on semi-automatic pistols, rifles and shotguns. It expired in 2004 and the odds of it being passed again in Congress are remote, but the use of an AR-15 rifle or similar model in Parkland and Sandy Hook and other major attacks, have continued to prompt calls for new restrictions.
Rep. Brian Mast, R-Fla., who lost both legs as an Army soldier in Afghanistan, came out for a new assault weapons ban last week, saying civilian versions of military rifles like the AR-15 gave mass shooters "the best killing tool the Army could put in my hands." The rifles fire at a higher velocity than handguns, which doctors who have treated mass shooting victims say produces much deadlier wounds.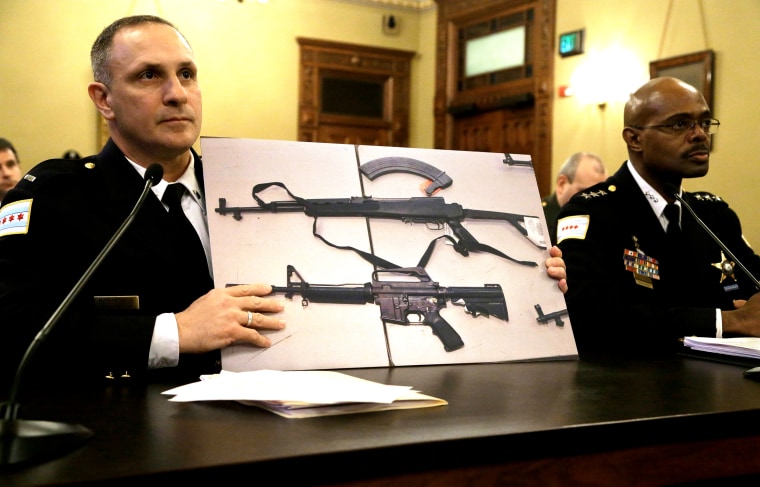 Gun-rights supporters say the bills would unnecessarily restrict popular firearms and that the original assault weapon ban required only minor tweaks for gun manufacturers to produce broadly similar weapons.
Experts say there is one element of an assault weapons ban that could make a concrete difference in mass shootings: Restricting large-capacity magazines, which the original bill limited to ten rounds. The shooter who killed 12 people and shot 58 others at a movie theater in Aurora, Colorado, in 2012 used a 100-round drum magazine, for example, which prompted Colorado legislators to ban magazines that carry over 15 bullets. Louis J. Klarevas, who researched five decades of mass shootings for his book Rampage Nation, concluded that "the factor most associated with high death tolls in gun massacres is the use of a magazine holding more than ten bullets."
4. Bump stock ban
The White House and Congress are looking at measures to restrict the sale of bump stocks, an attachment to semi-automatic weapons that can increase the rate of fire to more closely resemble an automatic weapon.
This is yet another proposal that gained bipartisan momentum after a previous mass shooting only to quietly fade into the background. In this case it was the 2017 Las Vegas massacre, in which the killer fired hundreds of rounds into crowds at a country music festival and used guns outfitted with bump stock modifications.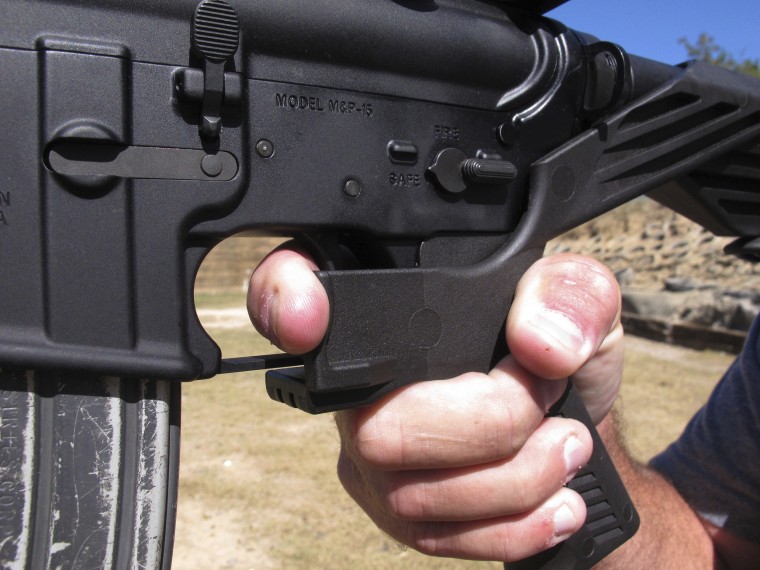 Lawmakers in both parties expressed interest in banning bump stocks in the aftermath, complaining they violated the spirit of existing bans on automatic weapons. The NRA came out for letting the Bureau of Alcohol, Tobacco and Firearms regulate bump stocks rather than passing a new law, however, and momentum faded. The agency had previously concluded it did not have authority to address the issue in 2010.
Trump has asked Attorney General Jeff Sessions to develop regulations to ban them and it's possible that legislation will gain momentum if the regulatory ban fails to make headway. In the meantime, some state and local governments have advanced their own bump stock bans.
5. "Red flag" laws
One proposed approach is to give courts more authority to confiscate weapons from people who are considered a threat to themselves and others. Five states have "red flag" laws that allow a judge to issue an extreme risk protection order that temporarily restricts a person from owning a gun if family, household members and police can convince them they're a danger. Gun safety groups say they hold the potential to reduce suicide rates and contain potential violence early on.
This proposal has gained special attention after the Parkland attack, where authorities identified prior complaints about the suspected shooter warning he was a possible threat. With a red flag law, they could take the evidence to a judge and seek immediate action rather than go through the more difficult process of committing someone or prosecuting them for a crime.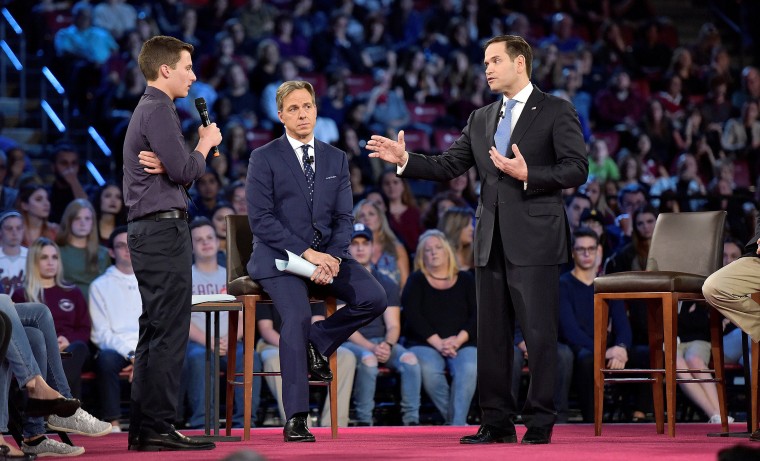 Both Sen. Marco Rubio, R-Fla., and the White House have expressed interest in red flag laws since the shooting, among others, though it's more likely they would be pursued at the state level in the short term. "It seems to be working in certain areas," White House spokesman Raj Shah said at a briefing last week. Some pro-gun conservatives have argued they're a promising alternative to new gun laws, since they target individual behavior rather than restrict firearms themselves.
But they could face resistance: The NRA opposed a red flag law in Oregon last year, warning it would "deprive someone of their Second Amendment rights without due process of the law." Oregon Attorney General Ellen Rosenblum, a Democrat, told reporters on Monday that the law helps them confront people at "extreme risk of harming themselves or others."
6. Arming teachers
Trump's most unique contribution to the gun debate is his proposal to encourage teachers with proper training to carry a weapon in order to deter or foil potential mass shooters. As an incentive, he suggested offering bonus pay for armed educators. The National Education Association is strongly opposed to the idea and public policy experts have raised numerous concerns.
So far there's no specific legislation or executive plan to implement it at the federal level and it's attracted some Republican criticism as well. "That is really a question for local governments, local school boards," Speaker Paul Ryan, R-Wisc., told reporters on Tuesday.
While no states have issued blanket permission to teachers carry concealed weapons, according to a report by the nonprofit Education Commission of the States, a handful do allow schools to authorize staff to carry guns in certain circumstances. In Florida, Republican State Sen. Dennis Baxley has proposed legislation that would allow school principals to designate certain staff or volunteers to carry a firearm, but legislative leaders and the governor oppose arming teachers.