WASHINGTON — As of early evening, no senior staffer or Cabinet member left the Trump administration on Friday.
For most White Houses, that fact wouldn't top a story, or even rate a mention. For this particular administration, on this particular Friday, it qualified as headline material.
The rumor mill has been working overtime in Washington for the past two days, after a week of big departures and vague teases from President Donald Trump of more shakeups to come in his White House. Friday morning, another administration exit before the end of the work week seemed not just possible, but probable.
But the day ended with the morning's White House lineup unchanged. At least, for now.
Still, the president's recent penchant for stoking the embers of palace intrigue contributed to a jittery Friday for White House staffers, sources and reporters alike trying to figure out what — if anything — was about to happen, and who might be the next to learn via tweet that their employment had been terminated.
Several sources inside and close to the White House prefaced conversations with caveats that their predictions were merely "possible" or that they were just passing along rumors they'd heard. One joked to NBC early in the week: "let me know if any more of my colleagues get fired."
There was a solid reason for the uncertain chatter. There seemed to be only one person in the White House who knew for sure what the next personnel move might be: the president himself. And there were strong indications that even he wasn't certain — or, to be more precise, that his plans shifted by the day, or even by the hour.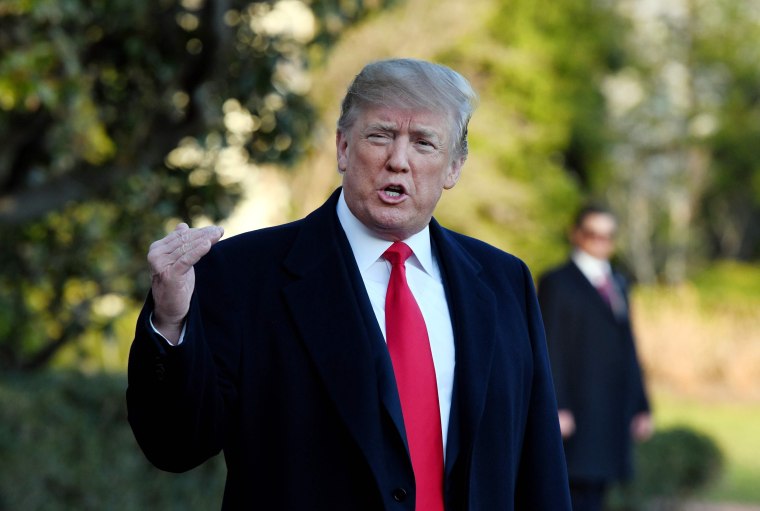 On Monday, Trump lost his longtime body man, John McEntee, over concerns about his security clearance.(McEntee landed a job on Trump's re-election campaign shortly after the news broke.)
The following day, the president fired Secretary of State Rex Tillerson via Twitter, tapping CIA Director Mike Pompeo as his replacement.
On Wednesday, he announced renowned conservative economist Larry Kudlow as his replacement for Gary Cohn — who quit last week — atop the National Economic Council.
The following night, after replacing his top diplomatic adviser and top economic adviser in the space of roughly a week, speculation ricocheted through Washington that he was close to saying goodbye to his national security adviser, H.R. McMaster, as well. Or maybe to Chief of Staff John Kelly. Or both.
NBC News first reported earlier this month that McMaster was slated for a departure from the administration at the end of March, following months of tension with Trump.
As gossip swirled, the White House attempted to quell personnel rumors, using the president's favorite social media platform late Thursday night in a bid to tamp down on reporting that indicated McMaster was on his way out. "Contrary to reports, [Trump and McMaster] have a good working relationship and there are no changes at the NSC," Press Secretary Sarah Huckabee Sanders wrote on Twitter.
Friday at the briefing room podium, Sanders said she had spoken to Trump the previous night, and he asked her to pass the message along to McMaster that he shouldn't be worried about the news stories predicting his imminent exit.
Kelly, she said, also sought to calm anxious staff members Friday morning, telling them that there were "no immediate personnel changes at this time" and that they "shouldn't be concerned."
That conditional statement may have been less than reassuring in a White House where the man in charge of the biggest hirings and firings can, and has, shifted course in a matter of hours.
The ever-evolving list of those endangered employees is no secret — in large part because Trump himself has been very open about his displeasure with at least half a dozen top officials. Leaving aside Kelly's precarious position — which seemed to stabilize, at least for the moment, on Friday — at least five Cabinet secretaries find themselves in limbo after controversies ranging from their $31,000 dining room furniture preferences to high-priced, luxe travel all on the taxpayers' dollar.
Sanders dismissed questions Friday about two of those administration officials, Housing and Urban Development Secretary Ben Carson and Veterans Affairs head David Shulkin, with the familiar pushback that the White House wasn't focused "on a lot of the news stories that you guys would like us to be focused on" because it was "focused on what the American people want us to do."
But given the number of worried Trump aides speaking to reporters about the chaos, it seemed clear that many in the White House found themselves focused on precisely those personnel moves. That the drama would reach a fever pitch heading into Friday was almost the only thing that felt predictable for those who have covered this administration with a penchant for end-of-week firings.
"Farewell Fridays" had become something of a trend, beginning over the summer when big-name staffers like Steve Bannon, Sean Spicer, and Reince Priebus all made their exits from the West Wing — voluntarily or not — on various Fridays.
But by close of business Friday nothing had changed — although the wise and battle-tested still kept one eye on Twitter, and some reporters even made prop-bets about what time news would break out of the White House.
For the president who promised campaign crowds "the best people" in his administration, another week of turnover served as a reminder that his ideal lineup remained very much a work in progress.
"There will always be change," Trump told reporters in the Oval Office Thursday. "And I think you want to see change."
It seemed clear that, at least, he did: shortly after firing Tillerson Tuesday, he told reporters he was finally "close to having the Cabinet and other things that I want."