Just hours after the White House banned a CNN reporter from attending a press event with President Donald Trump, adviser Kellyanne Conway on Thursday berated the news media, claiming that "shouting" and "pouting" reporters should show more "civility" and "respect" toward the administration.
When asked Thursday why Kaitlan Collins, the CNN reporter, had been booted from a Rose Garden event a day earlier after she peppered the president with questions on Russia and Michael Cohen, Conway, counselor to Trump, responded that unruly reporters were to blame for the incident.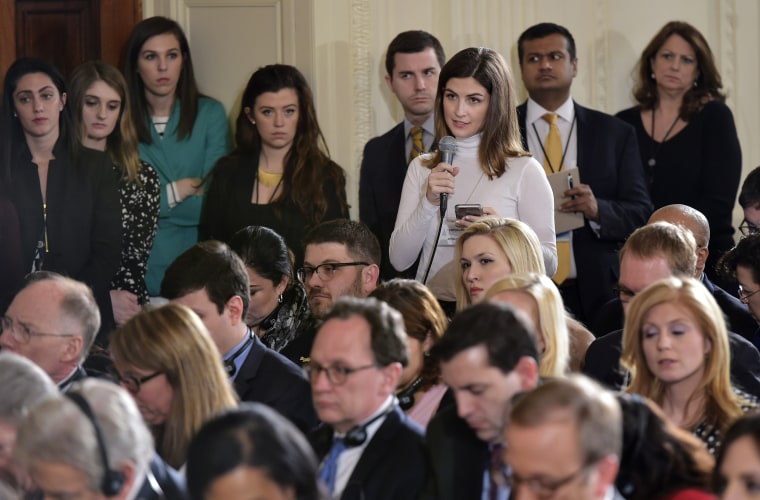 "I think that the question isn't are the press allowed to ask questions, this president obviously isn't afraid of questions. We answer them routinely," she told reporters gathered on the White House lawn. "And that incident aside, just being polite to the process, to the presidency, to the protocol, and not shouting questions long after the press has politely been asked to leave, long after you've had opportunity to be there with the president, I think it's a very reasonable request."
"And that incident aside, I'm just speaking more broadly, the civility that you all call for sometimes when you're in your broadcasts, I think it should start here at the White House, and just show a little bit more respect," Conway continued.
"I think it's the shouting and the pouting long after the press corps has been politely asked to leave the room," she said.
Bill Shine, a former Fox News executive who Trump tapped earlier this month as his deputy chief of staff for communications, also weighed in, casting doubt on the way the incident had been portrayed in the news media and telling reporters to ask Collins if anyone from the White House had used the word "ban" when not allowing her in.
Collins had served as the network television "pool reporter" during an Oval Office photo-op with Trump and European Commission President Jean-Claude Juncker Wednesday, meaning she was asking questions on behalf of several TV news organizations.
As the president sat for pictures, Collins tossed out a few questions in hopes that Trump might answer, as he often does. Collins' four questions centered on Trump's relationship with Cohen, his former longtime lawyer, and an invitation he extended to Russian President Vladimir Putin to visit the White House. Both topics had been in the news of the day on Wednesday.
After Collins asked the questions, however, she was told by Shine and White House Press Secretary Sarah Sanders that she would not be allowed to attend an open press event in the White House Rose Garden.
"I told them that is often our only chance to ask the president questions. Those questions were questions any reporter would have asked, and I was there to represent all of the networks and therefore ask about the questions of the day," Collins said on CNN's "The Situation Room with Wolf Blitzer."
In a statement, CNN said Collins was told by Shine and Sanders that her questions were "inappropriate."
The action was widely criticized by reporters and news organizations, including Shine's former employer, Fox News.
The White House Correspondents' Association also condemned the Trump administration's "misguided and inappropriate decision."
"This type of retaliation is wholly inappropriate, wrong-headed, and weak," said WHCA President Olivier Knox, a correspondent for SiriusXM. "It cannot stand. Reporters asking questions of powerful government officials, up to and including the president, helps hold those people accountable."
Fox News, the president's preferred news network, also extended its support to CNN and Collins.
"We stand in strong solidarity with CNN for the right to full access for our journalists as part of a free and unfettered press," wrote Jay Wallace, the president of FOX News, in a statement.
Other White House reporters — some who were in the room when Collins asked the questions — and colleagues also expressed unity with the CNN reporter.
Hallie Jackson, NBC News' chief White House correspondent, offered solidarity as well, saying on Twitter that Collins was simply doing her job as a journalist and that any pool reporter "would have done exactly the same thing in her shoes."
Sanders, for her part, said in a statement from the White House Wednesday night that Collins had "shouted questions and refused to leave despite repeatedly being asked to do so."
"Subsequently, our staff informed her she was not welcome to participate in the next event, but made clear that any other journalist from her network could attend," Sanders said. "She said it didn't matter to her because she hadn't planned to be there anyway. To be clear, we support a free press and ask that everyone be respectful of the presidency and guests at the White House."