In his first two weeks in office, President Donald Trump's "America First" pledge has proven more than an idle slogan. In word and deed, the White House has signaled an aggressive unilateral stance toward the world that's antagonized allies abroad and divided supporters at home.
Trump's orders barring travel from seven Muslim-majority countries, temporarily halted in part by courts after sparking confusion and chaos at airports, were an exclamation point. In his short time in office, he's also defended the use of torture, tossed out the Trans-Pacific Partnership, demanded Mexico pay for a border wall, and threatened to withdraw from NAFTA, the sweeping hemispheric trade deal, if he can't renegotiate its terms.
Trump outlined the vision in his inaugural address, where he pledged to pursue friendships and "reinforce old alliances" abroad but celebrated "the right of all nations to put their own interests first". He promised not to "impose our way of life on anyone, but rather let it shine as an example." On trade, he denounced "the ravages of other countries, making our products, stealing our companies, and destroying our jobs."
Even before he was sworn in, Trump likened U.S. intelligence agencies to Nazis during the transition, tweaked China by questioning longstanding policy toward Taiwan, called for warmer relations with Russian president Vladimir Putin, and denounced the United Nations as "a club for people to get together, talk and have a good time."
Individually, many of these policies are not unique to Trump: Hillary Clinton also ran on tearing up the TPP agreement and many other Republicans have called for a tougher stance against China and criticized the UN.
Taken together, though, some veteran foreign policy observers see in Trump's agenda an unprecedented break from the foreign policy assumptions that have guided every administration since President Harry Truman.
'I am worried," former Secretary of State Madeleine Albright, who served under President Bill Clinton, told NBC News. "I think there's a lack of understanding of how the international system works and America's role in it. It can't operate on the basis of chaos."
In the view of some experts, Trump's early moves signal a determination to tear down an international order founded on free trade, human rights, and collective security that has guided the world through the Cold War and into the 21st Century.
"Republicans and Democrats always had a consensus about the importance of U.S.-led multilateral institutions, the centrality of globalization, and free trade," said Ian Bremmer, a political scientist and president of the Eurasia Group. "Some were more skeptical than others, but the idea behind all of these things was that using American leadership to create standards and alliances benefits us because we're the biggest economy and have the strongest military."
This current order, built largely by the United States over decades, includes institutions like the United Nations, NATO, the World Bank, and the International Monetary Fund. The goals, until now, have been to encourage open markets, discourage nuclear proliferation and war, manage global threats like climate change, and generally promote stability.
"There are a lot of people around the world who say they oppose this system because it institutionalizes the dominance of the United States," said Barnett Rubin, a senior fellow at the NYU Center for International Cooperation.
Now, Rubin says, an American president is "starting to shred all of the basic elements of the U.S. position in the world."
And Trump's actions have already drawn a skeptical eye from allies abroad.
French President Francois Hollande has warned Trump against withdrawing from the Paris Climate agreement or the Iran nuclear deal negotiated with Europe's cooperation, both of which Trump has criticized but not yet abandoned. Hollande says "turning inward would be a dead end" for the U.S.
British Prime Minister Theresa May urged Trump not to end sanctions against Russia over its interference in Ukraine, even as she praised Trump for offering his "100 percent" commitment to NATO, which he has criticized at length in the past.
And German Chancellor Angela Merkel, whom Trump has criticized for taking in more than one million refugees, told him in a call that international law requires countries to protect people fleeing war. In Iraq, one of the countries on the travel ban list, leaders planned retaliatory measures against American travelers.
"If you look at the way he's spoken with the German and French leadership and compare it to the way he's spoken with Putin, you see this is a radically different perspective," Bremmer said.
Donald Tusk, President of the European Council, said in a letter to European leaders on Tuesday that Trump's stances had "put into question the last 70 years of American foreign policy" and urged them to not "surrender to those who want to weaken or invalidate the Transatlantic bond, without which global order and peace cannot survive."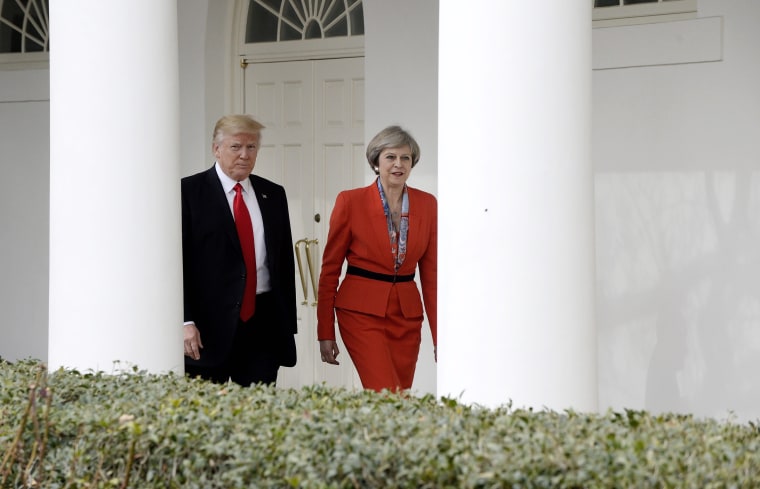 At home, career foreign service officials drafted an official dissent warning that the immigration orders would make the nation less safe by inflaming tensions with the Muslim world and "runs counter to core American values of nondiscrimination, fair play, and extending a warm welcome to foreign visitors and immigrants."
While Republicans have largely rallied to Trump since the election, few have embraced his worldview without reservation and his actions have often split the party. Some members endorsed his immigration orders, like House Speaker Paul Ryan, but dozens raised objections, especially in the Senate.
For some of Trump's advisers, there's a clear ideology behind these moves. Senior adviser Steve Bannon has explicitly linked Trump's cause to far-right nationalist leaders in Europe who share a skeptical view towards international agreements, immigration, and unfettered trade.
They see the current system as one that privileges financial elites over blue-collar workers, who they say suffer from competition with immigrants and from free markets that allow companies to move manufacturing to developing countries that pay lower wages. These parties tend to take a dim view of assimilation, especially among Muslim immigrants. Trump has frequently promoted incendiary conspiracy theories linking ordinary Muslims in America to terrorism, most notably when he falsely accused "thousands and thousands" of New Jersey residents of publicly celebrating the 9/11 attacks.
In an interview with the Washington Post on Monday, Bannon praised Alabama Sen. Jeff Sessions, Trump's nominee for attorney general who holds similar views, as part of a broader push to advance this ideology.
"In America and Europe, working people are reasserting their right to control their own destinies," Bannon said. "Jeff Sessions has been at the forefront of this movement for years, developing populist nation-state policies that are supported by the vast and overwhelming majority of Americans, but are poorly understood by cosmopolitan elites in the media that live in a handful of our larger cities."
Trump's "American carnage" inaugural speech touched heavily on Bannon-esque themes, and Trump has elevated him to a position on the National Security Council, an unusual role for a political aide.
It's not clear that Trump, whose positions on some of these issues have changed from interview to interview, shares the ideology of his advisers though.
For one thing, he's tolerated dramatically different views from some of his other top nominees. Defense Secretary James Mattis offered a robust defense of NATO in his confirmation hearings. New CIA Director Mike Pompeo said he would "absolutely not" engage in torture and described Russia as a significant geopolitical threat in his own.
The consistent thread in Trump's own statements has been a zero-sum view that divides countries into those that benefit the United States, either by paying for protection or by generating a trade surplus, and those that cost it money.
His more controversial statements, like suggesting allies like Japan and South Korea should potentially obtain nuclear weapons if it would save America money on defense, often come when his businessman-like approach runs into specific foreign policy questions where he has little background.
Part of this approach is also by design. Trump has often said thinks the United States should keep rivals off balance by being "more unpredictable."
But if nations no longer believe the Untied States will make good on past trade or military agreements, it could unravel the international framework whether or not Trump formally withdraws from any individual treaty.
More than just a series of agreements, the system rests on the idea that the United States will follow through on its obligations in a predictable fashion and respond a certain way to those who do not.
"America is great, but it's great because of the partners we have and how we operate how we understand what our responsibilities are," Albright said. She added that Trump's comments "deprecating the role of institutions" concerned her most during the campaign.
If Trump talks about lifting sanctions on Russia, which the president suggested earlier this month could be part of a deal on nuclear arms reduction, it could send a signal to European allies that the U.S. won't push back on future aggression by Putin (who in turn, could interpret the move as an invitation to push further).
When Trump, as president, says torture "absolutely works" (even as he adds he will not implement it for now) or that the United States may one day take the oil in Iraq and dismisses the Geneva Convention that bans both practices, for example, he's railing against laws and treaties that America has championed and enforced through sanctions and even military force. Now, violators can argue the president himself has given his blessing to their actions even if the law remains the same.
"Treating the system like its optional, or that it doesn't have any important function at the moment, is more dangerous than trying to destroy it deliberately," Kim Lane Scheppele, a professor of international affairs at Princeton University, said. "He doesn't use the international system to signal to others 'Hey, this is serious, this is not so serious,' so he becomes extremely unpredictable on the world scene."
This uncertain landscape recently prompted Bremmer, who analyzes global risk for a living, to pronounce 2017 the most volatile year since World War II ended.
"The wall and immigration ban are the perfect metaphors for the end of the Pax Americana," he said.