After decades of relative obscurity, the fringe "antifa" movement is becoming a household name after followers clashed with white supremacists at the Charlottesville "Unite the Right" rally where extremist Alex Fields is accused of murdering 32-year-old activist Heather Heyer in a car attack.
But the movement is still loosely defined and organized, making it difficult to get a grip on its size and aims.
Professor Mark Bray, a historian and lecturer at Dartmouth, has tried to fill the gap in his new book, "Antifa: The Anti-Fascist Handbook," that chronicles its rise. While Bray doesn't participate in the group's protests, he nonetheless considers himself an ally.
President Donald Trump called out the antifa movement by name at an Arizona rally last week, but they've attracted criticism from conservative and liberal commentators alike for its use of violent protest to shut down public events featuring far-right speakers. Bray has attracted his own criticism: Dartmouth's president put out a statement distancing the college from any "endorsement of violence" after Bray defended antifa tactics on Meet The Press.
Bray talked to NBC News about the antifa movement — and the role violence plays within it — on Thursday. Our conversation, edited for length and clarity.
NBC News: How would you define the antifa movement?
BRAY: It's basically a politics or an activity of social revolutionary self defense. It's a pan-left radical politics uniting communists, socialists, anarchists and various different radical leftists together for the shared purpose of combating the far right.
This is a phenomenon that's gotten more attention in recent months, but your book traces their history back decades around the world. What would you say are the main roots of the American version?
In its modern variant, we can see it with Anti-Racist Action (ARA), which formed in the late 1980s in the Twin Cities out in Minnesota among anti-racist skinheads who were trying to fight back against the growth of a neo-Nazi skinhead movement that was essentially exported from Britain. That's the real germ of this. They didn't call themselves antifa, but it was the same basic politics.
Is the movement actually larger now or are we just paying more attention to it?
It is actually larger now. A lot of the groups I spoke to formed in 2015, 2016 and even 2017. There were hundreds of groups in the ARA network in the '90s, then it went into a lull in the 2000's and picked up a little bit again in late 2000's and early 2010's, but even in radical left circles was very far down the list of prominent activities. But with the Trump campaign revving up and then his victory, that made more people convinced of its usefulness.
You wrote in your book: "At the heart of the anti-fascist outlook is a rejection of the classical liberal phrase incorrectly ascribed to Voltaire that says I disapprove of what you say but I will defend to the death your right to say it." What do you mean by that?
Anti-fascists are illiberal. They don't see fascism or white supremacy as a view with which they disagree as a difference of opinion. They view organizing against them as a political struggle where the goal is not to establish a regime of rights that allow neo-Nazis and victims to coexist and exchange discourse, but rather the goal is to end their politics.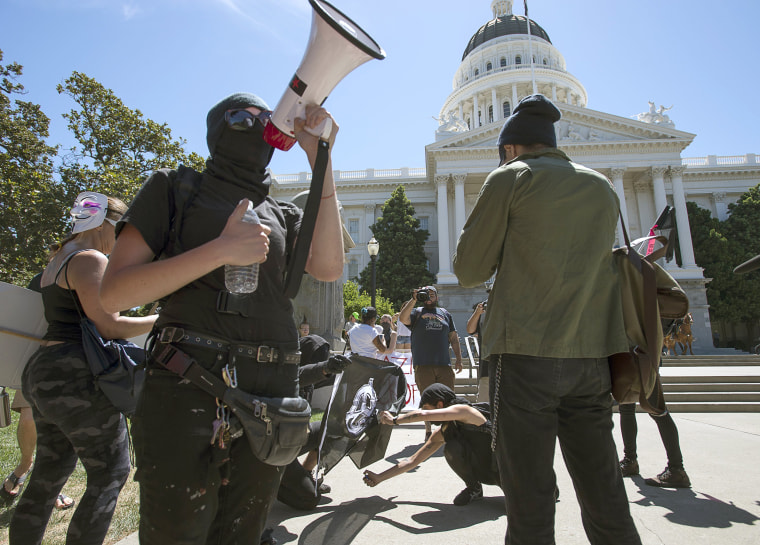 If you establish that so-called fascist speech is illegitimate, then who decides who will be targeted as fascist? Can't it lead more mainstream politics to end up being targeted?
When anti-fascist groups successfully defeat the organizing of local neo-Nazis and fascists, what usually happens is their group falls apart and individuals go back to being labor organizers or environmentalists or whatever kind of leftist. The lifecycles of anti-fascist organizing rise and fall with the organizing of the far right.
Anti-fascists oppose anti-Semitism and Islamophobia and there is a certain political lens that — agree or disagree with the lens — there is an element of continuity in terms of the types of groups targeted. I don't know of any Democratic party events that have been 'no platformed' (shut down) by anti-fascists. So there is a political lens, people will quibble about what the lens is, who designs the lens, but I don't think the slippery slope is actually, in practice, nearly as much of a concern as people imagine it would be.
To zero in a bit, though: Your book references actions targeting actual neo-Nazi groups, who were very visible in Charlottesville, but also general clashes with police and property damage as means of protest, like at the Berkeley rally which was about a controversial speaker. Doesn't that extend the lens?
Antifa are revolutionaries and they are almost always anti-police. That's partly why they organize how they do: If they were pro-police they'd be more inclined to say, 'Hey, police, why don't you take care of this.' But as anti-capitalist with a sort of police-abolitionist lens, they view the police as problems, as defenders of the capitalist order, and also all too often as sympathizers with the far right. So they view both sides as being opponents, but once again opposition to police is fairly clear cut and comes from a political tradition stretching back 200 years — so it's not arbitrary, even if you disagree with it.
You also mentioned property destruction. Yeah, property destruction is certainly part of the repertoire of what some of these groups will do to achieve their goals. Some say it's violence, some say it's not because it's not against human beings, that's a matter of opinion.
You write that violence represents a "small though vital sliver of anti-fascist activity" and you mention that it's not the only thing they're up to. But what makes it so vital?
Even if a group does not intend for that to be the way to go about it, if you're organizing against violent fascists, being able to defend yourselves can unfortunately come in handy. The other part of it is looking at the broader historical trajectory of the rise of and fascism and Nazism in Europe, the liberal playbook for stopping the advance of fascism failed.
Another book on protest movements out now is by Zeynep Tufecki, who takes the exact opposite view. To quote Tufecki: "Plainly: historically, anything that looks like street brawls helps fascists consolidate power. 'Many sides' is their core tactic. [It] works." In other words, they often use violence to justify an electoral backlash which they then use that to justify a state crackdown.
The question is more what to do when you're at the early stages of struggle, before you get to the point where there are tanks and airplanes. I agree most of the time, in most circumstances, non-violent means are effective and it's really very fundamental to building a popular movement to influence public opinion. The question is how bad does it have to get before self-defense becomes legitimate.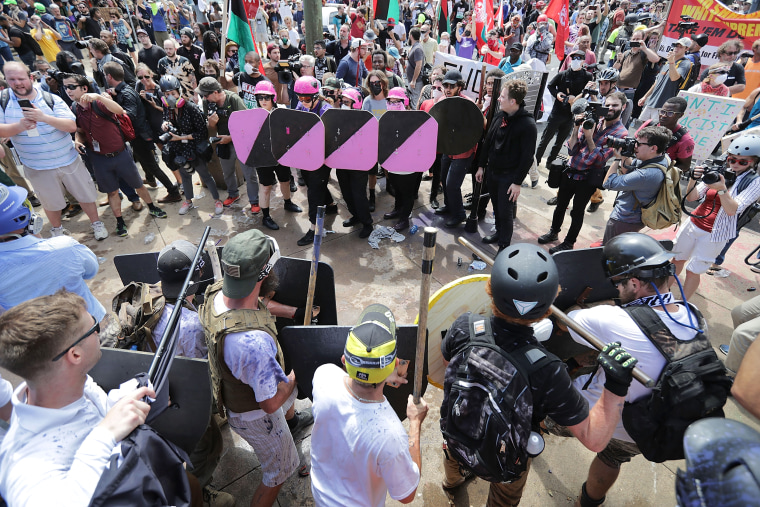 Part of what happened in interwar period is there were a lot of people arguing against pulling the emergency brake and escalating resistance. And looking back on the history, those are tragic calls for moderation.
Do you consider Trump one of those emergency moments where potentially more violent tactics are necessary?
The anti-fascist argument is that any amount of white supremacist or neo-Nazi organizing is worthy of emergency consideration — by no means can we allow this to take one step farther. Trump in office obviously from their perspective exacerbates this situation and empowers them and helps them to grow, but even if Hillary Clinton were in office, anti-fascists would still want to block the advance of...any of these kind of small little Nazi groups.
One concern is that a movement, especially one facing an emboldened far right and a president pouring fuel on the fire, could become more radical over time. In the 60's and 70's, they went from street protests to eventually splinter groups of terrorists, especially in Europe, some of whom used anti-fascism a rallying cry.
I don't think so. You're right to point out some of the armed-struggle groups of the US and Europe in 60's and 70's, such as the Red Army Faction (in Germany), for example, saw what they were doing as anti-fascist struggle against a West German state they considered to be insufficiently de-Nazified. But the more specific form of anti-fascism that informs the groups today is the antifa model of the 70's and 80's which grew out of street confrontations, not out of an armed struggle background.
The kind of profile of the armed struggle within radical left thought in the U.S. since the 80's has basically disappeared. No one ever seriously considers forming a small cell with arms to attack the government. It's, at best, a joke.
Dartmouth's president put out a statement distancing the school from your remarks, saying they don't support violence of any kind. You also faced a lot of criticism in the conservative press, saying you were defending offensive violence against fascists. How would you respond to that criticism?
I believe that the statement oversimplifies and distorts and decontextualizes my arguments. Because I'm not against free speech, I'm against those who are trying to shut down free speech, and I think it's in the interests of humanity and diversity to try to prevent those who want to murder much of the population from being able to get anywhere near doing that. I wouldn't characterize my political perspective as being "violent protests" so much as community self defense.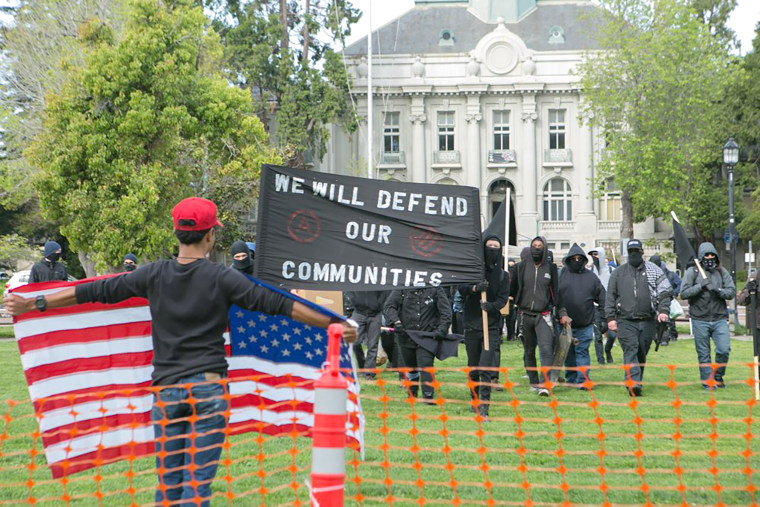 When you say self defense, are we talking about guarding clergy members in Charlottesville who are under attack when the police aren't there, or do you consider self-defense charging neo-Nazis with clubs even if they haven't necessarily attacked you?
I'm doing a couple of different things. I'm trying to lay out the history and the perspective of the anti-fascists themselves who are doing this work, and I'm situating myself certainly ethically and politically in this context. What I'm trying to say is that the various differing ways anti-fascists go about resisting fascism are legitimate to be considered, that they are historically formed and ethically reasonable. I try not to wade too far into "What about this and what about this." I like to leave it as general as "I support collective self-defense against fascism and Nazism."
So basically, you don't want to take a clear position on that specific distinction (between self defense and preemptive attack).
In the abstract. I'm going to leave it at that if you don't mind.