President Donald Trump announced a new approach — but no details — for the U.S. war in Afghanistan on Monday, marking a major policy reversal for the man who in recent years had insisted America pull out of the war-torn country.
Acknowledging that his "original instinct was to pull out, and historically I like following my instincts," Trump said in a prime-time address to the nation from Ft. Myer in Arlington, Virginia, that after becoming president he realized a hasty withdrawal from Afghanistan would cede ground to terror groups.
"We are not nation-building again," Trump said before an audience of service members. "We are killing terrorists."
The president provided few details, however, about how America would do that, leaving out of his 30-minute remarks any numbers about possible additional U.S. troops needed in Afghanistan and not revealing specifics of his war plans.
"We will not talk about numbers of troops or our plans for further military activities," Trump said. "Conditions on the ground, not arbitrary timetables, will guide our strategy from now on."
"I will not say when we are going to attack, but attack we will," he promised.
The War In Afghanistan: By the Numbers
A "core pillar" of the strategy "is a shift from a time-based approach to one based on conditions," the president said, noting "how counter-productive it is for the United States to announce in advance the dates we intend to begin or end" military activities.
While Trump vowed to "work with the Afghan government," he also said the U.S. "commitment is not unlimited and our support is not a blank check."
Trump's announcement comes after an extensive review of U.S. efforts in Afghanistan and the region that was led by National Security Adviser Gen. H.R. McMaster.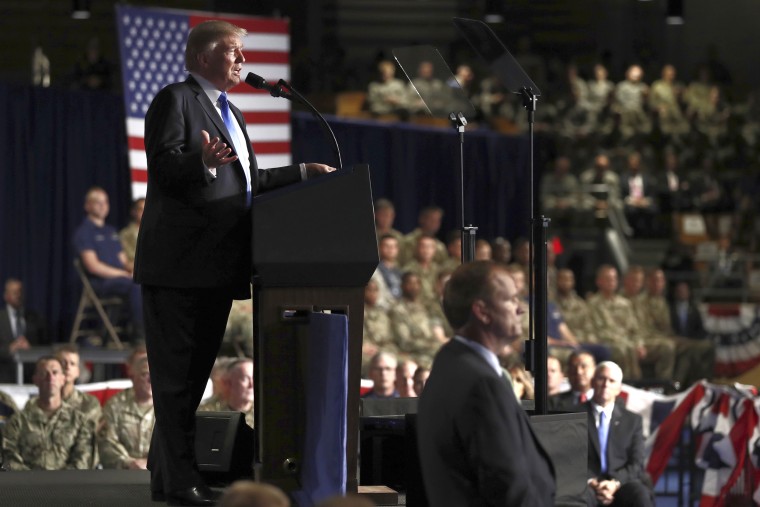 The president began his remarks with sobering words about the need for national unity and love for fellow Americans, a stark contrast from comments Trump had made less than a week earlier in which he drew widespread condemnation for blaming "both sides" for violence at a white nationalist rally in Charlottesville, Va., that left one woman dead.
While he did not mention Charlottesville, Trump proclaimed that "love for America requires love for all its people. When we open our hearts to patriotism, there is no room for prejudice, no tolerance for bigotry."
He added, "We cannot remain a force for peace in the world if we are not at peace with each other."
Trump also had tough words for Pakistan while extending a hand to India for a deeper strategic partnership with the U.S.
America would "no longer be silent" about Pakistan's "safe havens for terrorist organizations," Trump said. "Pakistan has much to gain from partnering with our effort in Afghanistan. It has much to lose by continuing to harbor criminals and terrorists."
Seated before Trump at Ft. Myer in addition to the uniformed members of the U.S. military were top administration officials, including Ambassador to the United Nations Nikki Haley, Attorney General Jeff Sessions, Treasury Secretary Steven Mnuchin, Communications Director Hope Hicks, Press Secretary Sarah Huckabee Sanders, and Counselor to the president Kellyanne Conway.
That Trump would not go into military specifics marks a consistent theme from his campaign, when he had promised not to telegraph such decisions ahead of time. In recent weeks, the president has told reporters "we don't talk about that," when asked about preemptive strikes against North Korea.
"I never do. I'm not like the other administration that would say we're going into Mosul in four months. I don't talk about it," Trump said earlier this month.
The Afghanistan war has been a source of frustration for the president who, U.S. officials told NBC News, griped about the lack of progress in the country — "we are losing," he said — during a tense July meeting with top generals and administration officials.
As a candidate and private citizen, Trump repeatedly urged the U.S. to get out of Afghanistan after "wasted" American lives and money.
In March 2013, Trump tweeted "we should leave Afghanistan immediately." And months later, he warned against allowing "our very stupid leaders to sign a deal that keeps us in Afghanistan through 2024."
But where victory had eluded his predecessors, Trump laid out his own "clear definition" for success: "Attacking our enemies; obliterating ISIS; crushing Al Qaeda; preventing the Taliban from taking over the country, and stopping mass terror attacks against Americans before they emerge."