Attorney General Jeff Sessions resigned Wednesday at President Donald Trump's request.
The announcement — made by Trump on Twitter — came the day after the midterm elections.
"At your request, I am submitting my resignation," Sessions wrote to Trump, adding that he was "honored to serve" the president.
The president has repeatedly railed against Sessions — who had been one of Trump's biggest cheerleaders during the campaign — particularly for recusing himself from the Russia investigation. The president said if he had known the Alabama Republican planned to recuse himself, he may not have appointed him as Attorney General.
Trump has trashed Sessions often on social media and in public appearances, castigating him as weak and saying that he "never had control" of the Department of Justice.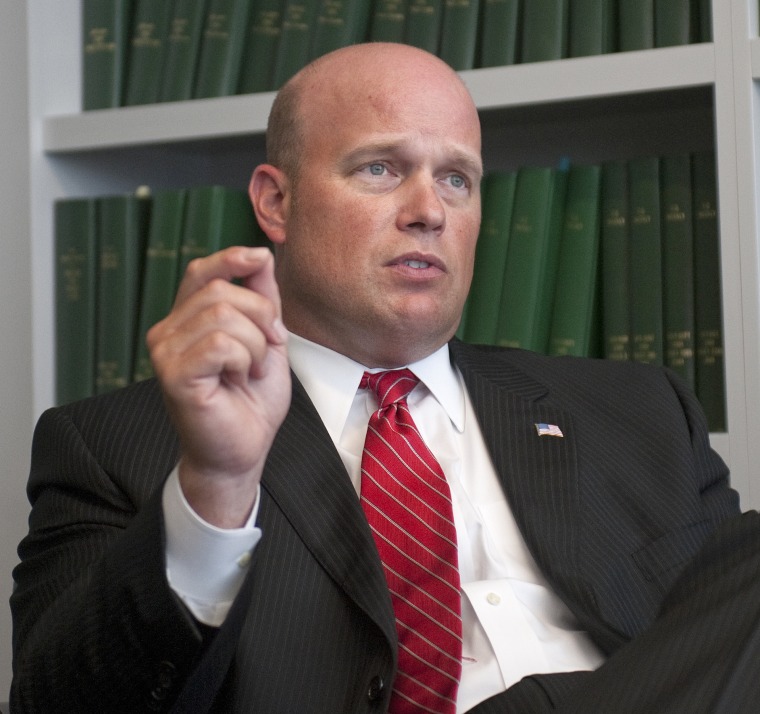 "So why aren't the Committees and investigators, and of course our beleaguered A.G., looking into Crooked Hillarys crimes & Russia relations?" Trump wrote.
Given the bad blood, Sessions' departure after the midterms was no surprise.
Trump was asked about Sessions' future at a lengthy press conference Wednesday afternoon. At the time, he declined to comment on whether Sessions would be leaving the administration, although Sessions' resignation letter had been submitted earlier in the day.
Read Sessions' resignation letter here.
"I'd rather answer that at a little bit different time," Trump said, adding that he was "looking at different people for different positions." He commented that Cabinet-level changes were "very common after the midterms" in previous administrations.
Trump named Matthew Whitaker, Sessions' chief of staff, as acting attorney general. Whitaker is now set to oversee special counsel Mueller's probe.
With Sessions' recusal, the investigation had been run to date by Deputy Attorney General Rod Rosenstein, who was at the White House on Wednesday afternoon for what was said to be a previously scheduled meeting.
Whitaker, a U.S. attorney in the Southern District of Iowa from 2003-2009 and Sessions' chief of staff since late 2017, was a conservative legal commentator. He wrote an opinion piece for CNN before joining the Justice Department titled "Mueller's investigation into Trump is going too far."
"It does not take a lawyer or even a former federal prosecutor like myself to conclude that investigating Donald Trump's finances or his family's finances falls completely outside of the realm of his 2016 campaign and allegations that the campaign coordinated with the Russian government or anyone else," Whitaker wrote. "That goes beyond the scope of the appointment of the special counsel."
And in a 2017 CNN interview, Whitaker defended Trump's eldest son, Donald Trump Jr., for taking a controversial June 2016 meeting with Russians at Trump Tower. In that meeting, Russians offered but did not ultimately provide dirt on 2016 Democratic presidential nominee Hillary Clinton.
Whitaker also wrote about Clinton in a July 2016 USA Today op-ed, saying he would have indicted the former secretary of state after then-FBI Director James Comey exonerated her in the probe over her use of a private email server while she led the State Department.
In September, The New York Times reported that White House chief of staff John Kelly described Whitaker as the West Wing's "eyes and ears" at the Justice Department.
Reacting to the news, House Democratic Leader Nancy Pelosi in a statement Wednesday evening said that Whitaker must be recused from any involvement in the Russia investigation, and that "Deputy Attorney General Rosenstein should be allowed to continue to oversee the investigation, unhindered."
"Earlier today, President Trump bragged that he could destroy the Special Counsel investigation any time he wanted," Pelosi said. "The President is now making good on that boast with the firing of Attorney General Sessions and the appointment of a partisan Acting Attorney General who has publicly advocated for the curtailment of the Russia investigation."
Pelosi said that Democrats would continue to seek protections through the next appropriations bill that the special counsel could not be fired without cause, and that Mueller would be granted a three-judge appeal panel if he was fired, among other measures.
Incoming House Judiciary Chairman Rep. Jerrold Nadler, D-N.Y., tweeted that Americans must get answers "immediately" for why Sessions was ousted.
Senate Minority Leader Chuck Schumer, D-N.Y., told reporters the timing of the move was "very suspect," adding that if it was made to interfere with Mueller's probe in any way, that would create what the New York Democrat considered a "constitutional crisis."
With Whitaker supervising the Mueller probe, any final report by the special counsel on his investigation's findings will be given to Whitaker, who could then decline to make it public or turn it over to Congress. But the House Intelligence Committee could subpoena the report and anyone involved in preparing it.
"No one is above the law and any effort to interfere with the Special Counsel's investigation would be a gross abuse of power by the President," said Sen. Mark Warner, D-Va., vice chairman of the Senate Intelligence Committee.
And former Attorney General Eric Holder tweeted, "Anyone who attempts to interfere with or obstruct the Mueller inquiry must be held accountable. This is a red line. We are a nation of laws and norms not subject to the self interested actions of one man."