LOS ANGELES — Attorney General Jeff Sessions on Tuesday described critics of President Trump's zero-tolerance policy on illegal immigration as elites and members of a "lunatic fringe" who live behind virtual walls but who don't want the same level of security for the nation.
Alluding to the administration's spring policy of separating children from parents who try to bring them across the U.S.-Mexico border, Sessions said such elites would be pleased to see trespassers at their own homes and at exclusive events they attend separated from their children.
"These same people live in gated communities, many of them, and are featured at events where you have to have an ID even come in and hear them speak," Sessions said, speaking to a room full of lawyers in the film and television industry's hometown of Los Angeles. "They like a little security around themselves."
"And if you try to scale the fence, believe me, they'll be even too happy to have you arrested and separated from your children," he said, drawing cheers and laughter. "And I would like to see that."
The predominantly white, gray-haired participants in the conservative Criminal Justice Legal Foundation's annual luncheon at the Millennium Biltmore Hotel ate it up with applause and laughter.
"They want borders in their lives but not yours and not the American people's lives," Sessions said of the administration's naysayers. "This is why the American people are sick of the lip service and the hypocrisy. They are sick of the politicians who abandon their promises as soon as the mainstream media criticizes them."
Chelsea Clinton, speaking via Twitter, said Sessions' "joke" about separating trespassers from children at elites' homes and events displayed "indecency and incivility."
One of the politicians singled out by Sessions was California Attorney General Xavier Becerra, who was criticized for saying that his hardworking immigrant parents are no different than folks who cross the border illegally, save for "a piece of paper." Sessions said documentation is about obeying the law.
"I guess the Attorney General just doesn't get it — there's value and dignity in every human life, especially those who work hard," Becerra, who's part of a multi-state lawsuit against the Trump administration's child-separation policy, said via email Tuesday. "That was my parents' example, paper or no paper."
"Once again, the attorney general is trying to deflect attention from the human crisis at the border that has been created by the Trump administration's policies," U.S. Rep. Lucille Roybal-Allard, D-Calif., added via email. "Jeff Sessions can throw around all the mischaracterizations and misinformation he wants, but he won't distract our focus from the fact that the administration's policies are tearing innocent children from their parents."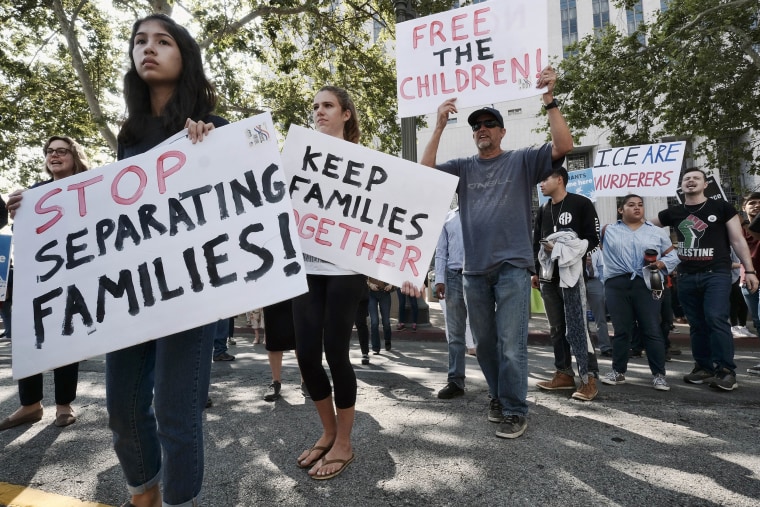 The U.S. attorney general hammered Trump's critics for, he claimed, being in favor of open borders. He erroneously referred to the nonprofit group that led Central American asylum-seekers to the U.S.-Mexico border earlier this year as People Without Borders, the name of an unrelated organization. The name of the group that guided asylum seekers is Pueblo Sin Fronteras.
"[Sessions] wants to translate that to paint us as lawless, crazy people," said one of the nonprofit's coordinators, Alex Mensing, who added that this isn't the first time the administration has mislabeled his organization.
In Washington Tuesday, U.S. Health and Human Services Secretary Alex Azar said some undocumented immigrants would not yet be able to see children separated from them at the border. "If the parents remain in detention, unfortunately, under rules set by Congress and courts, they can't be unified," Azar said.
The Department of Homeland Security said as of Tuesday that 2,047 children had not yet been reunified with their parents. At least 522 children have been reunited with parents stopped at the border since Trump reversed his separation policy last week, HHS officials said in a conference call Tuesday. The officials refused to say if authorities were continuing to separate families who crossed the southern border into the U.S. without authorization.
Outside Los Angeles' downtown federal building, a few blocks away from Sessions' speech, nearly 25 people demonstrating against the president's immigration policy were arrested after they allegedly blocked traffic in what Los Angeles police Officer Christopher Im described as an act of civil disobedience.
"Sessions, where's your heart," some of the demonstrators chanted.
Los Angeles police detective Meghan Aguilar said the suspects were cited based on a misdemeanor allegation of failing to disperse and then released.
NBC Los Angeles described those arrested as clergy members.