After taking a victory lap in Washington, President Donald Trump was finally home Thursday night.
Celebrating the 75th anniversary of the Battle of the Coral Sea in Manhattan — his first time back in his home city of New York since before the Inauguration — Trump looked back fondly on the U.S.-Australian relationship, and sought to clear the air about a tense phone call with Australian Prime Minister Malcolm Turnbull back in January.
Trump highlighted the "great, great relationship" between Australia and the United States, thanking Turnbull for their militaries "fighting side by side to defeat ISIS and the scourge of terrorism."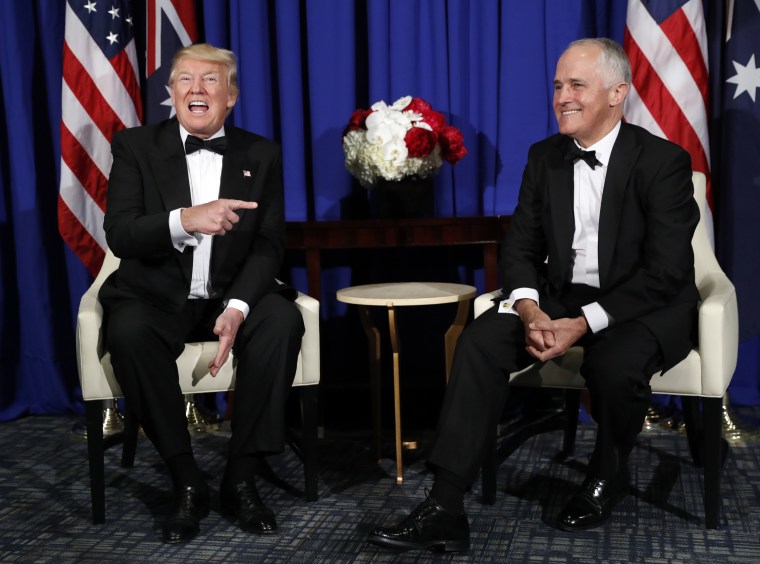 Turnbull, speaking just before Trump, also emphasized the need for continued friendship: "we are always more assured of winning when we are fighting together."
Related: Trump, GOP Leaders Take Victory Lap after House Passes 'Trumpcare'
The relationship, however, hasn't always been so congenial. A January call between the two leaders was reportedly terse and tense, with Trump ending it abruptly after just 25 minutes when Turnbull tried to bring up a deal agreed to by President Barack Obama that the United States would take 1,250 refugees from Australian detention centers.
The call may have been months in the past, but it was front of mind for Trump, who denied any bad feelings on the call and blamed the media for exaggerating.
"We had a great telephone call. You guys exaggerated that call. That was a big exaggeration. We're not babies," Trump complained at a bilateral meeting with Turnbull before the two boarded the USS Intrepid aircraft carrier-museum for the battle memorial. He called the reports "a little bit of fake news."
Trump again brought up the call from the stage aboard the Intrepid. "We really didn't have a rough phone call, did we?" he said. "No, we had actually a very nice call, right?"
Related: Senators Turn to Health Care Bill and They Have Issues
"Now the record is straight, for all those people back there," the president said, referring to the media. Then, an admission: "it got a little bit testy, but that's OK."
Sharing a table with Trump and the Australian Prime Minister was News Corp. Chairman Rupert Murdoch, who is from Australia but became a naturalized U.S. citizen in the 1980s.
Trump, who has given to the American-Australian Association before, admitted that the donations were done at Murdoch's behest.
"I've been contributing ... for years through Rupert," Trump said, realizing now that "it was money well spent." He continued: "For years I've been doing my thing for Rupert."
News of a healthcare hurdle cleared in Washington followed Trump to the Big Apple, where protesters greeted him at the Intrepid and at his famed Trump Tower. The president remained optimistic about Trumpcare's chances in the Senate, telling reporters "I think we'll get it through. The Republicans are very united ... You saw that today and you'll see it again. The Senate is looking forward to getting it. Mitch McConnell knows how to do things."
But Trump also offered confusing praise to his Australian counterpart on that country's healthcare system, which is nationalized, telling Turnbull "you have better healthcare than we do."
"The president has just said it. That's great," Sen. Bernie Sanders, I-Vermont, later told MSNBC's Chris Hayes.