The White House faced a growing revolt Friday as nearly half of the states refused to comply with a request from President Donald Trump's panel investigating alleged voter fraud to hand over substantial amounts of confidential and sensitive voter data.
The Presidential Commission on Voter Integrity sent what some experts called an alarming letter this week to all 50 states and Washington, D.C., asking officials, including those in the home states of the panel's chairs, to turn over "publicly-available voter roll data."
However, the panel is also seeking sensitive information, including "dates of birth, political party (if recorded in your state), last four digits of social security number if available, voter history (elections voted in) from 2006 onward, active/inactive status, cancelled status, information regarding any felony convictions, information regarding voter registration in another state, information regarding military status, and overseas citizen information."
The panel gave states two weeks to comply and said it would share the data with the public. The letter requests feedback from states with a series of questions, including citing instances of voter fraud, which experts have concluded is extremely rare.
Trump established the commission through an executive order and it is headed by Vice President Mike Pence. Kansas Secretary of State Kris Kobach, an immigration hardliner and strict voter identification law advocate, serves as vice chair and penned the letter.
Almost immediately, a number of states led by Democrats criticized and flatly rejected the request, with some officials calling it a politically-motivated effort to satisfy Trump's unfounded claims about rampant voter fraud during the 2016 election.
Trump responded to the backlash Saturday by seeming to insinuate in a tweet that states were refusing to comply with the commission's request to mask voter fraud.
The president has alleged without any evidence that millions of "illegal" votes cost him the popular vote to Hillary Clinton, who topped him by nearly 3 million votes.
But Kentucky Secretary of State Alison Grimes, a Democrat, balked at the idea that voter fraud is a widespread issue.
"Kentucky will not aid a commission that is at best a waste of taxpayer money and at worst an attempt to legitimize voter suppression efforts across the country," she said.
In a surprising development, Kobach, a Republican, declined to hand over some of the information he requested in his letter, according to The Kansas City Star. He told the paper Social Security numbers are not publicly available, so therefore the state would not provide them.
"The commission is requesting what any person on the street ... can walk into a county election office and get," Kobach said on MSNBC. "If it is not publicly available in most states, then we aren't requesting it."
However, experts say that type of information is protected by various state laws.
At least eight states — in which the officials involved with voter registration are largely Democrats — said they would not comply at all and at least 16 other states have informed the commission that they would not provide any sensitive data, only publicly available data. Nine of those states have Republican officials handling voter registration.
Ohio Secretary of State Jon Husted, a Republican, said the state will not provide confidential information to the commission.
"...(V)oter registration information is a public record and is available online," he said. "The confidential information, such as the last four digits of a voter's Social Security number or their Ohio driver license number, is not publicly available and will not be provided to the Commission."
New York Gov. Andrew Cuomo, a Democrat, tweeted Friday that his state will not comply with the request. "NY refuses to perpetuate the myth voter fraud played a role in our election," Cuomo said.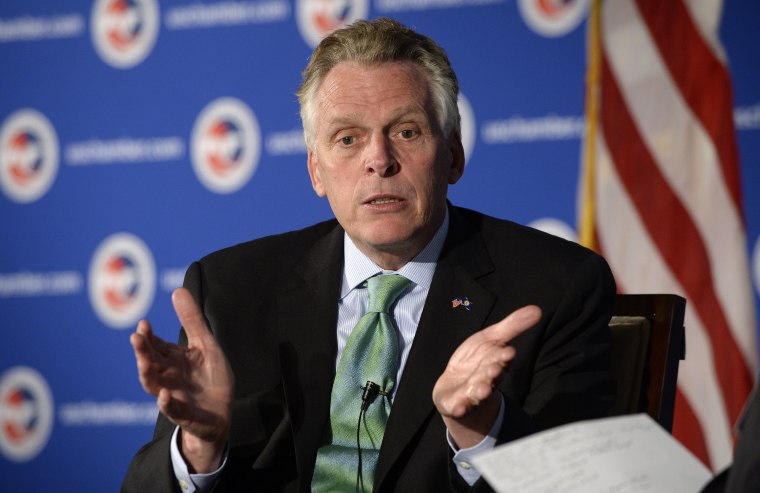 "The only irregularity in the 2016 presidential election centered around Russian tampering," said Virginia Gov. Terry McAuliffe, a Democrat, in a statement.
Indiana Secretary of State Connie Lawson, a Republican, said Friday the state would not release personal information, but would treat the letter as a public records request and provide only information that is considered in the public domain under the law.
Alabama Secretary of State John Merrill, a Republican, said his state would share only public information and would do so "if we are convinced that the overall effort will produce the necessary results" to accomplish the commission's goal "without compromising the integrity of the voter rolls and the elections process in Alabama."
Election law experts and civil liberties advocates told NBC News they were concerned about the panel's request and its implications for privacy and security and they suggested that the data could potentially be misused to lay the groundwork for voter suppression.
"It raises a question about what the commission is trying to get at," said David Becker, the executive director of the Center for Election Innovation and Research. "There needs to be several layers of investigation with a transparent methodology and it appears the commission have skipped those."
Becker said one of his biggest concerns is any sharing confidential data with the public and, if states were to comply, how the information would be safeguarded.
He pointed to The Electronic Registration Information Center, or ERIC, a consortium of 20 states and D.C., which was formed in 2012 and shares voter data, as the gold standard. Becker said that system has "layers of physical, technical and legal security," which includes, for instance, securing physical servers, firewalls and strict measures regarding the transmission of data.
The panel did not disclose to the states how it plans to use the data, or safeguard it.
"It's a huge privacy concern," said Dale Ho, Director of the ACLU's Voting Rights Project. "There may be reason to create a national voter registry (but) we shouldn't do that in two weeks."
He called it "a shoddy, slapdash" effort.
Edward Foley, an election law scholar at Ohio State University, said partisanship is clouding the work of the commission.
"Part of the problem, where the blame should fall for this, is the current Pence commission is not a structurally bi-partisan effort. It is a one-sided effort," Foley said. "Whenever you have one-sided effort, it's going to be viewed with suspicion from the other side."
Marc Lotter, a spokesman for the vice president, said the commission's letter "is the beginning of the fact-finding process."