President Joe Biden announced Wednesday that the United States is sending 31 Abrams tanks to Ukraine in its war against Russia.
The U.S. will also provide the necessary training and supplies needed to operate and run these tanks, he said.
Sending the tanks will "enhance Ukraine's capacity to defend its territory and achieve its strategic objectives" because they are "the most capable tanks in the world," Biden said.
"That's what this is about — helping Ukraine defend and protect Ukrainian land. It is not an offensive threat to Russia, there is no offensive threat to Russia," the president said.
NBC News reported the development Tuesday.
During a background call previewing Biden's remarks, senior administration officials said the announcement is "very much a continuation of our effort to provide Ukraine with the capabilities that they need to continue to better defend themselves."
"And it's also in keeping with that representative of a long term, long term commitment that we have to Ukraine's defense needs," a senior administration official said.
In his remarks announcing the move, Biden emphasized that 31 M1 Abrams tanks are the equivalent of one Ukrainian tank battalion.
The U.S. will also provide a training program to maintain and operate the tanks, as well as eight M88 recovery vehicles to go along with the Abrams tanks that will "provide recovery operations to make sure that the Ukrainians will be able to keep these Abrams up and running," a senior administration official said.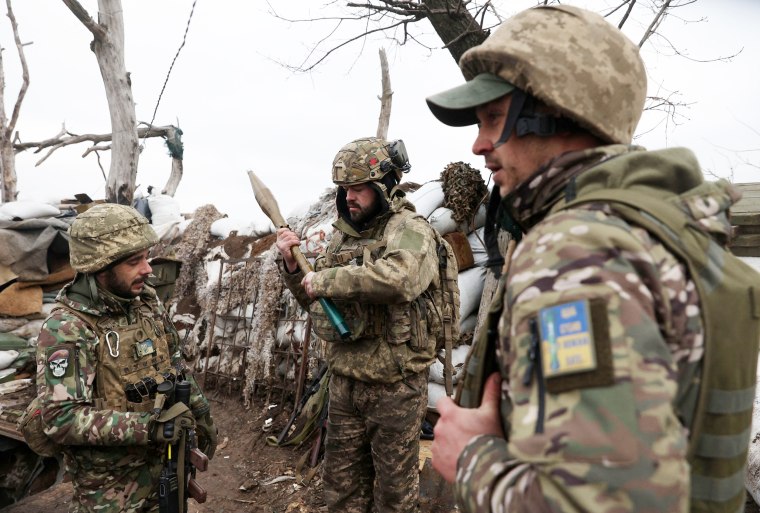 The training will not take place in Ukraine, a senior administration official added.
Biden said that the delivery of the tanks into the fields will "take time" that the U.S. will use to ensure "Ukrainians are fully prepared to integrate the Abram tanks into their defenses.
The president said the announcement was "closely coordinated" with allies as he praised German Chancellor Olaf Scholz for providing German Leopard 2 tanks to Ukraine and leading an effort to organize a European contribution of two tank battalions to support the country. Biden's announcement was paired with Scholz's news of the move.
Biden also commended the United Kingdom, France, Poland, Italy, Canada, Slovakia, Denmark, Sweden, Norway, Estonia, Latvia, Lithuania and Finland for donating "critical air defense systems to help secure Ukrainian skies and save the lives of innocent civilians."
"As we approach the one-year mark with the Russia full-scale invasion of Ukraine, we remain united and determined as ever in our conviction and our cause," he said. "These tanks are further evidence of our enduring, unflagging commitment to Ukraine and our confidence in the skill of the Ukrainian forces."
A senior official said the decision to send the tanks was made after "continued diplomatic conversations" over the last few weeks with European allies and partners, including Germany.
"President Biden will be or has spoken with Chancellor Scholz several times this month to coordinate on security assistance to Ukraine, including the joint announcement that we made a couple of weeks ago on Patriot [missiles] and the provisions of other assistance," the official said.
The president's announcement comes after he held a call with Scholz of Germany along with French President Emmanuel Macron and British Prime Minister Rishi Sunak to continue discussions on aiding Ukraine.
Sunak welcomed decisions by allies to announce major battle tank contributions.
A Downing Street spokesperson said in a statement Wednesday that the "decisive, collective action would be a catalyst for other countries to follow suit. The prime minister said it was now clear Russia was on the backfoot, and there was a window for international partners to accelerate efforts to secure lasting peace for Ukraine. He called on allies to intensify their support in the coming weeks and months."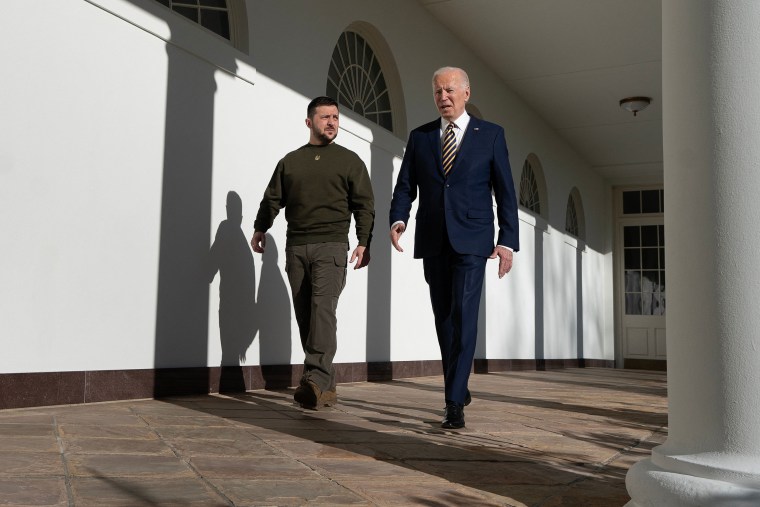 The decision is a reversal for the Biden administration, which had been resisting pressure from Germany to send the tanks to Ukraine. U.S. officials previously insisted that Biden was not inclined to provide Abrams tanks because members of his national security team, including Defense Secretary Lloyd Austin and Chairman of the Joint Chiefs of Staff Gen. Mark Milley, did not believe they would be a net positive for the Ukrainians given how difficult they are to operate and maintain.
Asked by NBC News' Andrea Mitchell on the background call what had changed in recent days and weeks for the U.S. to decide to send the tanks, a senior official said the administration has been trying to "do the best we can to evolve the capabilities we are providing with to Ukraine with the war itself."
"And I think we all look at what's happening now and what we expect to happen in the future, particularly in the Donbas area, the kinds of capabilities that Ukraine really needs are combined arms maneuver capabilities, the ability to fight effectively in open terrain, particularly and armored capabilities are a key part of that," the senior administration official said.
During his announcement, Biden denied that Germany forced his hand on sending tanks to Ukraine.
"Germany didn't force me to change my mind. We wanted to make sure we were all together. That's what we were going to do all along," the president said.