WASHINGTON — President Joe Biden is considering a trip to Europe next month to coincide with the anniversary of Russia's invasion of Ukraine, said three administration officials and a person familiar with the discussions.
Multiple locations are under consideration, including Poland, two of the sources said.
The White House is exploring ways Biden might mark the milestone in the Ukraine war, the sources said. The goal, they said, is for him to use the moment to draw attention to Ukraine's resilience against Russia's brutal military campaign and to reaffirm U.S. solidarity with the Ukrainian people as the conflict enters a new phase.
Biden administration officials have also discussed announcing another major military aid package for Ukraine to coincide with the anniversary, three U.S. officials said.
No final decisions about on the president's travel have been made, the administration officials and the person familiar with the discussions said.
Asked about a potential presidential trip to Europe next month around the Ukraine war anniversary, a spokesperson for the National Security Council said in a statement, "We don't currently have any travel plans for the anniversary."
An administration official said, "Planning for the anniversary is underway, and of course we are exploring a variety of options that the U.S. can do to support Ukraine, but nothing is set or decided upon yet."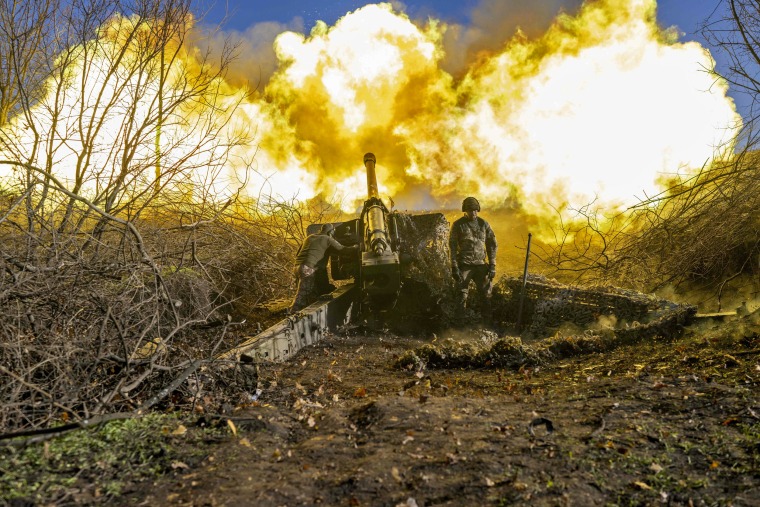 Russia invaded Ukraine on Feb. 24.
Just weeks later, in March, Biden made a hastily planned trip to Brussels and Poland in an early attempt to show the U.S. would stand united with Ukraine and America's allies against Russia.
The U.S. and Europe have since largely remained in lockstep on a response to isolate Russian President Vladimir Putin and squeeze Russia's economy through economic sanctions. But none of those steps have coerced Russia to pull back in Ukraine, as Putin continues to target civilian areas and Ukrainian infrastructure.
A visit to Europe next month would allow Biden to engage in personal diplomacy with key leaders on the continent as he works to maintain unity within the U.S.-European alliance while the war continues for what some U.S. officials estimate could be many more months.
The Biden administration has significantly ramped up the scale and scope of its military aid in recent weeks to help the Ukrainians prepare for a new offensive against Russia expected this spring. On Wednesday, Biden reversed his administration's position on sending Abrams tanks to Ukraine, although the tanks are not expected to arrive for months, if not a year. 
The move was designed to maintain unity among the U.S-European alliance and help secure a decision by Germany to send its own Leopard 2 tanks to Ukraine.
Already this month, the U.S. has provided Ukraine with more than $6 billion in military aid.
Biden's announced the Abrams tank decision after he decided this month to send Bradley Fighting Vehicles to Ukraine. And last month, he announced the U.S. would provide Ukraine with a Patriot missile defense system. That announcement coincided with a dramatic visit to Washington by Ukrainian President Volodymyr Zelenskyy, who met with Biden at the White House and addressed a joint meeting of Congress.
Should Biden decide to visit Europe next month, one goal would be to create a moment similarly as symbolically meaningful and strategically effective as Zelenskyy's visit to Washington was in maintaining momentum for supporting Ukraine, the person familiar with the discussions said.
Among the ideas being considered is for Biden to deliver a speech that captures this critical point in the war and outlines the need to remain united going forward, this person said. When Biden traveled to Europe last March, he delivered a speech in Poland, where he said — controversially — that Putin "cannot remain in power."