WASHINGTON — The U.S. is deploying about 3,000 troops to help defend European allies amid the standoff over Russia's military buildup on Ukraine's borders, the Biden administration announced Wednesday.
About 1,000 U.S. soldiers in Germany will be repositioned to Romania "in the coming days" to support a similar number of American forces currently in the country, Pentagon press secretary John Kirby said. The additional soldiers are part of a Stryker infantry unit "designed to deploy in short order and to move quickly," he said.
"This force is designed to deter aggression and enhance our defensive capabilities and frontline allied states and we expect them, as I said, to move in coming days," Kirby said, adding that Defense Secretary Lloyd Austin discussed the repositioning with his Romanian counterpart last week.
The U.S. is also moving an additional force of about 2,000 troops from the U.S. to Europe "in the next few days," Kirby said, with most of them going to Poland. That includes troops from the 82nd Airborne Division deploying to that country and the 18th Airborne Corps establishing a joint task force-capable headquarters in Germany. Both are based at Fort Bragg, North Carolina.
"Collectively, this force is trained and equipped for a variety of missions — to deter aggression and to reassure and to defend our allies," Kirby said.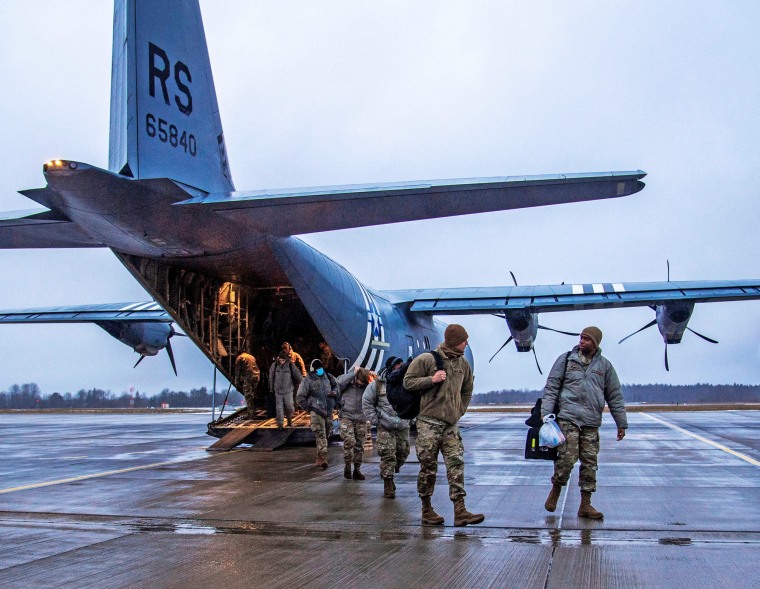 The moves are "not permanent" and the U.S. will readjust its posture as the conditions on the ground evolve, Kirby said. He added that the forces "are not going to fight in Ukraine. They are going to maintain the robust defense of our NATO allies."
The deployments are separate from the 8,500 troops that Austin placed on "heightened alert" last month to assist with the defense of NATO allies, Kirby said.
France is also deploying forces to Romania under NATO command, Kirby noted. He said the U.S. welcomes the announcements by Spain, Denmark, the United Kingdom and the Netherlands as they consider the deployment of additional forces to reinforce the alliance's eastern flank.
A senior administration official emphasized before the Pentagon briefing that President Joe Biden made the decision after a recommendation by Lloyd.
"At the president's direction and following Secretary [Lloyd] Austin's recommendation, the Department of Defense will reposition certain Europe-based units further east, forward deploy additional U.S.-based units to Europe, and maintain the heightened state of readiness of response forces to meet these commitments," the official said.
CNN was first to report the deployment of additional troops.
Following a briefing Wednesday with Lloyd and Secretary of State Antony Blinken on Capitol Hill about Afghanistan, several senators weighed in on the deployment to Europe.
"Bad idea. It's a mistake," Sen. Josh Hawley, R-Mo., said. Hawley sent a letter to Blinken on Wednesday that said prospective NATO membership for Ukraine would hurt U.S. interests and draw attention away from China.
The U.S. "should urgently deliver to Ukraine assistance it needs to defend itself against Russia's military buildup and other threats," Hawley wrote. "Our interest is not so strong, however, as to justify committing the United States to go to war with Russia over Ukraine's fate. Rather, we must aid Ukraine in a manner that aligns with the American interests at stake and preserves our ability to deny Chinese hegemony in the Indo-Pacific."
Sen. Richard Blumenthal, D-Conn., said that the U.S. must do more to deter Russian President Vladimir Putin.
"Economic sanctions should be starting right now, and the military airlift that we have with supplies going there should be heightened and expanded," he said. "So I think much more robust and aggressive action should be pursued immediately."
In response, White House press secretary Jen Psaki suggested Hawley was "digesting Russian misinformation and parroting Russian talking points," which she said wouldn't be "aligned with longstanding bipartisan American values, which is to stand up for the sovereignty of countries like Ukraine, but others, their right to choose their own alliances, and also to stand against very clearly the efforts or attempts or potential attempts by any country to invade and take territory of another country.
"That applies to Senator Hawley, but it also applies to others who may be parroting the talking points of Russian propagandists leaders," she said.
Psaki also said the decision to deploy troops was not spurred by new intelligence.
"I would not read this as a decision made based on any events over the last 48 hours or a couple of days," she said. "We've been in discussion and under discussion with our partners and allies in the region, where these troops are going, for several weeks now."
The White House said Wednesday night that Biden spoke earlier in the day "with President Emmanuel Macron of France regarding Russia's continued military build-up on Ukraine's borders. The two leaders affirmed their support for Ukraine's sovereignty and territorial integrity, and reviewed our ongoing coordination on both diplomacy and preparations to impose swift and severe economic costs on Russia should it further invade Ukraine."
The administration's announcement on troops comes a day after Putin said the U.S. and its allies have ignored Russia's key security demands, his first public comments since December about the crisis. Russia has amassed at least 130,000 troops on Ukraine's border, prompting fears of an invasion, although Moscow has repeatedly denied planning an attack. Washington and its allies have threatened swift and punishing financial penalties if Russia does invade.
Biden had said Friday that he planned to move U.S. troops to Eastern Europe and NATO countries "in the near term." The president did not elaborate on the exact timing and did not specify the exact number, saying that it would be "not a lot."