WASHINGTON — President Joe Biden visited the Miami area Thursday to grieve with family members of people who died or are missing in last week's condo building collapse, as the rescue efforts were forced to come to a temporary halt due to unsafe conditions.
"The whole nation is mourning with these families," Biden said. "They are going through hell."
The visit comes after a large section of the 12-story Champlain Towers South in Surfside, Fla., crumbled around 1:30 a.m. last Thursday. Eighteen deaths have been confirmed so far, and 145 people remain unaccounted for.
Biden landed in Florida as officials announced that rescue operations were paused overnight due to concerns that additional parts of the structure could fall, delivering a major setback to the rescue efforts and jeopardizing chances of finding more people alive.
Biden said that officials were in the process of determining whether it was safe for first responders to return to the site to continue their mission. A short time later, Surfside Mayor Charles Burkett said rescue operations were back on "full power."
Biden said that those waiting to hear news about their loved ones were all "realists."
"They know that the chances are, as each day goes by, diminished slightly. But at a minimum, at a minimum, they want to recover the bodies," he said.
Biden met Thursday with local officials and first responders at a hotel nearby the building site, but reserved most his time on the ground to meet with the families.
Speaking in a hotel ballroom to the families affected by the building collapse, Biden shared his own experiences with grief and loss after first wife and young daughter were killed in a car crash shortly after he was elected to the U.S. Senate in 1972 and after his son Beau died in 2015 from brain cancer.
"The hardest thing is not knowing," Biden told the families, according to videos of the private event shared on social media. "I wish I could tell you that it's all going to get better, but I can't."
After addressing the larger group, Biden went table to table, where relatives were seated together, to speak with each of the family units individually, according to senior advisor Anita Dunn.
Recounting his conversations with the families to reporters, Biden said they had "basic, heart-wrenching" questions for him such as whether they would ever be able to recover the bodies of their loved ones and how they would get closure if they did not get the bodies back.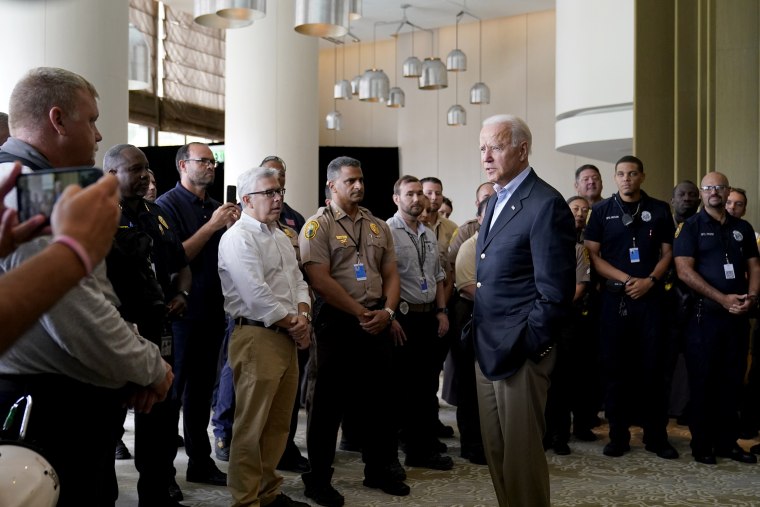 Biden, who was joined by the first lady Thursday, arrived in Florida as many questions remained about what caused the condo building to come crashing down in the middle of the night last week.
The president said that, so far, there was no "firm proof" about what happened, only "rational speculation."
In a 2018 report, an engineering consultant — who was hired to get a head start on a 40-year recertification process, as is required under the Miami-Dade County building code — warned that there was "abundant cracking" and crumbling in the underground parking garage of the building and that there was "major structural damage to the concrete structural slab below these areas."
The president of the condo building wrote a letter to residents in April — just three months before the collapse — warned that the issues outlined in the 2018 report had worsened and that damage "would begin to multiply exponentially."
Residents said they were not told about the report. One resident told NBC News that a Surfside building representative said at a 2018 meeting "that the building was not in bad shape."
Biden said that some family members mentioned to him how upset they were when another building was being constructed across the street from Champlain Towers South that caused it to shake. Others also raised concerns about the rising sea level and climate change.
The White House said that as of 6:00 a.m. ET Thursday, FEMA had deployed 60 staff and an additional 400 personnel across five search-and-rescue teams to assist with rescue efforts, while $20 million had been given to the Florida Division of Emergency Management for emergency measures. Two additional urban rescue teams are on standby to rapidly deploy.
Biden said that FEMA would also provide temporary housing and other needs for survivors and the State Department would expedite visas for family members of the victims who live in other countries.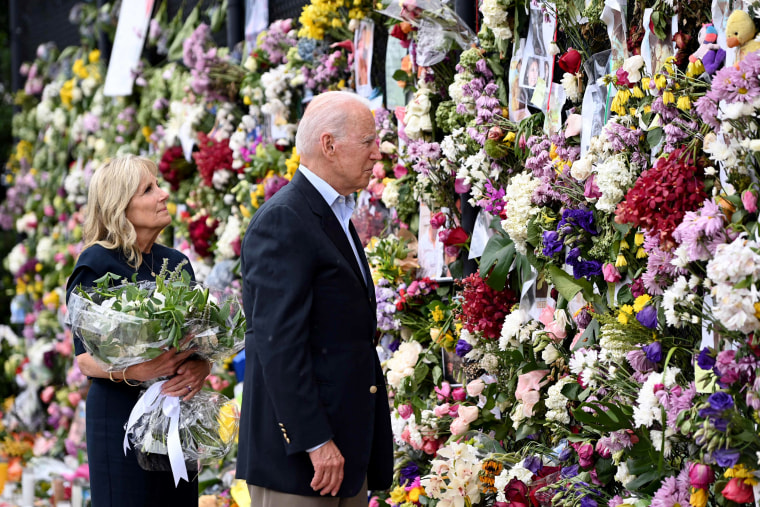 In a command briefing earlier Thursday, Biden commended local and federal agencies for working together seamlessly on the response efforts and applauded Democrats and Republicans for coming together.
"We're letting the nation know that we can cooperate," Biden said, seated at a large oval table next to Gov. Ron DeSantis, a Republican and close ally of former President Donald Trump.
Hundreds of workers — including rescue teams from Israel and Mexico — have been dispatched to the site to dig through the unstable mound of rubble in hopes of recovering more survivors. Authorities in Florida have described a grueling rescue process as workers attempt to move millions of pounds of concrete in the summer heat and as tropical rainstorms interrupt their efforts. One member of the rescue efforts was taken to the hospital Tuesday for dehydration.
Miami's top prosecutor announced Monday that she would ask a grand jury to investigate the collapse, though it is unclear when that process will begin.
Environmental Protection Agency Administrator Michael Regan said Wednesday that the agency was monitoring the air around the site of the collapse for toxic particles that could harm those involved in the rescue efforts and people in the surrounding area.
Regan said that the agency did not have enough information yet to determine whether the building collapse was caused in part by climate change.