WASHINGTON — President Joe Biden on Thursday urged President Vladimir Putin to "de-escalate tensions with Ukraine," while warning that the U.S. and its allies would "respond decisively" if Russia takes military action, White House press secretary Jen Psaki said after a call between the two leaders.
Biden's remarks were similar to those in a virtual call with Putin earlier this month, in which Biden said Moscow would face "severe consequences" if it attacked Ukraine.
Thursday's call, which lasted about 50 minutes, comes as Biden administration officials grow increasingly concerned that Russia might invade Ukraine like it did in 2014.
"President Biden urged Russia to de-escalate tensions with Ukraine. He made clear that the United States and its allies and partners will respond decisively if Russia further invades Ukraine," Psaki said in a statement Thursday.
"President Biden also expressed support for diplomacy, starting early next year with the bilateral Strategic Stability Dialogue, at NATO through the NATO-Russia Council, and at the Organization for Security and Cooperation in Europe. President Biden reiterated that substantive progress in these dialogues can occur only in an environment of de-escalation rather than escalation," she added.
The United States and Russia are scheduled to hold security talks on Jan. 10. Biden and Putin are not expected to participate. Russia and NATO are scheduled to hold a separate meeting on Jan. 12.
Following Biden's call with Putin, Secretary of State Antony Blinken spoke with NATO Secretary General Jens Stoltenberg on Friday. "The Alliance stands ready for meaningful dialogue with Russia, while standing united to deter further aggression against Ukraine," a State Department spokesperson said.
A senior administration official told reporters on Thursday that Biden laid out two paths for Putin — diplomacy leading toward de-escalation or punitive measures like economic sanctions and beefed up military assistance to U.S. allies in the region.
"The tone of the conversation between the two presidents was serious and substantive," the official said. "They each frame their positions as they've done in previous calls and also as they've done publicly."
The call was held "at the request of the Russian side," a separate senior administration official said Wednesday, adding, "I cannot speak to why the Russian side has requested this call." Administration officials have said that in order for there to be progress on areas where Russia would like to see action, there needed to be de-escalation with Ukraine.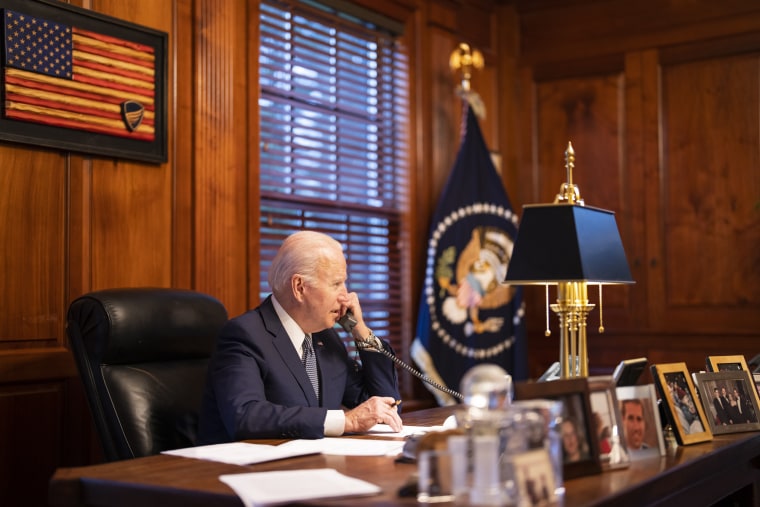 Russia has massed 100,000 troops along the Ukrainian border, prompting fears of an invasion as early as next month. While Russia has denied that it has any plans to attack its neighbor, Biden administration officials say they are preparing for such a possibility.
Yury Ushakov, an aide to Putin, told reporters after Thursday's call that the two leaders discussed coming to an agreement without escalating tensions.
"Biden stressed that in the event of an escalation on the Ukrainian border, the West will take large-scale, unprecedented sanctions in the economic, financial and military spheres," Ushakov said. "Putin replied that this could lead to a complete rupture of relations between our countries. Putin mentioned that new sanctions would be a mistake."
Ushakov added that the main goal for Moscow was to ensure security guarantees and to find common ground, particularly at the start of U.S.-Russia negotiations in Geneva early next month.
In the virtual call with Putin earlier this month, Biden said the U.S. would pursue "strong economic measures" and increase military aid to the region should Russia invade Ukraine. The president also warned that in addition to sanctions, the U.S. would provide further defense materials to Ukraine and build up military capabilities in nearby countries that also border Russia.
Blinken spoke Wednesday with Ukrainian President Volodymyr Zelenskyy, State Department spokesperson Ned Price said in a statement Wednesday.
Blinken "reiterated the United States' unwavering support for Ukraine's independence, sovereignty, and territorial integrity in the face of Russia's military buildup on Ukraine's borders," Price said.
As vice president, Biden was heavily involved in U.S. relations with Ukraine. At the time, Russia had invaded and annexed the Crimean Peninsula from Ukraine. This time, the White House has said it will go further in countering Russian military aggression than it did in 2014.
Biden has come under criticism for having suspended sanctions this year on Russia's Nord Stream 2 natural gas pipeline under the Baltic Sea, a project strongly opposed by Ukraine and other Eastern European countries. But U.S. officials say the administration will not hesitate to impose sanctions and prevent the completion of the pipeline if necessary.