WASHINGTON — President Joe Biden campaigned Tuesday night for Virginia gubernatorial candidate Terry McAuliffe in the final stretch of a race that could serve as an early indicator of Democrats' prospects in next year's midterm elections.
Biden, who has rarely mentioned former President Donald Trump by name since taking office, took direct aim at his predecessor by saying Republican nominee Glenn Youngkin would further Trump's agenda.
"Terry's opponent not only embraces someone with such lack of character, he endorses Donald Trump's bad ideas and bad record," Biden said. "Today's Republican Party nationally is for nothing."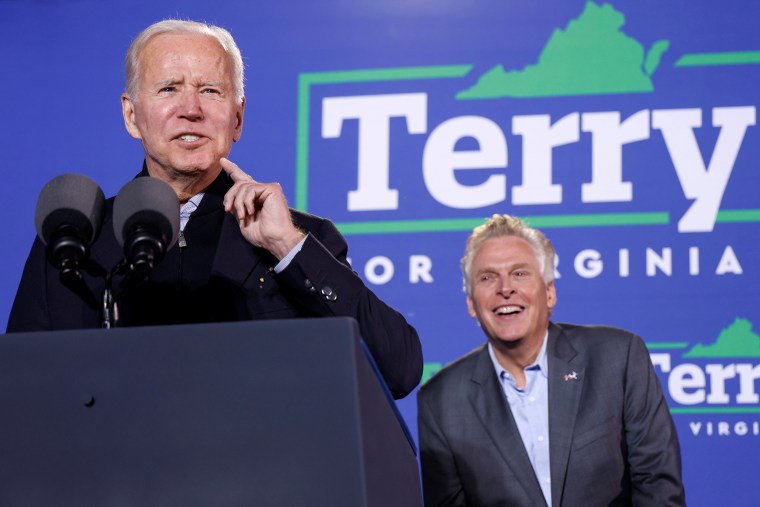 Polls show McAuliffe with a narrow lead over Youngkin, a former private equity executive and a first-time candidate. The same surveys also indicate that Republicans are more motivated to vote, leaving Democrats scrambling in the final week of the campaign to turn out their base in a state Biden won last year by 10 percentage points.
McAuliffe had been encouraging members of Congress to pass Biden's economic agenda — the bipartisan infrastructure bill, coupled with the Democrats' social safety net bill — ahead of the Nov. 2 election, in hopes that it would energize Democratic voters in the state.
But with just days left in the race, there continue to be major disagreements among moderate and progressive Democrats, particularly over key issues like paid family leave. While Biden and Democratic leadership have insisted that a deal is close, it is looking less likely that the president's agenda will make it through Congress before Tuesday's election.
Speaking ahead of Biden, McAuliffe promised Virginians he would deliver on a wide range of policies including affordable child care, paid sick and family medical leave and affordable prescription drugs — all items that appear likely to be scaled back or removed from the social safety net bill.
Shortly before the campaign event, Biden met at the White House with Sens. Joe Manchin, D-W.Va., and Kyrsten Sinema, D-Ariz., the two Senate Democrats who have chipped away at Biden's "Build Back Better" proposal.
Biden, a longtime McAuliffe friend, has been largely removed from the Virginia governor's race, attending only one other campaign event over summer. McAuliffe rarely mentions Biden on the campaign trail, instead focusing his messaging on Trump, whose presidency drove Democrats to the polls in record numbers in 2020.
Youngkin has attempted to unite Virginia Republicans and bring together both Trump supporters and defectors. Although Youngkin accepted Trump's endorsement, he has not campaigned with him and has largely focused his attention on local issues.
Biden zeroed in on Youngkin's relationship with Trump on Tuesday night.
"He's willing to pledge his loyalty to Trump in private, why not in public?," Biden said. "What's he trying to hide? Is there a problem with Trump being here?"
Turnout for Virginia gubernatorial races historically drops off compared to presidential elections, a trend that typically disadvantages Democrats. Roughly 3.98 million Virginians participated in the 2016 presidential election, compared to 2.61 million in the 2017 gubernatorial contest — a 34 percent drop-off. While Gov. Ralph Northam won in 2017 by Democrat's largest recent victory, turnout had also declined the least that year from the previous presidential election.
Tuesday's campaign event followed recent high-profile appearances by former President Barack Obama, Vice President Kamala Harris, Democratic National Committee Chairman Jaime Harrison and former Georgia gubernatorial nominee and voting rights activist Stacey Abrams.
Virginia, which holds off-year elections along with New Jersey, is often viewed as an early barometer of how a sitting president is doing ahead of their first midterm elections.
Democrats have a narrow majority in the House and will need to defend their seats as congressional districts are redrawn this election cycle. If Democrats lose a single seat in the Senate next year, Republicans will take control of the chamber.