President Joe Biden welcomed Indian Prime Minister Narendra Modi at the White House on Wednesday, hosting Modi for a private dinner ahead of a much larger state dinner scheduled for Thursday.
The Bidens and Modi were joined by White House national security advisor Jake Sullivan and National Security Advisor of India Ajit Doval for a meal "featuring a few of the President's favorite foods, including pasta and ice cream," the White House said.
Before their dinner, Biden, first lady Jill Biden and Modi watched dancers from Studio Dhoom, a local Indian dance studio, perform a tribute to the regions of India.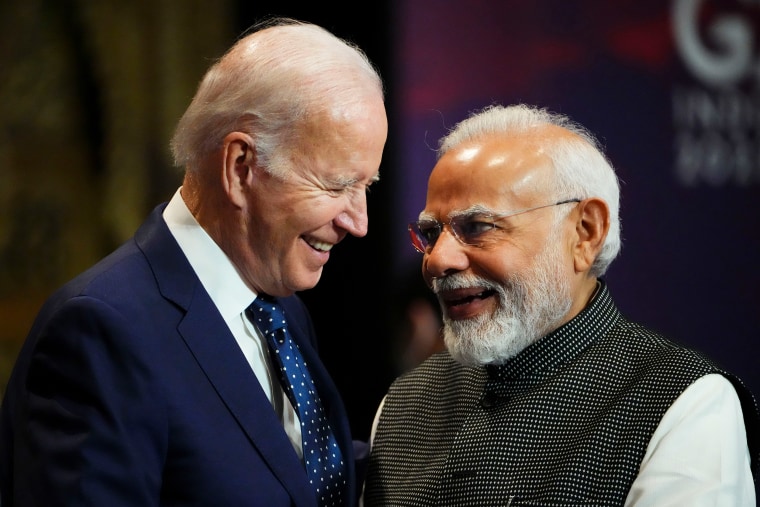 The White House said that Modi would receive a handmade, antique American book galley from the early 20th century as an official gift from the president and first lady.
Biden will also gift Modi a vintage American camera, accompanied by an archival facsimile print of George Eastman's patent of the first Kodak camera, and a hardcover book of American wildlife photography, the White House said, adding that Jill Biden would present Modi a signed, first edition copy of "Collected Poems of Robert Frost."
Wednesday's dinner kicks off Modi's visit to Washington, where the two leaders are expected to discuss deepening their countries' defense ties and partnership in technology, as well as expanding cooperation on key global issues, including climate change, during Modi's state visit to the U.S.
The visit comes as the Biden administration has been ramping up efforts to strengthen its relationship with India as it continues to expand its global influence.
"We don't believe there's really a partner that is more consequential to helping along those lines than India," John Kirby, a spokesperson for the National Security Council, told reporters Tuesday.
The war in Ukraine and India's relationship with Russia are also expected to be on the agenda, Kirby said.
In recent years, Russia's war in Ukraine and India's human rights record have strained relations between New Delhi and Washington. India, which maintains a neutral stance on the Russia-Ukraine war, has not criticized Russia's invasion, and it continues to buy Russian oil, which has helped Moscow amid Western sanctions.
The U.S. and India, however, remain aligned on key aims, including countering China's influence in the region and globally.
Chinese and Indian troops have had several skirmishes along their border in recent years. Twenty Indian soldiers were killed in June 2020 in hand-to-hand combat with the Chinese military, followed by another clash last December.
The White House said Modi's visit would also help strengthen the U.S.'s and India's commitment to the Indo-Pacific Economic Framework, which the White House announced last year to counter China's economic clout in the region.
Biden and Modi are meeting as concern over the future of India's democracy also continues to mount and as experts say the space to dissent from government policies continues to narrow.
In a letter to Biden this month, Elaine Pearson, the Asia director for Human Rights Watch, said India's human rights woes are "endangering" U.S.-India relations. "We strongly urge you to use your meetings with Prime Minister Modi to urge Modi to move his government and his party in a different direction," Pearson wrote.
Kirby did not directly address human rights concerns surrounding Modi's visit at his briefing Tuesday. He said Biden "routinely" discusses human rights concerns with foreign leaders and described human rights as a "foundational element" of Biden's foreign policy.
"The two leaders can speak for themselves after the meeting is over," Kirby said.
On Thursday, Modi is set to address a joint meeting of Congress before the state dinner. The White House said it expects 400 guests for the dinner, which will take place in a tented pavilion on the South Lawn.
"With this official state visit, we are bringing together the world's oldest and the world's largest democracies. After years of strengthening ties, the U.S.-India partnership is deep and expansive as we jointly tackle global challenges," Jill Biden said in remarks previewing the event. "But our relationship isn't only about the government. We're celebrating the families and friendships that span the globe, those who feel the bonds of home, in both of our countries."