WASHINGTON — President Joe Biden and congressional leaders failed to resolve the impending default crisis at a contentious meeting in the Oval Office on Tuesday afternoon, but they plan to meet again Friday.
Each side accused the other of being unreasonable, and Biden — for the first time — said after the meeting that there have been White House discussions about taking the unilateral step of invoking the 14th Amendment to circumvent Congress and ignore the debt ceiling, although he later seemed to dismiss the idea, citing litigation concerns.
A source described the mood in the room as "tense and serious," and Biden suggested afterward that House Speaker Kevin McCarthy, R-Calif., was at times out of line.
"Occasionally there would be a little bit of an assertion that maybe was a little over the top from the speaker," Biden said of the meeting with each party's leaders in both chambers of Congress. Biden said the three other participants were "very measured and low-key."
McCarthy, meanwhile, accused Biden of having waited too long to open negotiations. "Everybody in this meeting reiterated the positions they were at. I didn't see any new movement," McCarthy said.
Republicans want to link spending cuts with an increase in the debt ceiling, but Democrats and the White House said such plans would slash critical social services.
"By not taking default off the table, Speaker McCarthy is endangering America and making it much harder to make progress on budget negotiations," said Senate Majority Leader Chuck Schumer, D-N.Y.
But Senate Minority Leader Mitch McConnell, R-Ky., promised there would be a solution in time. "The United States is not going to default. It never has and it never will," he said. "The solution lies between the one person in America who can sign a bill into law and the speaker of the House."
With the Treasury Department saying the government will run out of money as soon as June 1 unless Congress raises its borrowing limit, Biden and McCarthy have precious little time to overcome the impasse and virtually no pre-existing relationship. 
But even sitting down together is seen as a major step forward, because the White House has so far refused to negotiate over the debt ceiling itself and both sides agree a resolution is essential to avoid the unprecedented economic calamity of a default.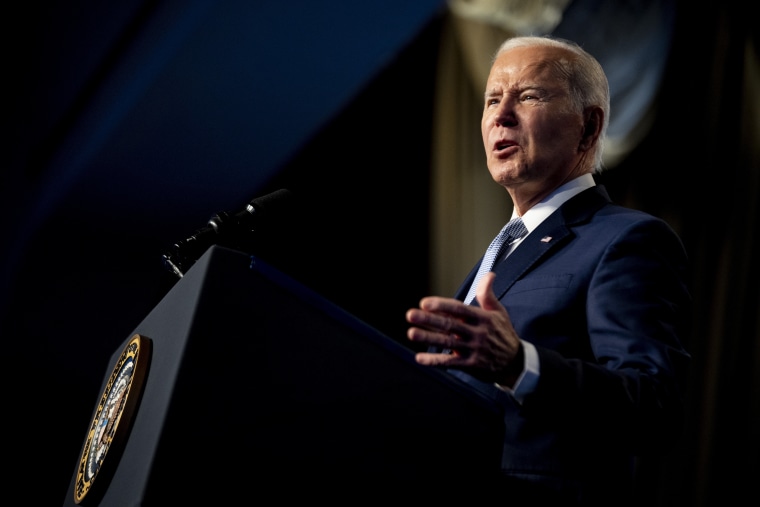 "I'm hoping that the next two weeks are different," said McCarthy, who has been seeking a meeting with Biden for months to discuss spending cuts.
Staffers for both sides will continue talking before the leaders meet again Friday.
Biden has said that he isn't willing to negotiate over the debt ceiling itself but that he is open to separately discussing the spending cuts Republicans seek as part of the budget process.
Asked Tuesday evening whether he would consider a short-term debt deal, Biden told reporters: "I'm not ruling anything out — I said I'd come back and talk. One thing I'm ruling out is default."
To raise the debt ceiling, Biden will need support not only from McCarthy's House Republicans but also from at least some Senate Republicans and potentially McConnell to secure the 60 votes necessary to overcome a filibuster in the Senate.
McConnell said that won't happen until Biden reaches an agreement with McCarthy.
"There is no sentiment in the Senate, certainly not 60 votes, for a clean debt ceiling [increase]. So there must be an agreement," McConnell said.
Biden's push for a clean increase, meaning no strings attached, has frustrated congressional Republicans.
A person familiar with the matter said McCarthy and House Majority Leader Steve Scalise, R-La., told members they were left fuming after the Speaker met with Biden and congressional leaders. McCarthy indicated to members that he's not going to accept a clean debt ceiling raise under any circumstances, and GOP members Tuesday encouraged McCarthy not to fold.
McCarthy told members the meeting was a waste of time and he hoped that on Friday Biden would not waste his time again.
"Maybe Friday is the real negotiation," the source said.
Republicans, as they did during the Obama administration in 2011 and 2013, are trying to use the threat of a default as leverage to force the Democratic-controlled Senate and the president to acquiesce to spending cuts. What, exactly, they expect to be able to cut is unclear, and it is likely to be revealed only through negotiations.
The Republican-controlled House last month passed a bill to raise the debt limit that amounted to a wish list of spending cuts and other policies, but GOP lawmakers have privately acknowledged that the measure was more about trying to strengthen their negotiating position than about creating legislation that could pass into law.
McCarthy's team has been telling conservative influencers that it believes Biden will cave in and end up giving some concessions in line with the GOP bill, a source familiar with the discussions said.
If things come down to the wire, options that McCarthy has ruled out — such as a bipartisan discharge petition — may come back on the table, the source said.
"It's not going to be pretty at the end of the day," the source said, adding that McCarthy seemed to have few good options and that anything could happen.
Biden on Tuesday left open the possibility that he might cancel plans to attend the summit of the Group of Seven major industrial countries in Japan next week. "I'm still committed, but obviously this is the single most important thing that's on the agenda," he said, while adding it was "unlikely" he would skip the trip.
A new Washington Post-ABC News poll found that Americans were divided over whom they would blame if the government defaults on its debt, with independent voters somewhat more likely to blame congressional Republicans than Biden.
The White House and Democratic super PACs have been putting pressure on moderate Republicans in battleground districts in hope of getting them to back down.
Biden will travel Wednesday to New York's Hudson Valley — where Republican Rep. Mike Lawler last year unseated Democrat Sean Patrick Maloney — to demand that Congress raise the debt ceiling without conditions and to trash the GOP spending cut bill, which the White House said would cut services for veterans, teachers and others.
That Tuesday's meeting happened at all works in Biden's favor, a former Republican House member said. In a period of raw partisanship, he appears collegial in calling the four leaders of both parties into the Oval Office to hash out differences, said Joe Walsh, who represented an Illinois district in the House for 12 years.
Biden's message is ultimately the more reasonable one, amounting to: "'Come on, let's pay our bills before we talk about spending cuts,'" Walsh said. "That's a notion that will resonate with the American people. Team Biden believes they're in better shape politically, and having this meeting makes Biden look better."