President-elect Joe Biden will nominate former South Bend, Indiana, Mayor Pete Buttigieg to lead the Transportation Department and former Michigan Gov. Jennifer Granholm to lead the Department of Energy, multiple sources confirm to NBC News.
There has long been speculation that Buttigieg, 38, would join the Biden administration. Buttigieg, Biden's onetime political rival, ended his presidential bid just before the pivotal Super Tuesday primaries and caucuses in early March and immediately endorsed Biden.
Buttigieg had performed strongly in the first two contests, which took place in Iowa and New Hampshire.
He would lead an agency that will be key in carrying out Biden's efforts to revitalize U.S. infrastructure — an area in which the Biden administration may find common ground with Republicans.
Buttigieg focused his campaign on passing the torch to leaders of a younger generation. He is the only presidential rival whom Biden has selected for a Cabinet position so far after having named Sen. Kamala Harris, D-Calif., as his running mate.
Buttigieg was the first openly gay major-party candidate to win delegates in a presidential primary, and he would be the first openly gay Cabinet secretary to be confirmed by the Senate. President Donald Trump's former acting director of national intelligence, Richard Grenell, was the first openly gay leader of a Cabinet-level agency.
Biden has faced pressure from activists and progressive lawmakers to diversify his administration. Buttigieg would be his first openly gay Cabinet pick, although he has also chosen several other openly LGBTQ men and women to join his White House team.
Granholm's elevation is a sign that the Energy Department will have a leading role in Biden's plan to combat climate change. A transition official told NBC News that she has been an outspoken advocate on combating climate change and environmental policy.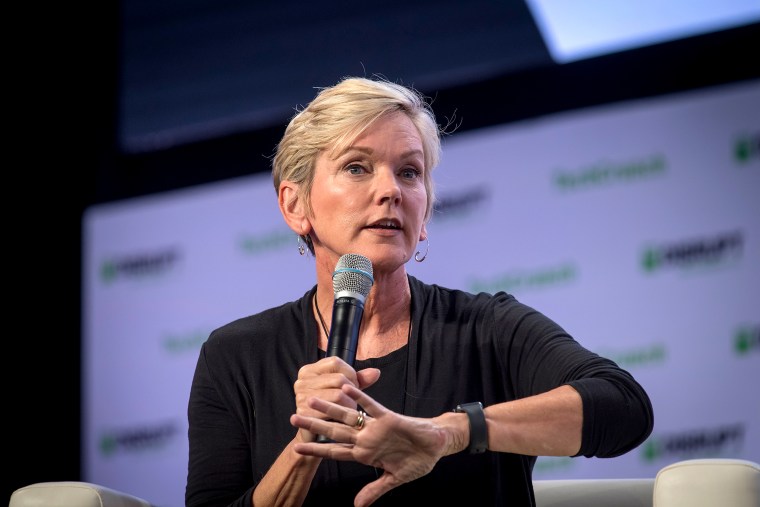 "Governor Granholm understands the existential threat of climate change and its disproportionate impact on communities of color," the official said. "As Governor, Granholm sought to make Michigan a leader in the clean energy economy and create good paying union jobs."
Granholm made history as the first woman governor of Michigan, serving two terms from 2003 to 2011, during which she prioritized clean energy development and worked closely with the auto industry.
If confirmed, Granholm, 61, would be the second woman to lead the Department of Energy.
Biden has sought to make clean energy and climate change a priority in his administration to counter Trump's legacy of withdrawals from multilateral treaties and organizations on the issue.
Under Trump, the U.S. officially left the landmark Paris accord, the world's foremost attempt to fight climate change. Trump announced the withdrawal from the 2015 agreement six months into his presidency, saying it disadvantaged the U.S. — a move that stunned American allies and climate activists.
Biden has promised to recommit the U.S. to the accord on his first day in office, Jan. 20, when he is sworn in.
Biden is also expected to name Gina McCarthy as his domestic climate coordinator, two sources familiar told NBC News. McCarthy — a former Environmental Protection Agency chief under President Barack Obama — will partner with Sec. John Kerry, who the president-elect tapped as his climate czar. Biden is also naming Ali Zaidi, an aide to New York Gov. Andrew Cuomo, as his deputy White House climate coordinator.
Granholm, if confirmed, will lead an agency with a $30 billion dollar-plus budget, oversee investments in infrastructure, the cybersecurity for America's national grid and the safety and effectiveness of the U.S. nuclear arsenal.