WASHINGTON — As the humanitarian crisis in Gaza worsens and the death toll among Palestinian civilians continues to rise, there is growing concern among top Biden administration officials about how the Israelis are carrying out the war and uncertainty about whether they can be reined in, according to two current and two former senior U.S. officials familiar with the internal discussions.
Some administration officials also are worried that the U.S. could become more and more isolated on the world stage over President Joe Biden's close alignment with Israel — and that he will be blamed for some of the Israeli military's actions, according to three current and former officials.
Follow live coverage from NBC News here.
Biden and his top aides have in the past week adjusted the administration's public message to emphasize concern for Palestinian civilians and U.S. efforts to get them humanitarian relief. The shift follows growing criticism at home and abroad of Biden's decision to swiftly and staunchly back Israel's military response to Hamas while initially speaking less forcefully about protecting Palestinians; meanwhile, images of civilian casualties in Gaza continue to ricochet around the world.
"If this really goes bad, we want to be able to point to our past statements," a senior U.S. official said. The official said the administration is particularly worried about a narrative taking hold that Biden supports all Israeli military actions and that U.S.-provided weapons have been used to kill Palestinian civilians, many of them women and children. The Defense Department has said the U.S. is not putting any limits or restrictions on the weapons it's providing Israel. 
Secretary of State Antony Blinken delivered a planned, more strident message Thursday before he boarded his plane for a trip to Israel. "As we've said from the start, Israel has not only the right but the obligation to defend itself," he told reporters. "We've also said very clearly and repeatedly that how Israel does this matters."
He said his discussions with the Israelis would focus on "concrete steps" they can take to better protect civilians. "We've seen in recent days Palestinian civilians continuing to bear the brunt of this action, and it's important that the United States is committed to making sure everything possible is done to protect civilians."
In a statement Thursday, Sen. Chris Murphy, D-Conn., a member of the Foreign Relations Committee, said, "It's time for Israel's friends to recognize that the current operational approach is causing an unacceptable level of civilian harm and does not appear likely to achieve the goal of permanently ending the threat from Hamas."
More than 9,000 people have been killed in Gaza since the start of the war, the Palestinian Health Ministry said in a statement Thursday. Among them were 3,760 children and more than 2,300 women, it said. NBC News has not independently verified the numbers.
With the war expected to go on for some time, some administration officials expect differences between the administration and Israel over how military actions are being carried out to only intensify, the current and former officials said. And, the officials said, administration officials continue to worry that persistent Israeli attacks killing Palestinian civilians risk fanning wider unrest in the Middle East while derailing Biden's other foreign policy efforts, especially when it comes to America's Arab allies.
"The reality is setting in on how long it's going to be and how hard it's going to be," said a former senior U.S. official familiar with the discussions inside the White House. 
Administration officials "are realizing the United States is increasingly going to get isolated," the former official said. "There's no obvious way to avoid that, and it affects everything they do."
An administration official, pushing back against the notion that the U.S. could become isolated, said there are no signs that is happening — or of Biden's foreign policy priorities' getting derailed. Biden is still in demand as a world leader, the official said, noting that he is convening joint phone calls and statements with U.S. allies about Israel and that he speaks regularly with Arab leaders. The official also pointed to Biden's hosting a state visit for the prime minister of Australia last week and his plans to meet with Chinese President Xi Jinping this month, as well as summits with Western Hemisphere and Asian Pacific countries.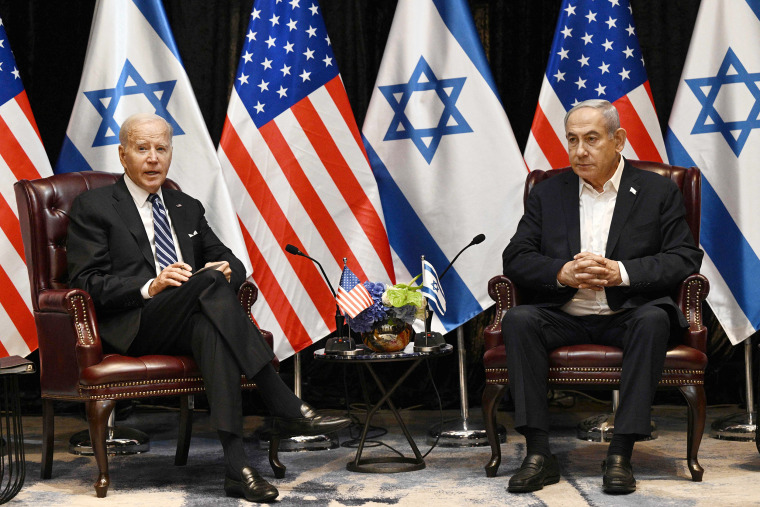 Administration officials say that while Biden's support for Israel is unwavering, his approach is also more nuanced than that of his predecessor, former President Donald Trump. Trump's backing of Israel was not paired with requests for restraint or support for the Palestinians while he was in office, though he was critical of the Israeli government in the days after the Oct. 7 Hamas terrorist attack, which killed an estimated 1,400 people in Israel. The Trump administration also cut $200 million in U.S. aid for the Palestinians, which Biden restored after he took office in 2021.
Biden's public stance after Hamas' attack was cheered in Israel and even among some of his Republican critics.
"We stand with Israel. And we will make sure Israel has what it needs to take care of its citizens, defend itself and respond to this attack," Biden said at the time, adding that "if the United States experienced what Israel is experiencing, our response would be swift, decisive and overwhelming."
He made a muted reference to protecting Palestinian civilians in the process, noting that he and Israeli Prime Minister Benjamin Netanyahu discussed the need for democracies to "act according to the rule of law." 
Privately, Biden has said he believes Israel will follow the law, according to the senior U.S. official. Administration officials have said the Israelis consulted with senior U.S. military advisers as they crafted their war plans.
Biden and his national security team worked aggressively behind the scenes to persuade Israel to slow down its response to Hamas, including a ground invasion into Gaza, administration officials said. Biden's visit to Israel on Oct. 18, when he spent just hours on the ground, was largely designed to delay the Israelis, officials have said, and it came with a commitment from Israel to allow humanitarian aid into Gaza. 
Administration officials also credit a recent Biden phone call with Netanyahu with getting more aid trucks flowing into Gaza.
"It's paid off so far," Steven Simon, who oversaw Middle East policy on the National Security Council during the Obama administration, said of Biden's approach. "We'll see if it continues to pay off."