President Joe Biden signed an executive order on Friday to protect access to abortion as part of his administration's response to the Supreme Court's ruling last month overturning the constitutional right to the procedure.
The order aims to safeguard access to reproductive health care services, including abortion and contraception; protect patients' privacy and access to accurate information; and promote the safety and security of patients, providers and clinics, the White House said in a release.
Speaking at the White House on Friday, Biden called the Supreme Court decision "totally wrongheaded" and "extreme."
"This was not a decision driven by the Constitution," Biden said. "The court has made clear it will not protect the rights of women."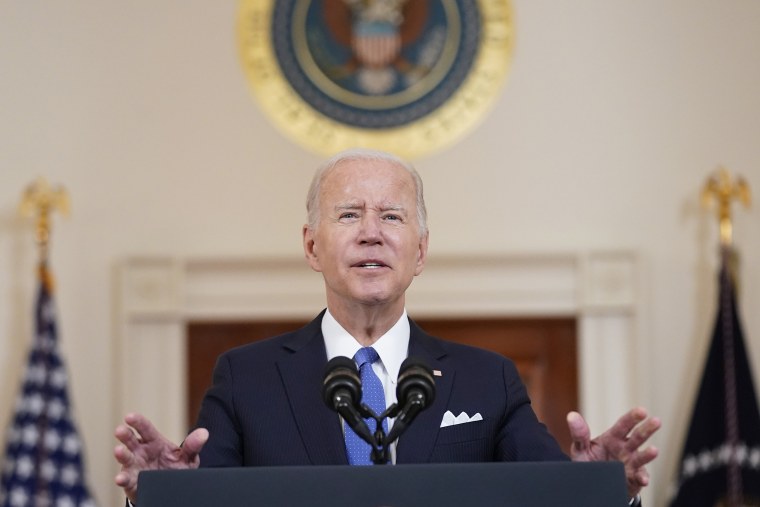 Biden's action comes as a growing number of states are adopting laws to restrict abortion services. The order directs the Department of Health and Human services to boost access to abortion pills and protect access to emergency medical care and family planning services, including various types of contraception, the White House said.
Still, Biden emphasized that the quickest way to undo the Supreme Court decision would be to pass a law in Congress legalizing abortion access, a move that Democrats currently do not have enough votes for.
"If you want to change the situation for women — and even little girls — in this country, please go out and vote," Biden urged.
Under the order, the Biden administration will take steps to protect patient privacy, including by "addressing the transfer and sales of sensitive health-related data, combatting digital surveillance related to reproductive health care services, and protecting people seeking reproductive health care from inaccurate information, fraudulent schemes, or deceptive practices," the release said. This includes enlisting the Federal Trade Commission to protect the privacy of people seeking information on abortion services, and additional steps by HHS to shield patients' health records from disclosure by doctors and insurers.
The order also authorizes the creation of an interagency task force to coordinate federal policymaking and programs, which will include the attorney general, who will "provide technical assistance to states affording legal protection to out-of-state patients as well as providers who offer legal reproductive health care," the White House said.
Biden has faced criticism from fellow Democrats over a sluggish response to states that quickly began banning abortion after the Supreme Court overturned the landmark Roe v. Wade decision on June 24.
Following the announcement, Sen. Elizabeth Warren, D-Mass., said on Twitter that the actions were "important first steps" but urged the Biden administration to "continue to explore every available option to protect access to abortion care."
"The overwhelming majority of Americans oppose this extremist Supreme Court's decision to overturn Roe v. Wade, and we must use every tool possible to address this emergency," she wrote.
Biden has said that he supports ending the Senate filibuster in order to pass a law protecting a woman's right to an abortion, which would require support from all 50 Democrats, including moderate Sens. Joe Manchin of West Virginia and Kyrsten Sinema of Arizona.
In the absence of their support, Biden has urged people to vote in more Democrats in the midterm elections and has acknowledged that until then, his response is limited to more incremental executive actions.
"It's my hope and strong belief that women will in fact turnout and record numbers to reclaim the rights that have taken from them by the court," Biden said. "There's an election in November. Vote."