WASHINGTON — President Joe Biden's dog Commander bit multiple Secret Service officers after it joined the Biden family at the end of 2021, according to records obtained by the conservative foundation Judicial Watch.
One of the officers was taken to the hospital after being bitten in the upper arm and thigh last year. After that incident, a White House office advised that it believed the German shepherd was up to date on all vaccines, according to the records.
The dog was seen in the White House as recently as last week.
The incidents detailed in the records, which took place from October to January, varied in severity.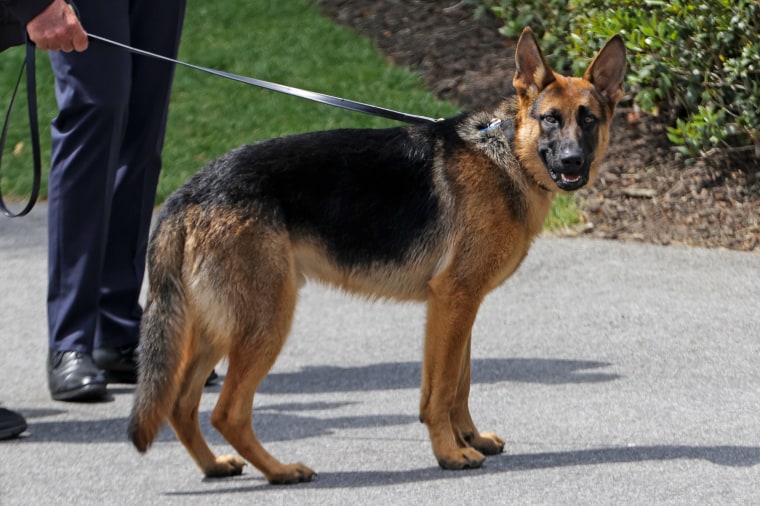 A Secret Service email characterized one bite as a "friendly soft bite" that did not break the skin or rip a business suit.
Another Secret Service official, referring to another incident, said in an email, "Looks like the dog was being playful but playful can go wrong quickly."
In another email, an agent characterized Commander's behavior as "extremely aggressive," referring to a separate incident.
"Today; while posted, he came charging at me," the email said. "The First Lady couldn't regain control of Commander and he continued to circle me. I believe it's only a matter of time before an agent/officer is attacked or bit."
The incidents took place at both the White House and the Bidens' lake house in Wilmington, Delaware, according to the documents.
In Biden's first year in the White House, his other dog, Major, was sent to live in Delaware after multiple nipping incidents.
Secret Service Chief of Communications Anthony Guglielmi said in a statement that the agency takes the safety of employees "extremely seriously" and that employees are encouraged to report job-related incidents to their supervisors.
"As such, we are aware of past incidents involving first-family pets and these instances were treated similarly to comparable workplace injuries, to include with relevant notifications and reporting procedures followed," Guglielmi said. "While special agents and officers neither care for nor handle the first family's pets, we continuously work with all applicable entities to minimize adverse impacts in an environment that includes pets."
The Bidens have been partnering with the Secret Service and executive residence staff members for "additional leashing protocols and training, as well as establishing designated areas for Commander to run and exercise," said Elizabeth Alexander, Jill Biden's communications director.
Alexander said the White House is a "unique and often stressful environment for family pets."