WASHINGTON — Long before he ran for president, real estate developer Donald Trump had a vision for state dinners that called for construction — specifically, the building of a big, beautiful White House ballroom.
Presidential candidate Trump regularly spotlighted a second, sharply different take on the events: They should feature a menu borrowed from the nearest drive-thru — or be canceled altogether.
But on Tuesday night, more than a year after his inauguration, President Donald Trump will attend his administration's first state dinner, with nary a ballroom nor a burger in sight.
The event, planned by first lady Melania Trump, honors France's President Emmanuel Macron and his wife, Brigitte. White House officials say Trump has steered clear of the planning process. But over the years, he's shared plenty of ideas.
Two years ago, then-candidate Trump may not have been measuring the Oval Office drapes — but he was already envisioning what White House dinners held during his presidency might include, and what they might not.
Referring to events honoring visiting leaders from China and other nations, Trump scoffed at the splendor and spending involved. He told a Sioux City, Iowa, rally crowd that if North Korean leader Kim Jong Un visited the United States, he would get Trump's acceptance — "but I wouldn't give him a state dinner like we do for China and all these other people that rip us off when we give them these big state dinners."
"We give them state dinners like you've never seen," he said. "Forget the state dinners — that cost, by the way, a fortune."
Speaking to an Atlanta crowd ahead of the Republican National Convention that year, Trump had a more specific cost-saving entertainment concept in mind. "We shouldn't have dinners at all," he said. "We should be eating a hamburger on a conference table."
But he didn't just think the White House was thinking too big. He also thought they weren't thinking big enough.
Before President Barack Obama's re-election, and for years afterward, Trump recounted a call he said he had had with Obama's chief strategist, David Axelrod, when he offered to commission five American architects to build a collapsible ballroom worth $100 million — free of charge — in which the White House could host state dinners.
"I notice they always put tents up on the lawn," Trump said at a Sioux City event in 2016. "Number one, it's not a good security thing. Number two, the guy that owns the tents is making a fortune."
Trump claimed that Axelrod never responded to the offer.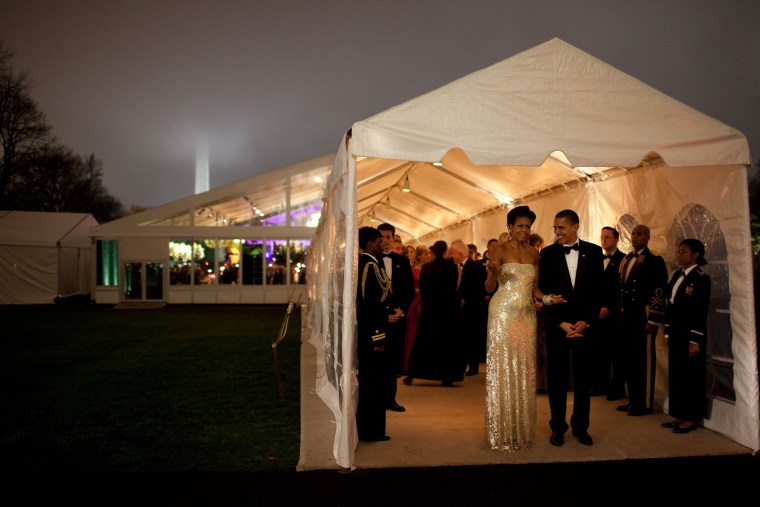 "If I was at the White House," Trump said, "I'd say, 'Let's talk a little more common.' In our greatness many years ago — they wouldn't have called, it was before the phone — but they would have had that built. They would have said, 'This sucker wants to give us a free ballroom — let's take it.'"
Axelrod confirmed the exchange in his book, "Believer: My Forty Years in Politics," although the passage does not mention any Trump offer to fund the project.
"'I build ballrooms. Beautiful ballrooms,'" Trump said, according to Axelrod's book. "Not being much of a dancer, I didn't know where he was headed. 'I see you have these state dinners on the lawn there in these shitty little tents. Let me build you a ballroom you can assemble and take apart. Trust me. It'll look great.'"
Indeed, there will be no tent-based dining for the French delegation Tuesday night. The White House says the first lady preferred a more "intimate" affair in the State Dining Room, limiting the guest list to only 150 people and absent the usual celebrity and bipartisan congressional invitees.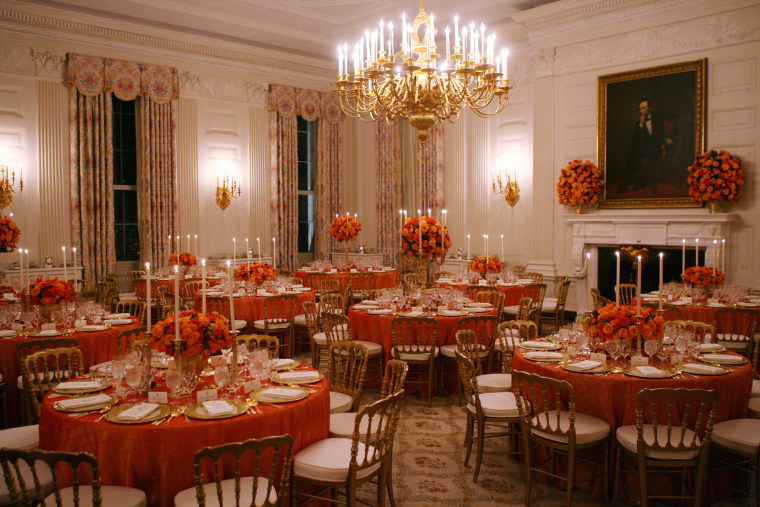 There will be flowers — many, many flowers: 1,200 branches of cherry blossom will adorn the Cross Hall; the dining room will feature more than 2,500 stems of white sweet peas; and nearly 1,000 stems of white lilac, while the parlors will feature mixed garden flowers.
The meal will be served, in part, on fine china from the Clinton White House, along with some from George W. Bush's. The menu will be a showcase of American cuisines with "nuances of French influences," prepared by White House Executive Chef Christeta Comerford.
And it will be served to a president who pledged, before his first primary, that he would retire the meals entirely. If he were elected, he told the audience at a New Hampshire event, "It's going to be different. We're not going to have state dinners."
But he quickly added an asterisk: If the trade deficit were eliminated, the dinners could be back — and bigger than ever before. "I'll have state dinners. When we break even, I'll have a state dinner. And when we start making money, I'll have a double state dinner."
For the record, France currently runs a surplus on trade in goods with the U.S. But the party Tuesday night is still on.