It's become clear that things in the nation's capital are boiling down to this:
Leaders in Congress, law enforcement, and intelligence are struggling to convince one man that an investigation he imagined never existed and that another probe that he refuses to acknowledge is real.
The surreal dynamic reached its zenith on Monday, as FBI Director James Comey and NSA Director Mike Rogers confirmed there's no evidence to back up President Donald Trump's accusation that President Barack Obama illegally ordered a wiretap of Trump Tower. "I have no information that supports those tweets and we have looked carefully inside the FBI," Comey said.
In a more explosive revelation, Comey also said the FBI was investigating potential links between the Trump campaign and Russian hacking in the 2016 election, an issue Trump tweeted just that morning was"made up" by Democrats to excuse their loss in November.
The twin disclosures leave Trump alone on an island of conspiracy theories.
That's a problem for the president, but it has the potential to create issues that go far beyond.
"The president's commentary about surveillance allegations and the Russian election meddling investigation is dangerous," Matthew Waxman, a Columbia law professor who held national security positions under President George W. Bush, told NBC News.
Waxman listed a myriad of potential consequences: Corroding the relationship between the White House and intelligence community; interfering with government agencies' usual work; exposing rifts with key lawmakers in Congress; and suggesting to allies that Russian aggression is not taken seriously.
But the biggest issue might be Trump's credibility.
For those keeping score on Trump's wiretap claim, Monday's hearing means it's now his word against the FBI, the NSA, the Department of Justice, the top Republican and Democrat on the House Intelligence Committee, the top Republican and Democrat on the Senate Intelligence Committee, and former Director of National Intelligence James Clapper, all of whom have said there's no evidence to support his attack.
"Our credibility is shredding in front of us," said retired Admirial James Stavridis, an NBC analyst, in an interview with "Power Lunch."
RELATED: Comey delivers political gut-punch to Trump
Expanding outside the United States, the list of those troubled by Trump's claims includes the British intelligence agency GCHQ, which Spicer and Trump roped into the story by citing Fox News commentator Andrew Napolitano's suggestion that Obama ordered the agency to spy on his behalf.
On Monday, the NSA director joined GCHQ, which called the claim "utterly ridiculous" last week, in shooting down speculation about its involvement. Rogers said Trump's insinuation "clearly frustrates a key ally of ours."
The president has not provided any persuasive evidence since initially lashing out at Obama on March 4 in a series of early-morning tweets. In a Fox interview last week, he defended himself by citing news reports that did not support his claim while vaguely suggesting he might bring forth new evidence.
"I mean, let's see whether or not I prove it," he said at the time. "I just don't choose to do it right now."
The me-against-the-world fight seems to suit the president. Press Secretary Sean Spicer told reporters Monday that Trump would not withdraw his wiretap accusations despite Comey's testimony and that it was only "one in a series of hearings."
The combination of a president with his own facts who also never backs down has created a feedback loop in which dubious statements raise new questions which then generate false responses which foster even more questions.
This dynamic was on display on Monday when Congressman Jim Himes (D-CT) asked Comey and Rogers to react to a mid-hearing presidential tweet claiming — falsely — that their earlier testimony proved Russia "did not influence [the] electoral process." As the two confirmed, they had only repeated their conclusion that Russian hacking did not extend to voting machines, not whether it had an impact on the election.
It was one of several White House tweets during the hearing that stood on shaky factual ground. One tweeted clip said Comey "admits" that the Obama White House could unmask an American citizen under surveillance, when in fact he said they have to go through the NSA or FBI. Another tweeted clip said Comey "refuses to deny" he briefed Obama on calls between fired National Security Adviser Michael Flynn and Russian ambassador Sergey Kislyak. But Comey was careful to tell lawmakers "It isn't fair to draw conclusions simply because I say I can't comment," citing prohibitions against discussing ongoing investigations.
The feedback loop kept spinning in Spicer's press briefing, where he distanced Trump from former campaign chairman Paul Manafort, whose ties to a pro-Putin leader in Ukraine have drawn scrutiny throughout the last year. Comey declined to comment on whether Manafort was under investigation on Monday and Manafort denied any involvement in the Russia hack. Spicer downplayed the issue, saying Manafort "played a very limited role for a very limited amount of time" on the campaign.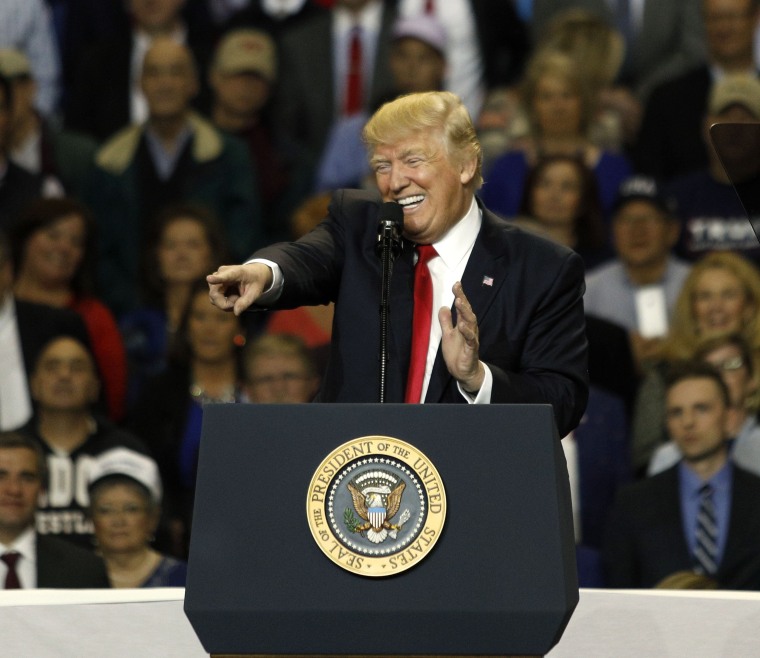 As reporters who covered Trump's run noted, this was ludicrous: Manafort served from March to August and effectively ran the campaign during a crucial stretch that included the decisive primary races and the Republican National Convention. Spicer also described Flynn as a mere "volunteer," an innocuous title for a key policy hand whose contributions led him to be named National Security Adviser.
The president does still enjoy support on the Hill. Republican House members in Monday's hearing focused their questions on what the FBI was doing to combat a spate of leaks about classified material and investigations, which Comey said had been "unusually active" in recent months.
But Trump's still-unsubstantiated attack on Obama has drawn almost no support outside the White House and few Republicans are willing to adopt his live-and-let-live attitude toward Russia, which he only begrudgingly acknowledged was behind the campaign hacks in January.
With Monday's confirmation that the Russia story isn't going away, that gap could become more significant over time. Especially if, as Comey ominously predicted on Monday, Russia decides its intervention on Trump's behalf last year is only a start.
"They'll be back in 2020," Comey said. "They may be back in 2018 and one of the lessons they may draw from this is that they were successful, because they introduced chaos and division and discord and sowed doubt about the nature of this amazing country of ours and our democratic process."