A spokesman for the family of a young Democratic National Committee staffer who was murdered last year said Tuesday that a conservative businessman had paid for a private investigation into the unsolved slaying that has ignited right-wing conspiracy theories.
The Dallas-based financial adviser, Ed Butowsky, a Fox News regular who has written articles for Breitbart News, contacted the parents of Seth Rich and urged them to hire a private investigator to look into the death of their 27-year-old son, who was shot and killed last July in what police say was a robbery gone wrong. Butowsky offered to cover the fees and connect them with an investigator, according to Brad Bauman, a spokesman for the family.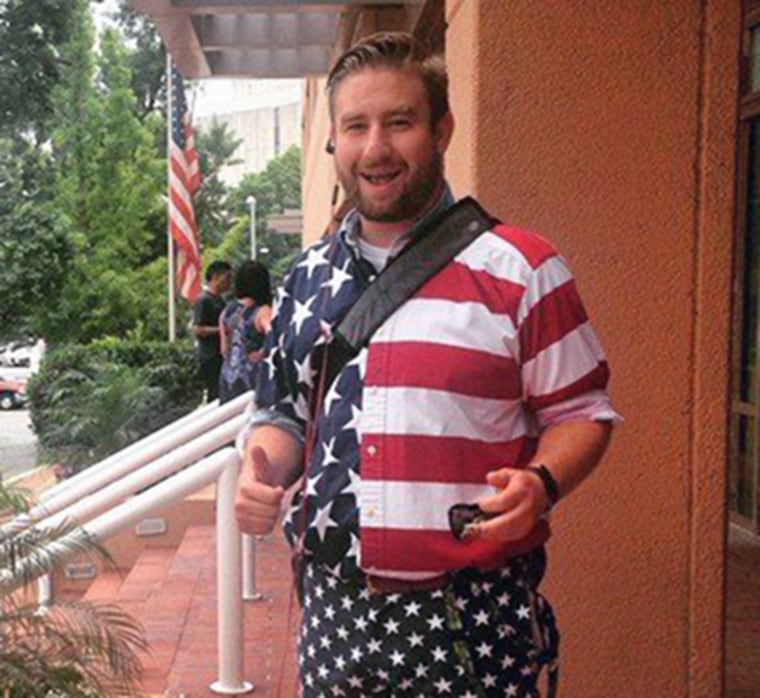 The Rich family hired the detective who had been recommended, Rod Wheeler, a former D.C. homicide detective who is also a Fox News contributor and who last month tweeted a photo of himself at the White House captioned, "Doing my part to Make America Great Again!!"
Wheeler said on Monday there was evidence to support the conspiracy theories, including that Rich had been in contact with WikiLeaks before his death — prompting a quick rebuke from both the police and Rich's family.
"We are a family who is committed to facts, not fake evidence," the family said in a statement earlier Tuesday. "The services of the private investigator who spoke to press was offered to the Rich family and paid for by a third party, and contractually was barred from speaking to press or anyone outside of law enforcement or the family unless explicitly authorized by the family."
Rich's family, which has previously sought help from the public in uncovering information about their son's death, had been seeking help in solving their son's murder.
"We know of no evidence that supports these allegations. We are continuing to cooperate with investigators and have no further comment," DNC spokesperson Xochitl Hinojosa said in a statement.
Bauman told NBC News that he decided to reveal Butowsky's role as the "third party" referred to in the family's statement after being told that the businessman was denying any involvement. "He's the one who paid for it," Bauman said.
Meanwhile, a current FBI official and a former one completely discount the Fox News claim that an FBI analysis of a computer belonging to Rich contained thousands of e-mails to and from WikiLeaks.
Local police in Washington, D.C., never even gave the FBI Rich's laptop to analyze after his murder, according to the current FBI official.
And a former law enforcement official with first-hand knowledge of Rich's laptop said the claim was incorrect. "It never contained any e-mails related to WikiLeaks, and the FBI never had it," the person said.
And Wheeler has developed a reputation for making outlandish claims, such as one appearance on Fox News in 2007 in which he warned that underground networks of pink pistol-toting lesbian gangs were raping young women.
Rich, a data analyst for the DNC at the time of his murder, was shot and killed last July while walking home early one Sunday morning in his Washington, D.C., neighborhood.
Police say it was a robbery gone wrong, but the death quickly became a fascination of conspiracy theorists, who alleged he was the source of DNC emails published on Wikileaks, even though U.S. intelligence agencies say they actually came from a Russian hacking operation.
Wikileaks Founder Jullian Assange has offered a $20,000 reward for information about Rich's death.
Wheeler, who did not respond to request for comment from NBC News, revived Rich's murder by making explosive claims to a local Fox affiliate that Rich was in contact with Wikileaks before his death and that the local police and FBI were covering that up.
The police and Rich's family quickly condemned the report, but it still launched to the top of conservative news outlets like Fox News, among others.
Butowsky initially denied that he played any role in the Rich case in an interview with NBC News. "I'm not involved with any of what you said," Butowsky said when reached on his cell phone Tuesday.
But hours later, he confirmed his involvement to CNN and acknowledged he had withheld the truth from NBC News.
Butowsky, who attended President Donald Trump's inauguration, has highlighted the Rich story on social media.
Updated with reporting from Pete Williams.