WASHINGTON — President Donald Trump embarked on the longest trip of his presidency Friday — a five-country, 11-day tour of Asia designed to strengthen diplomatic and economic partnerships while contending with North Korea's nuclear threat.
The president, who announced Friday that he was tacking on an extra day in the Philippines to attend the East Asia Summit, heads overseas during a time of what some experts see as a decline of U.S. influence in the region and they suggest that it is unlikely that Trump will be returning home with any clear wins.
As he and first lady Melania Trump depart, Trump and the White House also have been roiled by the indictment of two former campaign aides and the guilty plea of another, an ISIS-inspired terror attack in New York City, and the continuing inability of this administration to score a significant legislative victory on Capitol Hill.
Now, the president's focus will turn to problems abroad — with North Korea at the top of the list. National Security Adviser H.R. McMaster, briefing reporters on Trump's itinerary, said that the world is "running out of time" to deal with the threat from that county.
Mireya Solís, a co-director of the Brooking Institution's Center for East Asia Policy Studies, said she had been wondering for some time if Trump would lose attention toward the end of a very long trip aboard.
"Now, I think the question has shifted: Is he going to be distracted from the get-go?" she asked. "Are the domestic political problems going to be first and foremost in his mind? Leaders in the region are wondering how much of the attention will be on the regional issues that are so pressing."
While Trump battles on multiple fronts and faces low approval ratings at home, some of the world leaders he will encounter on his swing through Japan, China, South Korea, Vietnam and the Philippines find themselves emboldened — and playing with a home turf advantage.
Chinese President Xi Jinping, for instance, has been buoyed in recent weeks by his further consolidation of power and Japanese Prime Minister Shinzo Abe's political party enjoyed a landslide election victory last week.
What does Trump want?
McMaster outlined several sweeping goals guiding the longest presidential voyage to Asia since President George H.W. Bush.
The national security adviser told reporters the president will seek to strengthen international resolve to denuclearize North Korea; promote a free and open Indo-Pacific region; and advance American prosperity through fair trade and economic practices.
Trump will certainly be Trump as he hopscotches across the region.
Related: Children View Trump Through 'Soft Power' Lens
When asked if the president's "fire and fury" rhetoric would be modulated based on his proximity to North Korea during the trip, McMaster quipped: "I don't think the president really modulates his language — have you noticed him do that?"
The president, McMaster added, "will use whatever language he wants to use, obviously."
A visit to Camp Humphreys in South Korea will provide an "excellent example of burden sharing" of defense between the U.S. and South Korean government, senior administration officials said. And the man who rode to office on promises of being the best deal maker on the planet will also pitch pro-American trade deals, advisers say, urging a commitment to "free, fair and reciprocal" trade.
Stops in South Korea, China
After a summer of provocations from Kim Jong Un, all eyes are on how the administration continues to contend with North Korea.
In keeping with the "all options on the table" approach to North Korea repeatedly espoused by the White House, McMaster announced Thursday that putting the country on the state-sponsored terror list was "under consideration."
Trump will not visit the demilitarized zone while in South Korea — a choice one senior administration official defended by saying it had become "a little bit of a cliché" — but he will press for further commitments to maximize pressure on North Korea during a speech to South Korea's national assembly.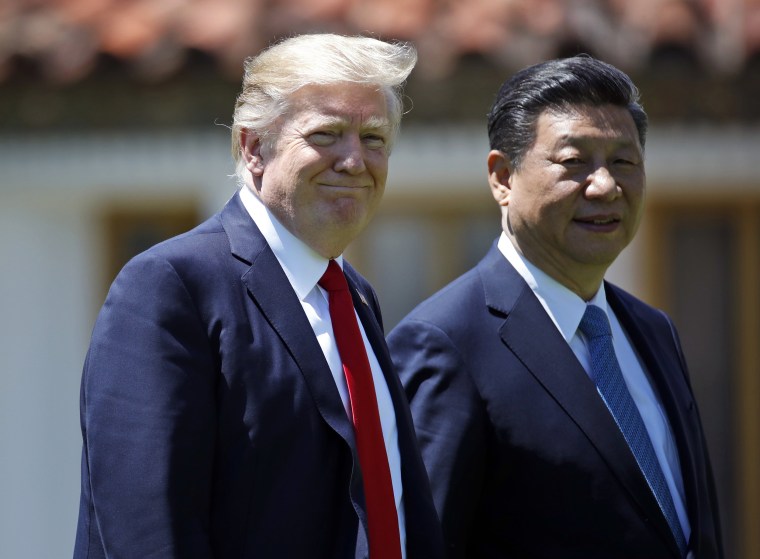 But it's the stop right after South Korea that could be key to dealing with North Korea. China has been critical to the administration's calculus in bringing North Korea to heel, and the White House has touted what National Security Council spokesman Michael Anton called a "greater receptivity" from China on the issue.
Though the White House is optimistic about Beijing, a senior administration official maintains "there is clearly more" that China could do.
Jonathan D. Pollack, a senior fellow at the Brookings' Center for East Asia Policy Studies, said Trump also needs to articulate a larger policy in the region that goes beyond dealing with Pyongyang.
"The real question now," Pollack said, "is whether or not you can, on any kind of a viable long-term basis, keep some kind of a larger strategic focus in mind, as opposed to being pulled into some immediate perception of potential crisis, for which the stakes are incredibly high."
Trade talks
Trump has been clear about his preference for bilateral trade agreements, with senior advisers telling reporters this week "there are greater prospects through bilateral engagement" than through multilateral deals, like the Trans-Pacific Partnership that Trump already ditched.
While Solís calls it "welcome" news for Trump to talk about Asia's role in U.S. domestic prosperity, Trump's "America First" slogan makes for competing messages.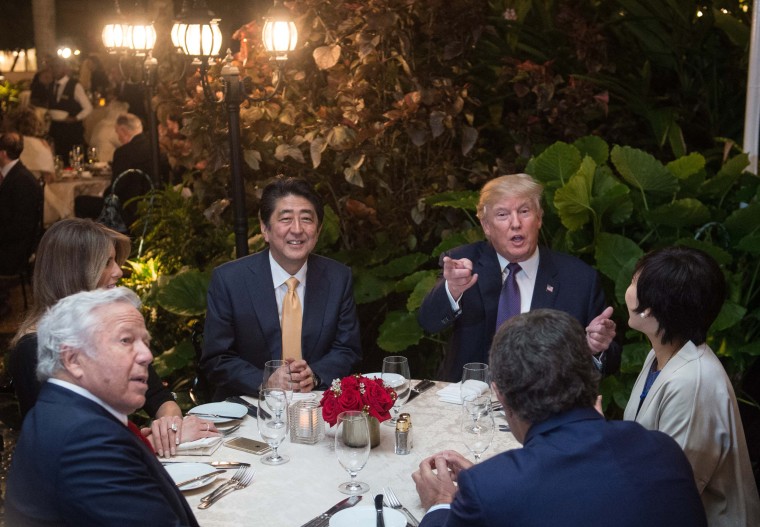 "How do you reconcile both is going to be first and foremost in their minds," Solís said. "This administration [has] said, 'Look at our accomplishments, we want to go for bilateral free trade agreements.' There are no announcements on a bilateral free trade agreements coming out of these trips."
The president will lead his own trade talks, McMaster told reporters, with his U.S. Trade Representative, Robert Lighthizer, and other staff there to "support" his conversations.
A lack of 'deliverables'
Experts are unsure what Trump will have to show for his trip — and what he might have to give in return.
With Xi's recent consolidation of power, Michael Mazza, an expert in Asia-Pacific defense policy at the American Enterprise Institute, said he doesn't think the Chinese president "has any reason to give too much," citing Xi's sweeping remarks at last month's 19th Party Congress as a sign that he'll be "more aggressive than less," especially in areas like the South China Sea.
In fact, Oriana Skylar Mastro, an assistant professor of security studies at Georgetown, said she's concerned with how little the South China Sea has come up in pre-trip discussions, especially considering how Xi talked about it in his party address last month.
"It looks like we're just kind of ceding ground there so that President Trump can say, 'I got a few trade deals and maybe I'll get to keep a few more jobs in the United States,'" she said. "But in the end we basically are seeing the quick decline of U.S. leadership in the Asia Pacific. It's important to push those [economic] issues but not at the expense of the harder, strategic, national security issues."
The White House has not outlined any "deliverables" expected from the trip, instead focusing on its messaging campaigns — something Ryan Hass, a former National Security Council director who has prepared for past presidential trips to Asia himself, predicts will continue.
"Issues such as strength, resolve, presence and determination to get a fair economic deal for American people — those will be the themes that will, I think, carry throughout the visit, and what the Trump administration will point to at the end of the visit, as opposed to deliverables or outcomes, which are less likely," Hass said.