WASHINGTON — The number of federal workplace safety inspectors has fallen under the Trump administration, according to new data obtained by NBC News, raising questions about the government's efforts to protect workers and the long-term impact of the White House's move to slow hiring.
In the months after President Donald Trump took office, the Occupational Safety and Health Administration lost 40 inspectors through attrition and made no new hires to fill the vacancies as of Oct. 2, according to data obtained through a Freedom of Information Act request.
The departing inspectors made up 4 percent of the OSHA's total federal inspection force, which fell below 1,000 by early October.
OSHA's reduced staff reflects Trump's broader effort to slow the growth of the federal bureaucracy and is a part of the mass departure of civil servants across the government, from the Internal Revenue Service to the Environmental Protection Agency.
OSHA is one of the many federal agencies where hiring has stalled in Trump's first year and mounting vacancies remain unfilled. Some worker advocates and former officials worry that staffing delays are undermining the work of a small but critical institution responsible for protecting the health and safety of American workers.
OSHA inspectors are the ground troops that enforce federal health and safety requirements in the workplace. Inspectors flag potential hazards, investigate employee complaints, and document apparent violations, which can result in citations, fines and other penalties against employers. Since the agency has limited resources, OSHA prioritizes high-risk workplaces like construction sites and manufacturing plants that have elevated rates of fatal accidents, illnesses and serious injuries. (Twenty-one states run their own comprehensive OSHA programs with state inspectors.)
Though the president has repeatedly stressed the need to shrink the federal workforce, OSHA has acknowledged in recent months that it needs more manpower to do the job.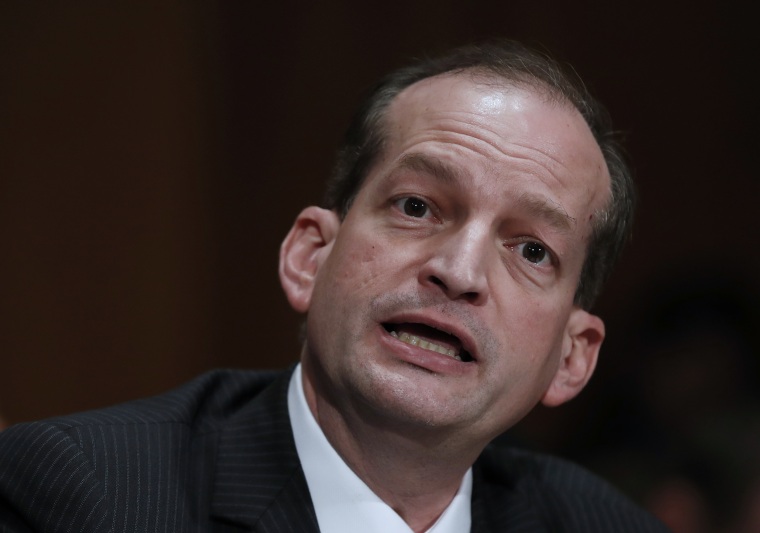 Since early October, the agency has hired "several additional inspectors" and is currently recruiting over two dozen more, according to Labor Department spokesman Eric Holland. (The department declined to specify how many new inspectors it has hired.) The new hires will "ensure that OSHA has the necessary personnel to carry out its important work," Labor Secretary Alexander Acosta said in November.
But, as with many other federal agencies, OSHA has faced headwinds in hiring in Trump's first year: A government-wide hiring freeze; a push to reduce the workforce through attrition; proposed budget cuts; and deep uncertainty about future funding. That's bogged down the hiring process in a bureaucracy that's already notorious for taking its time, making it more challenging to staff up even when administration officials believe that new additions are warranted.
Conservative advocates for smaller government say that it's wise to consider whether more federal workers are truly necessary.
Rachel Greszler, a fellow at the Heritage Foundation, a conservative think tank, said that the administration is making a laudable effort to reduce "redundancy, waste and inefficiency" across the federal workforce while remaining adequately staffed.
"This won't mean slashing jobs immediately, but it will mean transitioning — through retirements, attrition and reassigning current employees — to a smaller federal workforce," she said.
By that measure, Trump has succeeded: The federal government had 16,000 fewer permanent workers at the end of September than it had at the end of 2016 out of a workforce of nearly 2 million, according to data from the Office of Personnel Management. During the same time period, OSHA dropped below 2,000 permanent, full-time employees, with 116 fewer total staff than in December 2016, according to the latest personnel data.
But former agency officials are concerned that staff departures and hiring delays are coming at a cost to ordinary Americans. Under federal law, OSHA has a limited window of time to issue citations for health and safety violations — a time period that Trump and Congressional Republicans helped shorten by killing an Obama-era regulation in April.
Reduced staff has made it even harder for OSHA to do its job properly, said David Michaels, who headed OSHA during the Obama administration. "It means there's greater pressure to quickly reach a settlement with the employer, which often means reduced fines," he said. "The lack of new inspectors makes OSHA invisible. If employers don't think OSHA will come, workers are much more likely to be hurt."
Trump's hiring freeze
Like most other federal agencies, OSHA was subject to the hiring freeze that Trump imposed shortly after taking office "to stop the growth of a bloated government," as the White House put it. The president also instructed his administration to formulate "a long-term plan to reduce the size of the federal government's workforce through attrition."
Trump has emphasized that he is making a deliberate effort to shrink the federal bureaucracy. "We are not looking to fill all of those positions. Don't need many of them — reduce size of government," Trump tweeted in August after being criticized for understaffing his administration.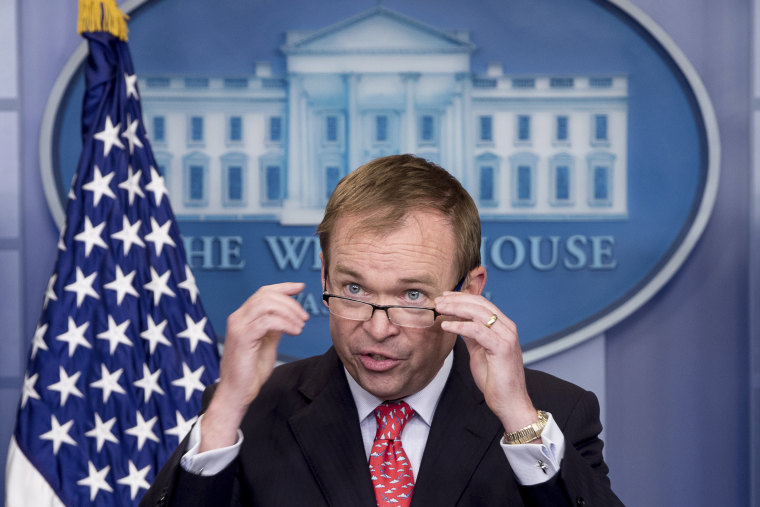 Though the president technically lifted the freeze in April, White House Budget Director Mick Mulvaney stressed that "does not mean that the agencies will be free to hire willy nilly."
"In many if not most agencies, the leadership has maintained an effective freeze," said Max Stier, president and CEO of the nonpartisan Partnership for Public Service, which focuses on improving the federal workforce. "It took what was already an overly laborious hiring process and made it even more difficult to bring in talent."
Enforcing the law with fewer inspectors
OSHA insists that its enforcement efforts have remained vigorous, even with fewer inspectors on the job. According to the Labor Department, the agency conducted 32,396 OSHA inspections from October 2016 to the end of September 2017 — a few hundred more than in 2016, marking the first annual increase in five years.
But critics warn that the staff departures have crippled small, regional OSHA offices that were already short-handed. The southeast region — Alabama, Florida, Georgia and Mississippi — lost the most on-the-ground inspectors in the first eight months of the Trump administration, with 10 departures, according to data that the Labor Department sent in a letter to Rep. Rosa DeLauro, D-Conn., first obtained by NBC News.
"OSHA is far too understaffed to fulfill its mandate of reducing workplace injuries," DeLauro said. "Under the Trump administration, OSHA has suffered a troubling decline in both staff and workplace inspections in key areas of the country."
In Mississippi, which has one of the country's highest worker fatality and injury rates, the number of federal OSHA inspections fell by 26 percent from Trump's inauguration in January to the end of September, according to public data. Other federal offices in the region saw smaller declines in OSHA inspections during the same time period, ranging from a 5 percent drop in Alabama to a 1 percent reduction in Georgia.
Debbie Berkowitz, who was an OSHA official in the Obama administration, attributed the drop-off in enforcement to staffing shortages. OSHA did not specify how many inspectors had left in each state, but, according to the latest personnel data, the agency's Mississippi office fell to 14 from 18 full-time employees by the end of September.
"They can't do it all, they can't keep up," said Berkowitz, now a fellow at the National Employment Law Project. "What we noticed in Mississippi is there were a lot of reports of very serious injuries that OSHA wasn't inspecting."
Clyde Payne, former head of OSHA's office in Jackson, said he's concerned about the risks to workers at Mississippi's smaller shipyards and construction companies.
"They really need close oversight because the ownership in those companies doesn't likely have a dedicated safety staff to make sure they're controlling their injuries and illness — they're more likely to fall off the train," Payne said.
Not every area with fewer inspectors saw a decline in enforcement: In Wisconsin and Ohio, the number of federal OSHA inspections last year increased from Jan. 20 to the end of September, according to agency data, despite the loss of eight on-the-ground inspectors and two inspection supervisors in the region.
The Labor Department said that hurricanes, not staffing shortages, were responsible for the decline of OSHA inspections in Southern states.
"The bottom line is OSHA inspections were up for the first time in five years," Holland said. "That's despite a historic hurricane season that necessitated the temporary suspension of enforcement activities in three OSHA regions, including two of its largest." (OSHA inspections in Mississippi were declining before the first hurricanes made landfall.)
Industry groups said they haven't noticed a shift in OSHA enforcement under the new administration. But they also stressed that government oversight was not the key to protecting workers.
"Inspectors don't make workplaces safe. People and programs do by working to prevent problems before they occur and by creating workplace cultures where safety is top of mind," said Eric Mittenthal of the North American Meat Institute, the meatpacking industry's biggest trade association. "Safety programs operate continuously regardless of the frequency of OSHA inspections."
Budget uncertainty
Not all the delays in federal hiring have been by design. The Labor Department said budget uncertainty affected its hiring timeline in 2017, even after the president lifted his hiring freeze. The government was operating under short-term funding measures throughout 2017, at the same time that House Republicans and Trump were proposing cuts to OSHA's 2018 budget. (Lawmakers still have not passed a full 2018 budget, and the government continues to operate under a short-term funding measure.)
By August, however, the Labor Department said it had more budget certainty and could "responsibly add inspectors that would likely be funded" through 2018, said Holland. That month, Acosta said that he gave OSHA the green light to hire new inspectors "in an expedited manner," he told lawmakers in November.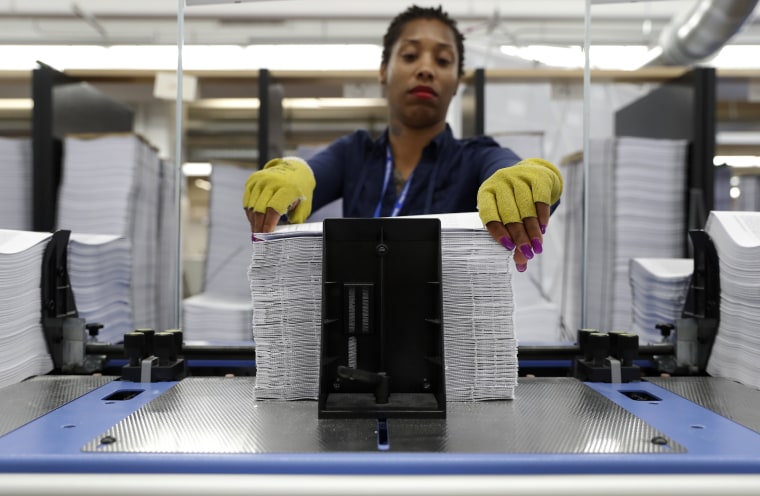 But federal hiring is often a protracted process, and OSHA requires its inspectors to pass a medical exam, among many other requirements. As of Sept. 30, the agency had 54 inspection staff vacancies and still hadn't hired any new inspectors.
Since then, the agency said that it has made greater headway in hiring. OSHA has "more than two dozen recruitments that are in various stages of the hiring process," in addition to the inspectors it has brought on board since the beginning of October, Holland said. (The Labor Department declined to specify the exact number of slots it is still looking to fill and how many are currently on staff.)
At the same time, the looming fight over federal spending could put further constraints on hiring at OSHA and other agencies.
Though lawmakers never passed a full 2018 budget, last year the House proposed cutting more than $21 million from OSHA, and Trump wanted a $9.5 million cut. (The Senate proposal kept funding level.) This year, Republicans may push for bigger cuts across the federal government to offset the sweeping tax bill they passed in December, which added $1.5 trillion to the deficit.
Even if agencies get the funding and approval to increase staff, last year's hiring delays could continue to affect the federal government's performance.
Jordan Barab, an OSHA official under Obama, said that it typically takes months of training and experience in the field for agency inspectors to get up to speed.
"Even after OSHA hires someone, they can't just send them out to do an inspection by themselves," Barab said. "This will have an impact for years."