With Republican efforts to repeal Obamacare stalled, President Donald Trump issued a new executive order on Thursday that could undermine the law without Congress.
"Seven years ago, congressional Democrats broke the American health care system by forcing the Obamacare nightmare onto the American people. And it has been a nightmare," Trump said at the White House, adding that the order represented the first step "to providing millions of Americans with Obamacare relief."
Experts say it has the potential to upend the current health care system for small businesses and individuals by opening up cheaper options for some customers, while spiking costs for others and encouraging more insurers to flee Obamacare's exchanges.
"Healthier consumers will likely be able to enroll in plans with lower insurance rates, while more medically complex consumers may be subject to significant rate increases," Dave Dillon, a fellow at the Society of Actuaries, said in a statement.
Trump's order, however, lacks details and does not take effect anytime soon. Instead, it directs federal agencies to look at broad goals set out by the White House and decide over time whether new regulations might be possible. That makes judging the order's impact difficult.
The order has two main components that target Obamacare's regulations: One affects small business plans, and the other affects individual insurance plans. A third component could loosen rules on how businesses use health reimbursement accounts. Here's how the insurance changes work.
Impact on small businesses
Under the proposed changes, small employers could band together to form a new type of association that can purchase insurance with fewer regulations. A group of bicycle repair shops, for instance, might form the "Bike Repairmen Association" and negotiate an insurance plan for their workers together.
Obamacare currently requires association plans to meet a minimum set of health care benefits. But the administration could potentially let them bypass those requirements, which would split the insurance market for small businesses in two.
A company with young employees and few health needs might purchase a cheap association plan that leaves out maternity care or prescription drug coverage, for instance. But a company that still needs comprehensive coverage for their older workforce could find premiums shoot up, since the plan now has fewer healthy people to bring down costs.
"They would tend to cherry pick the healthy younger workforce, which in turn destabilizes the rest of the market," said Edwin Park, a senior fellow at the left-leaning Center on Budget and Policy Priorities.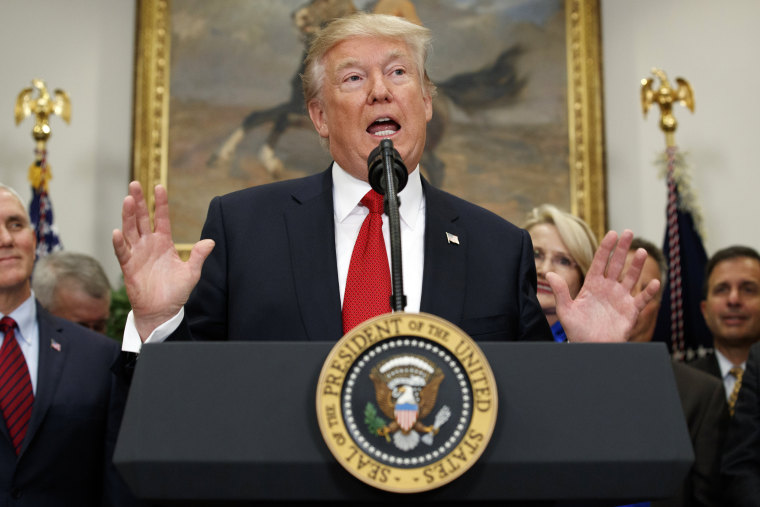 There are still big questions, though. It's not entirely clear yet how the association plans would be regulated and whether states will be able to set restrictions or whether they'll be able to "cross state lines" to purchase coverage without their permission. The National Association of Insurance Commissioners, which is comprised of state regulators, has opposed expanding association plans in the past since they fear they would usurp their own restrictions.
Early reports suggested the association plans might also allow self-employed individuals, who otherwise would likely get insurance through Obamacare's exchanges, to join as well. The administration did not mention it in their plan, but a senior official told reporters on Thursday that they were considering the idea.
Experts say such a move could face legal challenges. But if it were to go through, it could damage Obamacare's market for individuals as well. Healthier customers, especially those making too much to qualify for subsidies, could abandon the exchanges for skimpier association plans, prompting insurers to hike premiums for the remaining sicker pool of customers.
'Short-term insurance'
The other change potentially makes it easier for individuals to buy short-term insurance plans that are cheaper and less comprehensive.
Right now, Obamacare allows people to buy these short-term plans for 90-day periods.
The plans don't have to follow the same rules as other insurance, like covering pre-existing conditions or providing certain benefits. People covered by such plans are not eligible for Obamacare subsidies to pay their premium and still have to fork over a penalty for going without insurance under Obamacare's individual mandate. They're mainly designed for people dealing with a short gap between coverage, like a person set to start a new job in a few weeks.
But Trump's order asks the federal government to consider "expanding" the short-term plans. That could potentially mean allowing them to cover longer periods or exempting enrollees from the mandate penalty.
If that happens, it could have an impact on Obamacare's exchanges. Healthy people who don't like the more expensive options on the exchange could substitute the short-term plans year round. That would make the pool of Obamacare customers sicker, which, in turn, would prompt insurers to raise premiums.
"The reason these plans are currently limited to three months is that they were hurting the risk pool of the individual insurance market by siphoning off healthy people, who were often left without adequate coverage if they became sick or injured," said Dania Palanker, an assistant research professor at the Center on Health Insurance Reforms at Georgetown University.
For people who qualify for subsidies, the effect would be muted since the subsidies rise to meet the costs of premiums in their area. But for middle-class customers with serious health issues who make too much for subsidies, the impact could be large.
More uncertainty
Insurers and their customers won't know the full effect of the executive order any time soon. It will likely take months, perhaps even a year or more, for agencies to examine the issues, propose new rules and then finalize them.
"The implications in the short-term are practically nothing," said Arthur Tacchino, chief innovation officer at SyncStream Solutions, a health care consulting firm. "[Obamacare] premiums have already been set by carriers for 2018. They won't change them now because of an executive order with no detailed regulations."
But the proposed order could still make a difference, even if the rules never go into effect. Already, companies have raised premiums for 2018 and threatened to withdraw, partly over concerns the administration will sabotage the law.
Trump has repeatedly vowed to let Obamacare "fail" in order to pressure Democrats into backing repeal. Open enrollment for plans begins Nov. 1 and ends Dec. 15 and the administration has slashed advertising budgets by 90 percent, cut funding for customer assistance and threatened to cut off payments owed to insurers for lowering deductibles.
The latest move sends another signal to companies that the administration plans to undermine the markets. It also adds a new layer of confusion as to what the rules of the road will be next year and beyond. That could cause more premium increases in 2019 and spook insurers out of participating, potentially leaving some places without any Obamacare exchange plans at all.
"Insurers hate uncertainty and they hate rules that will enable healthy people to opt out of the insurance markets," said Nicholas Bagley, a law professor at the University of Michigan. "So the (order) could destabilize the market, even if the (order) itself doesn't actually do anything."
CORRECTION (Oct. 12, 3:16 p.m.): An earlier version of this article misspelled the first name of a health policy expert. She is Dania Palanker, not Dana.