WASHINGTON — FBI Director James Comey's Senate testimony Thursday certainly lived up to the hype.
The ousted FBI Director flatly accused President Donald Trump of firing him after he refused to drop an investigation that put too much pressure on the White House, and then lying about it and defaming the FBI.
But did Trump's actions break the law?
"I don't know. That's Bob Mueller's job to sort that out," Comey told members of the Senate Intelligence Committee, referring to the special counsel recently appointed to look into Russia's meddling in last year's election and its potential ties to Trump's campaign.
Legal experts are divided. While many agree that Comey's testimony suggests Trump acted inappropriately, they point out it would be much harder to prove he acted illegally since obstruction of justice requires proving Trump's intent — never an easy task.
And since presidents are charged not in a court of law, but in Congress through the impeachment process, the question may be as much a political one as a legal one.
The stakes are enormous since, as the old Washington adage goes "it's not the crime but the cover-up" that tends to ensnare politicians.
Richard Nixon resigned after the House Judiciary Committee approved articles of impeachment for obstruction of justice. And Bill Clinton was successfully impeached for obstruction (along with a second count for perjury), even though an independent criminal investigation later declined to bring any charges against him for the underlying scandals around Whitewater and Monica Lewinsky.
Comey, who knows Mueller well and earlier sought his approval on what he could say publicly during Thursday's congressional hearing, suggested his fellow former FBI director is already investigating whether Trump obstructed justice.
"I'm sure the special counsel will work towards to try to understand what the intention was there and whether that's an offense," Comey said during the hearing.
Related: James Comey, Donald Trump and the Russia Investigation: A Timeline of Events
But Joyce Vance, who was the Obama-appointed U.S. Attorney for the Northern District of Alabama until earlier this year, called Trump's actions "possibly lawful, but awful."
"His conduct indicates clearly here that he believes that he is above the law," she said. "You can't imagine Obama or Bush or any other president in our lifetime making these kind of requests directly to the attorney general, let alone the director of the FBI."
But are his actions obstruction?
"Maybe they're obstruction, maybe they're not technically illegal, maybe they're just completely inappropriate," she said.
John Lauro, who has been on both sides of obstruction cases as a former federal prosecutor that now runs a white collar criminal defense firm, was more definitive.
"Without a doubt in mind, it's not obstruction of justice," he said. "This doesn't even come within the zone of what obstruction is."
Legally, obstruction charges hinge on proving a person acted with "corrupt intent" to prevent the government from learning something.
"It's a very very high bar," Lauro said of proving someone's intentions. "It's a very very difficult statue to get convictions on."
Related: James Comey Testimony: Here Are 9 Key Moments from the Hearing
But Jens David Ohlin, a professor and dean at Cornell Law School, said the bar is completely different in this case, because it's set by Congress, not by the courts
"Would he be convicted? I don't know, but that's not the right question to be asking. He's not going to get prosecuted," Ohlin said. "The more relevant question is, is this the type of obstruction of justice which is so corrupt that the House should take the extraordinary measure of impeaching the president, and for the Senate to convict him and remove him from power?"
"It sounds like this is a person who is using his authority to stop an investigation," Ohlin added.
Many Democrats have already accused Trump of obstructing justice in firing Comey, but Republicans have, who control both chambers of Congress, have not.
Trump's defenders were quick to note that, according to Comey, Trump never ordered him to stop his investigation into former National Security Adviser Michael Flynn, but simply said he hoped it would be resolved favorably.
Comey testified that he took that to be a direction from his superior, but Trump's camp has and will dispute both Comey's recollection and interpretation.
"Mr. Comey's testimony also makes clear that the President never sought to impede the investigation into attempted Russian interference in the 2016 election," Marc Kasowitz, the president's longtime lawyer who is now representing him this matter, told reporters on Thursday. "Consistent with that statement, the President never, in form or substance, directed or suggested that Mr. Comey stop investigating anyone."
Meanwhile, Republicans like House Speaker Paul Ryan and New Jersey Gov. Chris Christie say, essentially, that as a former businessman with no government experience, Trump can't have acted with improper intent because he didn't know any better.
While ignorance is not often a successful defense, it could be here, according to Michael Wildes, a self-professed "very proud Democrat" who served as both a federal prosecutor and mayor in New Jersey.
"Trump is not a career politician," Wildes said. "It represents a naivete."
David Shapiro, a former FBI special agent who now teaches at the John Jay College of Criminal Justice, agreed.
"The case may be significantly weaker than I expected," Shapiro said after reviewing Comey's prepared testimony made public on Wednesday.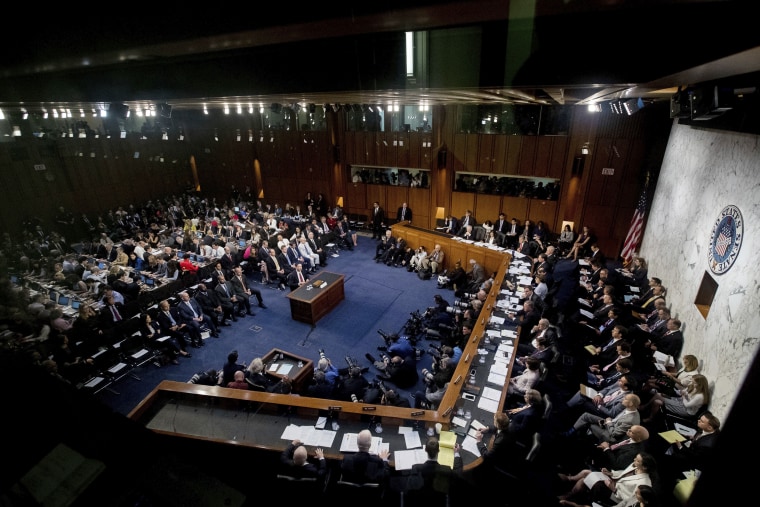 But Joshua Dressler, the Frank R. Strong Chair in Law at Ohio State University, thinks the facts around Comey's firing present a compelling circumstantial case against Trump.
"Put those dots together and you have a perfectly reasonable interpretation is that that was done with the corrupt intent to obstruct justice," he said. "There is now what you would call a prima facie case — enough evidence that a judge would say that a reasonable jury could convict this person of obstruction of justice."
Dressler moved in the opposition direction of Shapiro. A few weeks ago, he was skeptical, but said, "Today's testimony strengthened my feelings that in fact this may have constituted legally speaking obstruction of justice."
Related: James Comey's Senate Testimony on Trump: As It Happened
Steve Ryan, who once directed federal investigations against the mafia and served as general counsel to the Senate Committee on Governmental Affairs, guessed Mueller would not move ahead with charges even though the case "certainly has a Limburger smell about it."
But he said Comey's testimony raises other serious questions, like who else did Trump demand loyalty from?
"I can't imagine that that question won't be asked of any Department of Justice nominee that comes forward. You'd have to be deaf, dumb and blind to not have that question on the FAQ," he said.
And as Wildes said, there is still a long way to go.
"This is only the investigation of the investigation," he said. "It's only the beginning."