WASHINGTON — FBI agents searched one of the residences of former Trump campaign chairman Paul Manafort last month, a dramatic escalation in the special counsel's Russia investigation, NBC News confirmed Wednesday.
The agents "executed a search warrant at one of Mr. Manafort's residences," Jason Maloni, a spokesman for Manafort, told NBC News. "Mr. Manafort has consistently cooperated with law enforcement and other serious inquiries and did so on this occasion as well."
"I think it's a very clear sign from Special Counsel Robert Mueller, they are not messing around," Sen. Chris Van Hollen, D-Md., told Andrea Mitchell on MSNBC.
Sources with knowledge of Mueller's inquiry into Manafort say the search of Manafort's residence is tied to the intense investigation into the former campaign chairman's business dealings and financial relationships, both in the U.S. and abroad.
The sources say investigators are looking at records tied to Manafort's activities in Ukraine, Cyprus and other parts of the world.
News of the search was first reported by The Washington Post, which said the FBI seized documents after descending on the residence without warning in the pre-dawn hours.
Manafort has voluntarily given documents to congressional committees investigating his role in allegations that the Trump campaign colluded with Russia during the 2016 presidential election. He has also met privately with Senate Intelligence Committee staff members.
The FBI search occurred on July 26, a U.S. official said, one day after Manafort met with Senate staff members.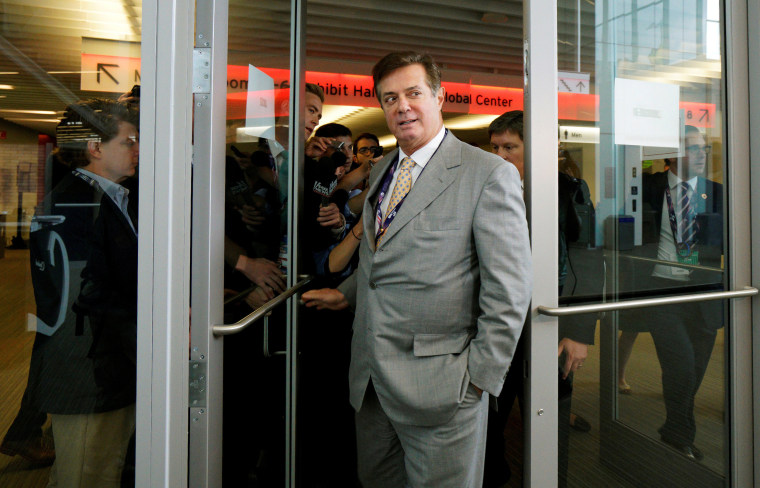 The White House has previously attempted to distance the president from his former top campaign official. In March, then-White House Press Secretary Sean Spicer minimized Manafort's role in the campaign by saying he "played a very limited role for a very limited amount of time."
Manafort joined the Trump campaign in March 2016 and became campaign chairman in May. He assumed the duties of campaign manager when Corey Lewandowski was fired in June, and then left the campaign himself in August.
To obtain a search warrant, Mueller would have had to convince a judge that there was probable cause to believe a crime had been committed and that the search was likely to unearth evidence related to the alleged crime.
Ron Hosko, a retired assistant director of the FBI, told NBC News the execution of a search warrant on Manafort's residence suggests Mueller's team does not view him as cooperating with its investigation.
FBI guidelines require the use of the least intrusive means possible to gain information, he said, and "a search warrant is not the least intrusive means. It suggests a breakdown in cooperation."
NBC News has reported that Manafort is under investigation in connection with his real estate dealings and his work on behalf of a pro-Russian Ukrainian politician. He has said he did nothing wrong.
Thus far, Manafort has submitted at least 400 pages of documents this month, including information Foreign Agents Registration Act filings, as requested by the Senate Judiciary Committee which is also investigating Russian interference in the 2016 election.
Legal experts say Mueller would likely use the leverage of potential or actual criminal charges to induce Manafort to cooperate in the investigation of whether the Trump campaign colluded with the Russian effort to interfere in the election.