Seonki Jo, who was brought to America from South Korea at age 3, has lived in Duluth, Georgia, nearly all his life. When it came time for him to begin his college search, he wanted to stick close to home.
But, he found, he couldn't. Georgia not only banned undocumented immigrants like Jo, who in 2015 was granted status under the Deferred Action for Childhood Arrivals program, from receiving discounted in-state tuition rates, but also from attending its top five public universities.
"Realizing you're not even able to go to your state school is a little bit jarring. It made me really anxious that I had to think outside of Georgia," he said.
With the fate of the Obama-era program — canceled by President Donald Trump in 2017 — still tied up in the courts and Congress seemingly no closer to a fix, renewed debate has cropped up in the states about what to do about the thousands of recipients who want to attend college.
Several blue-leaning states,such as New Jersey, Oregon and Connecticut, recently passed bills making those students eligible for some form of financial aid, in addition to allowing undocumented students to receive in-state tuition rates. Other states, like Arizona and Georgia, have taken legal action to ensure undocumented students pay more.
"The issue of the status of Dreamers, I think, is still playing out politically across the country," Steven Bloom, the director of government relations at the American Council on Education, told NBC News. "There seems to be a broad consensus that there needs to be a permanent solution for how they stay here, but the details need to be worked out."
Overall, 20 states, both blue and red, have made undocumented students eligible for some form of aid or benefit, like in-state tuition. Sixteen of those states did it through legislation, while four state public education systems have put their own policies in place, according to the bipartisan National Conference of State Legislatures.
The District of Columbia also offers in-state tuition and financial aid to undocumented students. The rest of the states either bar undocumented students from receiving financial aid and in-state discounts or, in some cases, leave it to the public university systems to create their own policies.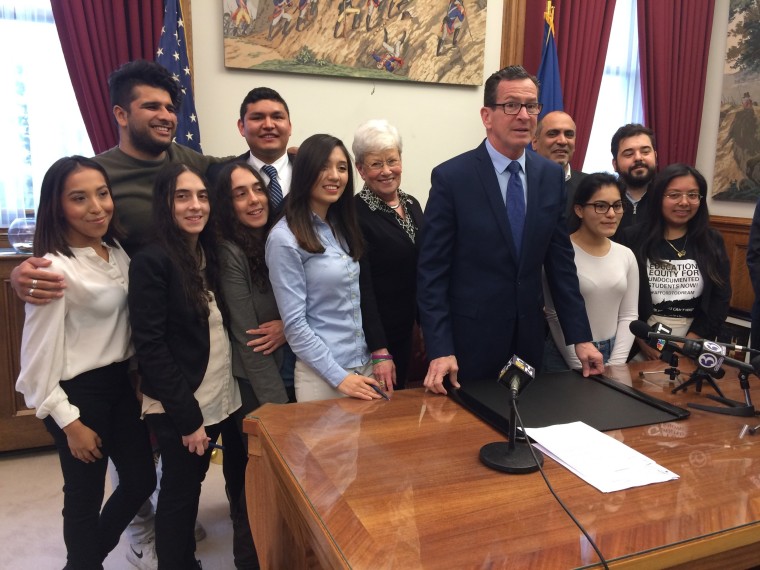 New Jersey Assemblyman Gary Schaer, a Democrat, says it's an economic question, rather than an immigration issue.
"Clearly, it's to New Jersey's benefit to have one of the most educated workforces in the country," said Schaer, one of the main sponsors of New Jersey's new bill. "It's not a question of progressiveness, but rather a question that it's in our own basic self-interest to have these kids educated."
New Jersey had already let undocumented students pay in-state tuition, which remains a point of contention in many states.
Georgia, responding to two of its schools becoming less competitive, said in 2016 it would admit undocumented students to Augusta and Georgia State universities — allowing Jo to attend the college of his choice, after all. However, this month, the Georgia Supreme Court declined to take up an appeal from immigrant students, keeping in place the mandate that they pay out-of-state tuition. (Alabama and South Carolina are the only other states where undocumented immigrants are denied enrollment to public colleges.)
"I think people on the other side try to characterize it as lacking compassion," Georgia State Sen. Joshua McKoon, a Republican, said. "But we have people who are here legally and illegally and there are finite resources."
According to McKoon, the DACA program has resulted in "tremendous collateral damage for states" and created a "tremendous level of uncertainty," especially now.
"Do we make tremendous investments in people who are going to be subject to deportation to in three or four years?" he said.
"The greater number of people that qualify, the greater the burden is on the people of this state."
In 2015, Arizona's board of regents, the governing body of its public university system, decided to offer in-state tuition to its DACA students. But the state Supreme Court overruled them earlier this month. The state's top court took the Trump administration's position, ruling that DACA students are not here lawfully and therefore cannot receive the same tuition benefits as legal residents — an action that could cause costs to skyrocket, according to the Arizona Republic.
Jo, now 19, said he's one of the lucky ones. He was accepted to Georgia State, and was granted a little-known merit-based tuition reduction waiver that helps reduce his education costs.
But he still frets about the long term, since the future of the DACA program remains in doubt and his home state takes a strict approach to the issue.
"Here's the thing: I'm undocumented, I have DACA, but I got my first job when I was 16, I pay my taxes, I pay my sales taxes, I pay my income taxes," he said. "It isn't like we're not contributing to society, it's not like we're taking state resources for another country or for ourselves ... We do everything citizens do but get none of the benefits."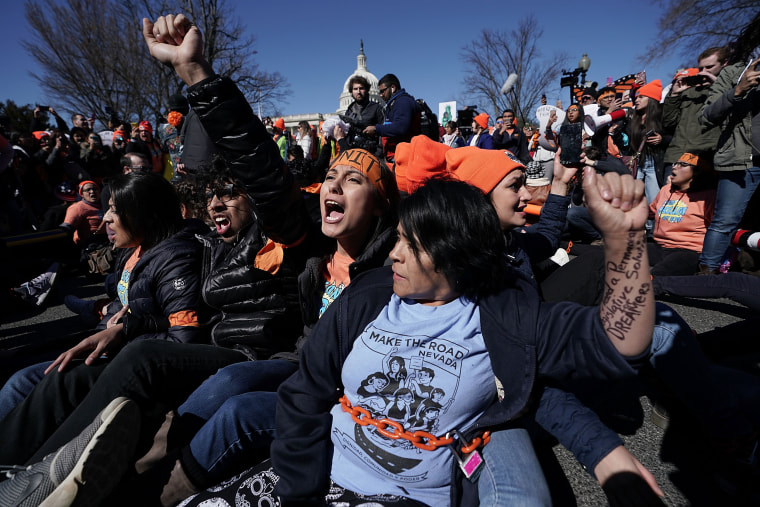 Charles Kuck, a Georgia immigration attorney who represented the group of immigrant students who sued the state over its tuition policies, said the issue boils down to how much states want immigrants to be a part of their workforce now, and in the future.
"The dumb states wallow in nativism and the others are forward-looking because if you're educated in the state, you're more likely to stay in the state," Kuck said. "Why wouldn't you educate your future workers? It makes no economic sense."
"Eventually," he added, "there will be some relief for these DACA kids, and these states are living in a state of denial that somehow DACA kids are going to leave."