WASHINGTON — Just one day after inviting states to add new work requirements to Medicaid, the Trump administration approved Kentucky's request for a waiver to do just that, the state's governor, a Republican, announced on Friday.
The move sets up Kentucky as the first test case for the drastic shift in federal policy, which health policy experts say will most likely face lawsuits before it can be fully entrenched. Previous administrations had rejected attempts by states to impose work requirements on Medicaid recipients, saying they went against the law's intent.
"It will be a model for the nation," Gov. Matt Bevin said at a news conference announcing the changes.
He called Kentucky's plan long overdue and said it would be "transformational in all the right ways" by pushing "able-bodied working-age" adults to seek out employment.
Under the now-approved program Kentucky submitted last year, adults 19 to 64 will have to perform 80 hours a month of "community engagement," which could include paid work or activities like school, job training and volunteering. There would be exceptions for primary caregivers, medically frail individuals, pregnant women and former foster care youth.
The changes would also require beneficiaries who are covered by the work requirements to pay monthly premiums and would penalize them if they missed payments after 60 days. It would remove some beneficiaries from Medicaid who fail to keep the state updated on their eligibility and lock them out for a six-month period.
In submitting its waiver request, Kentucky officials projected the changes would reduce Medicaid enrollment among adults by as many as 95,000 people over five years.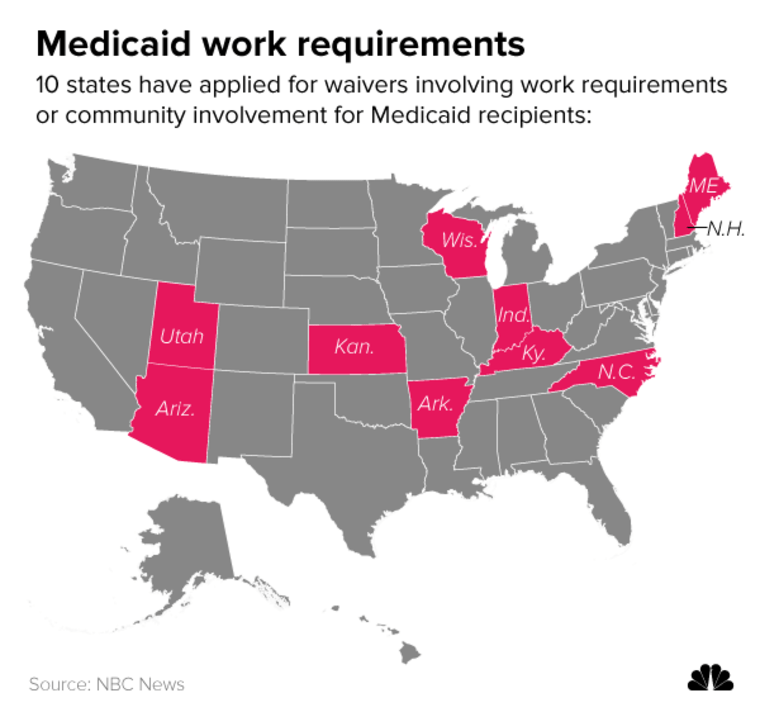 Democrats and public health advocates immediately condemned the move, claiming it would create an unnecessary barrier to care for low-income residents.
"Make no mistake: People will die because of this," Rep. John Yarmuth, D-Ky., said in a statement. "Thousands of Kentucky families will face financial ruin. Governor Bevin and President Trump are creating an entirely unnecessary crisis in our Commonwealth for entirely political reasons."
Groups criticizing the work requirements have predicted lawsuits ahead. Critics of the changes say they subvert Medicaid's purpose of providing health care to low-income people and that Congress would need to approve a new mission to push people towards employment.
"This is a sad day for the hundreds of thousands of Kentuckians who have gotten health care coverage since 2014, some for the first time in their lives," Eliot Fishman, senior director of health policy of Families USA, said in a statement. "Their hopes now rest with a legal challenge to this waiver approval, a legal challenge that Families USA strongly supports. The courts are now the primary line of defense for all of Kentucky's progress in getting its people access to quality health care."
Kentucky has been the site of ongoing battles over health care. It's seen one of the largest drops in its uninsured population under Obamacare, partly thanks to the state's use of the law's funding to expand Medicaid. Bevin ran for office criticizing the Medicaid expansion, but ultimately decided to leave it in place.