WASHINGTON — President Donald Trump may not have the most detailed knowledge of health care policy, but he knows what people hate: High deductibles.
Trump has made these complaints about Obamacare, which are shared by many insurance customers and critics of the bill alike, a centerpiece of his rhetoric on health care for years.
"Our healthcare plan will lower premiums & deductibles — and be great healthcare!" he tweeted last month. A few days earlier he tweeted that Republicans would provide "much lower premiums & deductibles." In March, he complained that "deductibles are so high you don't even get to use [insurance]" under Obamacare.
But the Senate bill released last week and the House bill passed last month take the opposite approach: They include policies that encourage higher deductibles and dramatically raise out-of-pocket costs, in some cases by thousands of dollars per person. The president has embraced both efforts even though they violate his repeated promises.
"There's no question that people in the individual insurance market would end up with higher deductibles under the Senate bill, much like the House," Larry Levitt, senior vice president at the Kaiser Family Foundation, told NBC News.
It's not hard to understand why deductibles would go up under the two Republican plans. There are two major provisions in the Senate bill, for example, that specifically affect deductibles and expenses.
First, the Senate bill encourages customers to sign up for plans with higher deductibles. Under Obamacare, the amount of subsidies customers receive to buy coverage are pegged to the price a "silver" plan, which covers about 70 percent of the average user's medical costs. The average deductibles for these plans right now are about $3,500 for individuals and $7,500 for families, according to an analysis by the consumer site HealthPocket.
But the Senate bill instead pegs its subsidies to insurance plans that cover only 58 percent of costs. Similar plans on the marketplace this year have average deductibles of more than $6,000 for individuals and $12,000 for families.
That means customers face an increase of thousands of dollars in deductibles unless they pay more in premiums.
That's not the only provision that hikes deductibles, though. Both the House and Senate bills eliminate subsidies that were created just to lower deductibles for low-income customers.
Under Obamacare, insurers cover a large portion of out-of-pocket costs for individuals making up to 250 percent of the federal poverty level — about $30,000 for an individual and $61,000 for a family of four. In exchange, the federal government reimburses them for the difference. The theory is that customers in this income range would otherwise struggle to benefit from a silver plan with deductibles of $7,500.
But the House and Senate bills each eliminate these cost-sharing provisions — and the effects would be dramatic, according to a Kaiser Family Foundation analysis. If you're an individual making around $18,000 a year, your effective deductible would be about $255 under Obamacare. Under the Senate bill, though, that number would jump to over $6,000 — almost 24 times higher.
There's no squaring that math with Trump's pledges.
The Senate bill also eliminates Obamacare's Medicaid expansion and reduces the program's overall growth over time, meaning millions of people currently paying little in out-of-pocket expenses through the government program would be expected to purchase high-deductible private plans instead. There are currently over 11 million people who qualify for Medicaid and have signed up thanks to the expansion, which covers individuals who make up to about $16,000 a year.
By signing the Senate bill, Trump would clearly break his promise for this group. He'd also break a second promise, which he made in his speech announcing he would run for president and repeatedly on Twitter, not to cut Medicaid.
"The two bills would move, or at least substantially encourage, the use of [high deductible plans], with some assistance for premiums but no assistance for the other aspects like cost sharing, coinsurance, and deductibles," John Graves, a professor at Vanderbilt University School of Medicine, said in an e-mail. "Notably these are the aspects folks have complained the most about regarding the [Affordable Care Act's] private plans."
Even people who find insurance with similar deductibles might discover their out-of-pocket costs are higher elsewhere. The Senate bill, like the House, allows states to opt out of Obamacare's requirement that every plan include certain "essential health benefits" in the hopes of reducing premiums.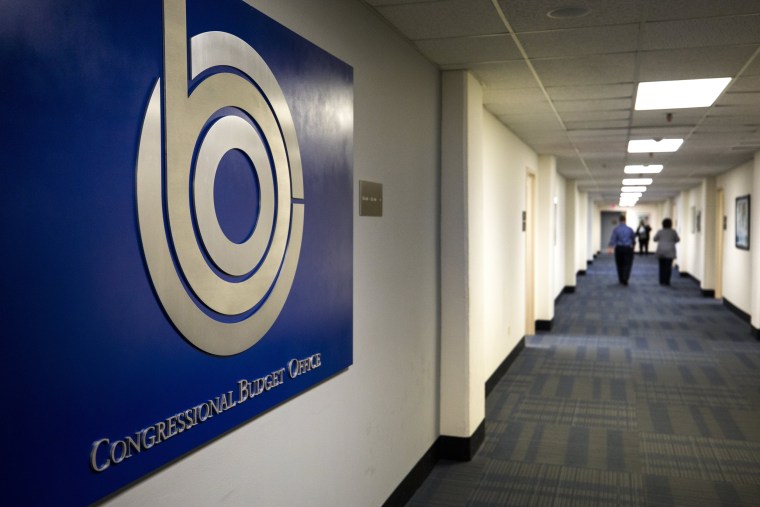 In analyzing the House bill, the Congressional Budget Office predicted waiving these benefits would raise costs by thousands of dollars for currently required items like maternity care and mental health treatment, which were often left out of pre-Obamacare plans.
Avik Roy, a prominent Republican health adviser who's supportive of the Senate bill, told NBC News that allowing higher deductible plans, along with other features like allowing insurers to charge older customers higher rates, could lower premiums for young healthy customers. If enough of them entered the marketplace, it could potentially bring down premiums and costs more broadly and perhaps even deductibles.
To encourage this trend, the Senate bill's subsidies are more generous for younger customers and less generous for older ones, who could face a significant hike in premiums to go on top of their higher deductibles.
A number of conservative health experts said this week they were skeptical young, healthy people would purchase plans knowing the deductibles are so high to start, however, especially at lower incomes. If they don't show up in droves, premiums could increase further.
"I just don't see why people would sign up," Joe Antos, a fellow at the American Enterprise Institute, told NBC News last week.
This is especially true given that the Senate bill currently has no penalty for going without insurance like Obamacare's individual mandate or the House bill's requirement that people maintain coverage or risk a major hike in rates tied to pre-existing conditions.
Experts across the board say this is a major oversight that needs to be corrected before a final vote, which could come within days.