WASHINGTON — Sen. Lindsey Graham, R-S.C., told a South Carolina newspaper on Monday that his "memory hasn't evolved" about the White House meeting in which President Donald Trump reportedly referred to African nations as "shithole countries."
In an interview with The Post and Courier, Graham seemed to challenge the accounts of fellow Republican Sens. Tom Cotton of Arkansas and David Perdue of Georgia, who attended the bipartisan meeting last Thursday with Graham and have given shifting defenses of the president's comments. After initially staying quiet, the two Trump-allied lawmakers issued a joint statement the day after the meeting saying they did not "recall" what the president had said. But in separate TV interviews Sunday, they outright denied that Trump had made the comments.
"I know what was said and I know what I said," Graham said Monday.
Sen. Dick Durbin, D-Ill., who attended the meeting, said Friday that Trump did use the vulgar language as reported and described the president as saying "things which were hate-filled, vile and racist." He reiterated his version of events to reporters on Monday, according to Chicago TV station WMAQ, saying "I stand behind every word I said."
While Graham has not directly confirmed Trump's remarks, he issued a statement praising Durbin after the lawmaker spoke to reporters Friday. Graham also noted he told Trump in the meeting that America is "not defined by its people, but by its ideals."
In a separate interview with the TV station WIS on Monday, Graham urged Trump to find a "bipartisan solution" for about 800,000 young undocumented immigrants who are facing deportation after a White House decision to cut off their protections by ending the Obama-era Deferred Action for Childhood Arrivals program.
"It's going to take you, Mr. President, working with Republicans and Democrats to get this done," Graham said. "It's not going to be done on Twitter, by tweeting, it's going to be done by talking and understanding."
Graham also lamented that "the discourse right now is pretty low."
"It's pretty embarrassing when you have to take your children out of the room just to report the news," he said.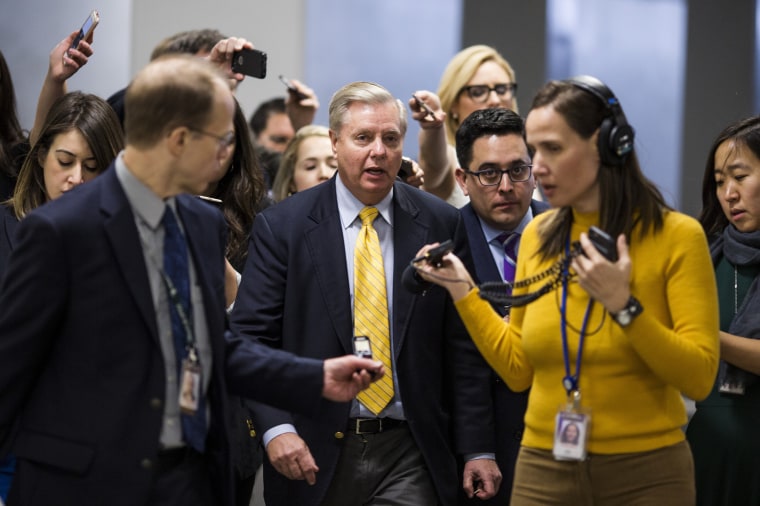 Trump defended himself Sunday, telling reporters he is "not a racist" while adding that DACA talks were flagging because Democrats "don't want security at the border, and they don't want to stop drugs."
While a White House spokesman did not deny the "shithole" remarks after the first reports leaked Thursday, Trump later tweeted that he used "tough" language in his immigration meeting, but not the specific phrase.
On Monday, Trump said in a tweet that Durbin "totally misrepresented" the exchange.
The White House rejected a proposal by Graham and Durbin, along with other Republican and Democratic senators, that would have put young undocumented immigrants on a path to citizenship while providing $2.8 billion for border security, including $1.6 billion for a wall.
On Twitter, former Republican presidential nominee Mitt Romney criticized Trump's comments in the immigration meeting as "inconsistent [with] America's history and antithetical to American values" on Monday. Romney is reportedly considering running for Senate in Utah this year.
The fallout over Trump's alleged remarks continues abroad as well, where leaders and diplomats representing Haiti, El Salvador and a multitude of African countries have expressed outrage. On Monday, Nigeria's foreign minister confirmed to Reuters that the government had summoned the United States ambassador to clarify Trump's remarks.