WASHINGTON — The Trump administration accused Iran on Thursday of violating United Nations resolutions, unveiling what U.S. officials said was proof that Iran is exporting missiles and other military hardware to a rebel group in Yemen.
"The weapons might as well have 'Made in Iran' stickers on them," said U.N. Ambassador Nikki Haley, standing before parts of a ballistic missile that she said Iran delivered to Houthi rebels in Yemen, who then fired it at the Riyadh airport in Saudi Arabia last month.
"Its ballistic missiles and advanced weapons are turning up in war zones across the region," Haley said at a press conference inside a military hangar at Joint Base Anacostia-Bolling, in Washington, D.C.
The U.S. took the unusual step of declassifying military equipment that was gathered in Saudi Arabia and Yemen, where a civil war is taking place between Iranian-backed Houthi rebels and the elected government.
The equipment was collected by Saudi Arabia and the United Arab Emirates. Signs on the weapons display said the material was "on loan" from those two countries.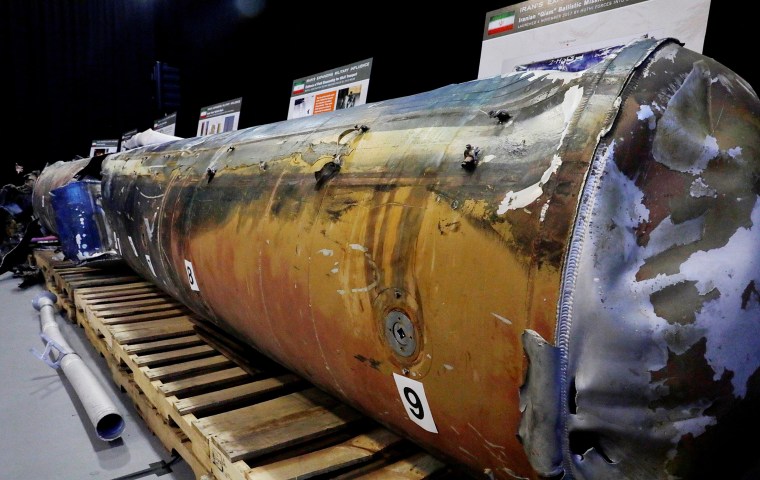 The Trump administration's aim, officials said, was to offer proof that Iran is exporting military equipment, including ballistic missiles, in violation of U.N. Security Council Resolution 2231, which was passed after Iran and western countries agreed to a deal to freeze Iran's nuclear program in 2015.
The Iranian government issued a statement Thursday disputing Haley's claims.
"Following a series of baseless accusations against the Islamic Republic of Iran in the past 10 months, the U.S. Ambassador to the U.N. once again today took the same line accusing the Iranian government of supplying the missile that hit Saudi Arabia on November 4th — an accusation that we categorically reject as unfounded and, at the same time, irresponsible, provocative and destructive," Iran said.
"This purported evidence, put on public display today, is as much fabricated as the one presented on some other occasions earlier."
Haley invited members of the Congress, U.N. officials and foreign delegations to examine the evidence for themselves.
"The undeniable fact is that that the Iranian behavior is growing worse" since the nuclear accord was signed, Haley said.
President Donald Trump has said repeatedly he wants to rip up the Iranian nuclear agreement but has not yet done so.
To prove the case that Iran-made missiles have been fired from Yemen, the U.S. pieced together a full-length Qiam-1, a short-range ballistic missile, constructed from the debris of two separate missile attacks against Saudi Arabia this year.
Haley pointed to several features of the missile, including nine valves on its oxidization tank, arguing that such design features are found on missiles manufactured by Iran. In addition, U.S. officials highlighted technology inside the missile, in both its propulsion and guidance systems, that they said bore the stamp of Iranian defense contractors.
"You will see us build a coalition to really push back against Iran and what they're doing," she said.