WASHINGTON — Vice President Kamala Harris plans to travel to her home state, California, on Wednesday after a spate of mass shootings that have left at least 19 people dead in the last several days.
Harris tweeted that she will visit Monterey Park "to stand and mourn with the community" after a mass shooting took place there over the weekend.
"As we grieve Saturday's mass shooting in California, we already face two more this week alone in Half Moon Bay and Oakland," she said.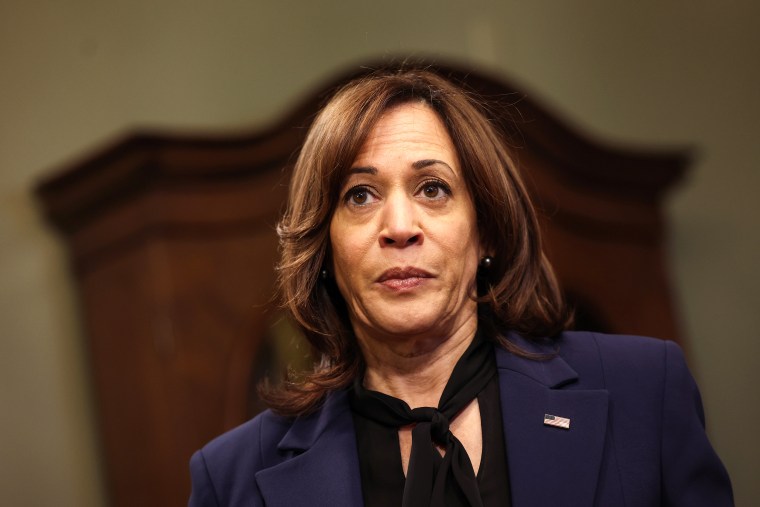 A gunman shot and killed 11 people and injured nine others at a dance studio in Monterey Park at an event Saturday to mark the Lunar New Year. Two days later, at least seven people were killed and one person was seriously injured when a gunman opened fire at two agricultural businesses in Half Moon Bay. And in Oakland, a separate shooting left one person dead and seven others injured.
President Joe Biden disclosed Harris' coming trip while speaking to reporters Tuesday as he met with the vice president and top Democratic congressional leaders at the White House about their legislative agenda, which includes a bill that would ban so-called assault weapons.
"Our hearts are with the people of California. They've been [through] a rough couple of days," Biden said in the Roosevelt Room.
Biden noted that he visited California just last week to view the damage caused by recent floods and storms. "Then, on top of that, we see what's happened in California, and what's happened to the Asian American community has been devastating," he said.
"The vice president is going to be going out" to California, Biden said, without providing any details about her trip.
Biden said he has been speaking with a number of California Democrats, including Gov. Gavin Newsom, Reps. Judy Chu and Anna Eshoo, and Hilda Solis, a member of the Los Angeles County Board of Supervisors. Biden also mentioned that on Monday, a group of Senate Democrats, including California's Dianne Feinstein, reintroduced legislation to ban assault weapons.
Biden asked the group of congressional Democrats to send the measure to his desk as quickly as possible, saying it's "really needed badly."
However, it's highly unlikely that an assault weapons ban — which was in place for a decade starting in 1994 until it expired in 2004 — would make it through Congress, especially with Republicans in the majority in the House.