HIGHLAND PARK, Ill. — Vice President Kamala Harris made a brief, unscheduled visit to a northern Chicago suburb Tuesday evening a day after a mass shooting ravaged the town.
Harris traveled to Highland Park just after authorities announced first-degree murder charges against Robert Crimo III, who is accused of killing seven people and injuring dozens more during a Fourth of July parade.
After she arrived, the vice president spoke with Mayor Nancy Rotering and shook hands with law enforcement officials, thanking them for their work.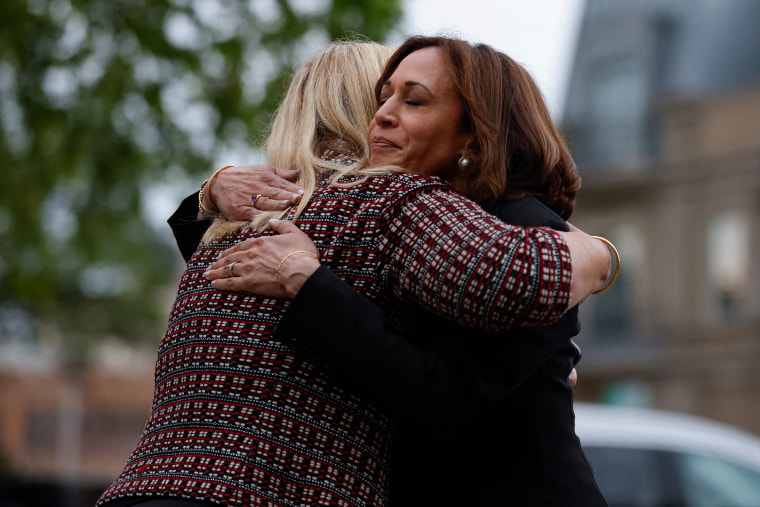 "There is no question that this experience is something that is going to linger in terms of the trauma. And so I'd like to urge all the families and all the individuals to do, seek the support that you so rightly deserve," Harris said.
"We'll deal with what we need to deal with ... as we move forward, all agreeing that we've got to be smarter as a country in terms of who has access to what. And, in particular, assault weapons," she added.
Rotering said Harris called her after the shooting and asked whether there was anything she could do to help.
"I said, 'If you could please come to my community and thank the first responders who have been working around the clock,'" Rotering said in a brief interview Tuesday night. "They're very traumatized to some extent by the carnage that they saw."
Rep. Brad Schneider, a Democrat who represents Highland Park, said he and Harris spoke briefly during the visit about the need for a ban on assault weapons.
"We need to do something about these mass shootings. We need to get assault weapons off the streets. We need to have background checks," Schneider said he told Harris, who in turn was sending the same message to everyone there. "She said the same thing — everyone is in a similar place."
Harris also met with state Sen. Julie Morrison.
The visit came shortly after Harris delivered remarks at the National Education Association's annual meeting, where she addressed the Highland Park tragedy.
"We have more to do," she said, calling on Congress to ban assault weapons. "An assault weapon is designed to kill a lot of human beings quickly. There is no reason that we have weapons of war on the streets of America. We need reasonable gun safety laws."
President Joe Biden last week signed into law landmark bipartisan gun legislation but said more action was needed.
"I know there's much more work to do, and I'm never going to give up, but this is a monumental day," Biden said at the time.