WASHINGTON — The Secret Service said Tuesday it is investigating how an intruder was able to get inside the home of White House national security adviser Jake Sullivan in the middle of the night a few weeks ago.
A spokesman said the agency is looking into "a security incident that took place at a protectee site."
"While the protectee was unharmed, we are taking this matter seriously and have opened a comprehensive mission assurance investigation to review all facets of what occurred," spokesman Anthony Guglielmi said in a statement.
"Any deviation from our protective protocols is unacceptable and if discovered, personnel will be held accountable. Modifications to the protective posture have also been made to ensure additional security layers are in place as we conduct this comprehensive review," he added.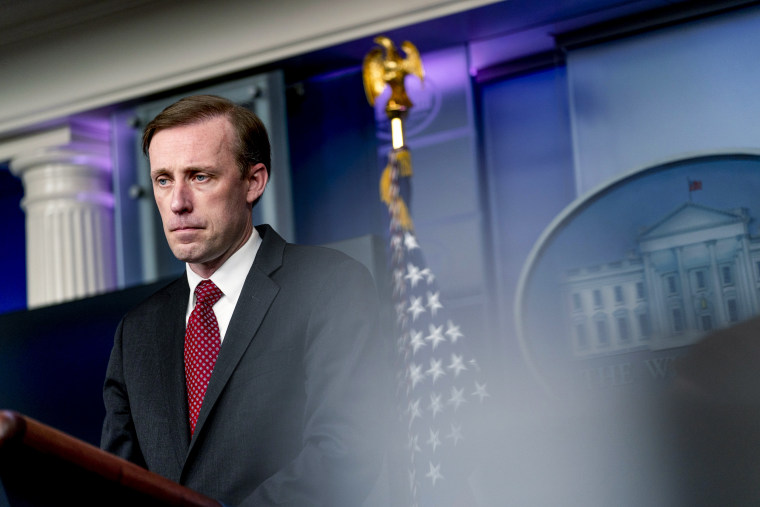 Guglielmi did not say what happened to the intruder or whether there was an interaction with Sullivan. The White House declined to comment.
The Washington Post, which first reported the intrusion, cited three government officials who said that the incident occurred around 3 a.m. ET one night in late April and that the intruder was not detected by Secret Service agents guarding Sullivan's home in Washington.
Sullivan, 46, has been President Joe Biden's national security adviser since the beginning of his presidency, and he was Biden's national security adviser from 2013 to 2014 when he was vice president. Sullivan held other roles in the Obama administration and was also chief foreign policy adviser to former Secretary of State Hillary Clinton during her 2016 presidential campaign.
Elected officials and other public figures have faced increased threats in recent years.
On Monday, a 49-year-old Virginia man was accused of entering the district office of Rep. Gerry Connolly, D-Va., with a metal baseball bat and attacking two members of his staff.
In October, a man with a hammer attacked Paul Pelosi, the husband of then-House Speaker Nancy Pelosi, D-Calif., at their home in San Francisco. The man who was charged allegedly said he was looking for the speaker at the time. He has pleaded not guilty to state and federal charges.