WASHINGTON — President Joe Biden highlighted the differences between "Bidenomics" and "MAGAnomics" in a speech Thursday afternoon, ramping up criticism against Republicans ahead of a potential government shutdown.
"They tell you what they're against. What are they for? It's like they want to keep it a secret. I don't blame them," Biden said, in reference to the GOP. "Well, today I'm going to, I'm going to talk about their plans."
During his speech, which lasted more than 30 minutes, Biden lambasted Republicans' economic vision, asserting that the budget they proposed this summer would lower taxes for the wealthy; cut Social Security, Medicare and Medicaid; and raise costs for families.
"This is part of a concerted new push to not only define what the president's economic agenda is and why it's working, but call out Republicans at a higher volume for economic policies that are both deeply politically unpopular and would undermine the economic progress we are making," a senior White House official said ahead of the speech.
The speech in Largo, Maryland, comes in the shadows of a potential looming government shutdown if Congress does not decide how to fund the government before money runs out at the end of September. Biden used the term MAGAnomics for the first time to attack GOP economic policy, according to the official.
"Their plan, MAGAnomics, is more extreme than anything America has ever seen before," Biden said. "Just months ago, they went further than anyone has ever gone threatening to default on the debt."
Biden also criticized Donald Trump's record on the economy. As usual he referred to the former president as "my predecessor" rather than by name.
"My predecessor promised to be the greatest job president in history. Well, it didn't really work out that way. He lost 2 million jobs over the course of his presidency — 2 million," Biden said. The number of jobs lost under the Trump administration was actually closer to 2.7 million, according to Federal Reserve data.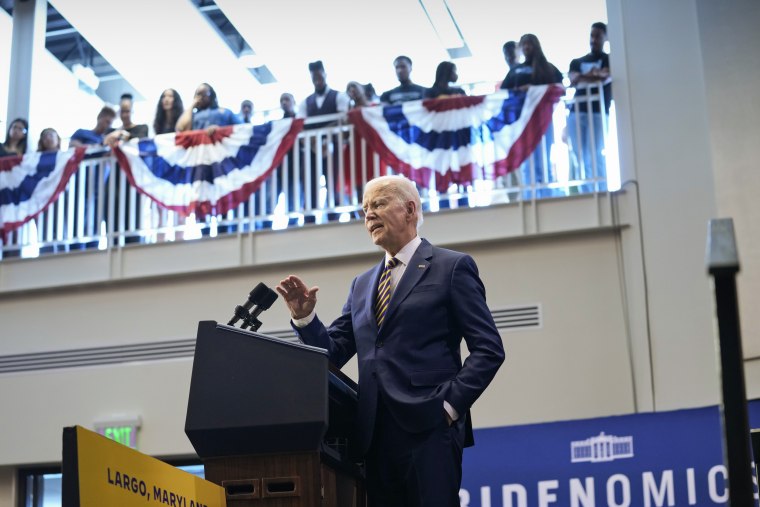 Ahead of the speech, White House senior adviser Anita Dunn sent out a memo arguing that the contrast between Bidenomics and MAGAnomics will "define the fall budget debates." The memo would be sent to congressional Democrats and other allies, the official said.
"House Republicans have understandably been reluctant to tout the MAGAnomics Budget — but the White House is going to spend much of this fall doing it for them," Dunn said in the memo.
Dunn also criticized the Republican Study Committee's proposed budget with an argument mirroring Biden's speech, asserting the plan would cut taxes for the wealthy; cut Social Security, Medicare and Medicaid; and "raise costs for hardworking families." The committee introduced a budget proposal in June that aims to cut spending by $16.3 trillion and taxes by $5.1 trillion over 10 years.
Representatives for the RSC did not immediately respond to a request for comment, but the committee had pushed back against similar criticisms in its budget proposal.
"Again, despite the false claims from the Biden administration, the RSC Budget does not cut benefits or raise premiums for Medicare beneficiaries," the document said. "In fact, it lowers premiums for these seniors."
Biden, at a campaign reception Wednesday, made his first comments on the GOP-led impeachment inquiry that House Speaker Kevin McCarthy, R-Calif., announced a day earlier. The president alleged that Republicans launched the impeachment efforts because they want a government shutdown.
"I don't know quite why, but they just knew they wanted to impeach me. And now, the best I can tell, they want to impeach me because they want to shut down the government," Biden said at the campaign reception.
Biden's approval rating stands at around 42%, according to a Reuters/Ipsos poll earlier this month. The poll also showed that 23% of respondents believed the economy was the most important problem facing the country. Biden's approval rating rose slightly from the Reuters/Ipsos poll released in August, which found that 40% of respondents approved of the president's performance.