WASHINGTON — John Bolton, President Donald Trump's new national security adviser, chaired a nonprofit that has promoted misleading and false anti-Muslim news, some of which was amplified by a Russian troll factory, an NBC News review found.
The group's authors also appeared on Russian media, including Sputnik and RT News, criticizing mainstream European leaders like French President Emmanuel Macron.
From 2013 until last month, Bolton was chairman of the Gatestone Institute, a New York-based advocacy group that warns of a looming "jihadist takeover" of Europe leading to a "Great White Death."
The group has published numerous stories and headlines on its website with similar themes. "Germany Confiscating Homes to Use for Migrants," warned one from May 2017, about a single apartment rental property in Hamburg that had gone into temporary trusteeship. Another from February 2015 claimed the immigrants, for instance Somalis, in Sweden were turning that country into the "Rape Capital of the West."
Gatestone is "a key part of the whole Islamaphobic cottage industry on the internet," said Ibrahim Hooper, spokesman for the Council on American-Islamic Relations, a civil rights and advocacy group.
Hooper added that Bolton being associated with Gatestone, "and in one of the most powerful positions on the planet, is very disturbing."
On its web page, Gatestone says it is a nonpartisan nonprofit "dedicated to educating the public about what the mainstream media fails to report" on a variety of topics, including human rights, free speech and energy.
Alina Polyakova, a Brookings Institution fellow who studies far-right populism and disinformation campaigns in the European Union, said Gatestone is "putting out content that was clearly anti-immigrant, anti-Muslim and was echoing some of the Russian disinformation propaganda" being spread by internet trolls and on social media.
Polyakova said she and others in the Washington foreign policy community were "surprised" Bolton had chaired the group.
Bolton formally started as national security adviser in early April. He has continued to meet with White House attorneys over possible conflicts of interest, including his political action committee, and his affiliation with Gatestone is a potential focus.
The NSC said it does not respond to inquiries about outside organizations but confirmed Bolton is aware of the story.
Bolton doesn't appear to have had his name on the anti-Muslim articles at issue on Gatestone's website, focusing his pieces instead on Iran and other topics. Even so, he has a long association with Pamela Geller, an anti-Islamic activist who organized a campaign against a mosque near 9/11's ground zero in Manhattan, having written the foreword for a book she co-wrote and appearing on her internet radio show.
Bolton is also on the record criticizing Trump's initial plan, announced in December 2015, to temporarily ban all Muslims from entering the United States.
Yet in fanning anti-Muslim news, Gatestone had a common purpose with a broader Russian disinformation campaign that sought to portray Western society as at risk of "Islamization."
"We see this kind of pattern emerge where a website puts up something, it looks like a news story, then bots and trolls amplify it," Polykova said.
Some of the group's work was widely distributed, including a claim about Muslim-controlled "no-go zones" in France that Texas Sen. Ted Cruz cited in an op-ed article during the 2016 Republican presidential primary campaign.
Gatestone's president, Sears Roebuck heiress Nina Rosenwald, said in an email that Bolton was not involved in any of the articles and that Gatestone has no knowledge of Russian trolls having promoted its work.
Rosenwald emailed numerous links to support Gatestone's claims, including a number in French and German. One entry flagged as documenting "warring Muslim gangs" in Marseille, France, when translated into English, says only that the city had deployed specialized police officers to a high-crime area, with no mention of warring Muslims.
Another links to comments by German Chancellor Angela Merkel. In calling for uniform regional police standards, Merkel said "no-go" areas where the police avoid going should not be allowed; yet a German government spokesman in Berlin, Johannes Pepping, told NBC News that Merkel was not referring to immigrants or Muslims.
Gatestone has been a significant promoter of the disputed notion that "no-go zones" exist in the heart of major cities where Muslims rule by Shariah law. In January 2015, then-Gov. Bobby Jindal of Louisiana, a Republican, cited Gatestone's research in a speech in London.
In September 2015, Fox News contributor Steve Emerson, who's also written for Gatestone, said in an appearance on the network that the British city of Birmingham is a "no-go zone" for non-Muslims. The claim prompted the British broadcasting regulator Ofcom to find the network in breach of its broadcasting code. Emerson later apologized.
There are undoubtedly serious tensions across Western Europe over an immigration influx from Africa and the Middle East. Yet Ben Nimmo, senior fellow at the Atlantic Council's digital forensic research lab, said, "There's a scary degree of ignorance in the U.S. on conditions in Europe, which was exemplified" in the comments Emerson made on the Fox News broadcast.
Trolls
NBC News found at least four instances of known Russian trolls directly re-tweeting from the Gatestone account, according to an NBC News database of deleted tweets sent by Russian trolls. The stories were sent by trolls identified by Twitter as working for the Kremlin-linked Internet Research Agency.
One of the retweeted stories claimed that 500 churches in London have closed while 423 new mosques have opened, which went viral and was picked up by numerous websites including Breitbart News. The fact-checking website Snopes.com said Gatestone used "shoddy research and cherry-picked data" for the story.
Peter Brierley, an expert on British religious statistics, found that London saw 700 new churches from 2005 to 2012 and the total number of churches increased between 2008 and 2013, fueled in part by mass migration of Christians from places like Poland and Romania.
Gatestone's scholars have appeared in Russian media — including Sputnik and RT News (formerly Russia Today) — criticizing mainstream European leaders including France's Macron.
Geert Wilders, head of the Dutch Party for Freedom and a prominent critic of Islam who is listed as a Gatestone author, was on an RT broadcast last month saying Europe lacks strong political leaders like Russia's Vladimir Putin and Trump. In a May 2017 post on Medium, Gatestone contributor Yves Mamou called Macron France's "useful idiot of Islamism."
"It suits the Kremlin propaganda outlets to portray Western democracies as a failure that have been flooded by migrants and whose societies are breaking down, because then it will make it (democracy) less attractive to Russians," said Nimmo.
Gatestone had revenue of $2.3 million in 2016. Rosenwald's foundation has also supported right-wing pundits including David Horowitz, whom the Southern Poverty Law Center identified in 2011 as one of 10 people in the U.S. "anti-Muslim inner circle."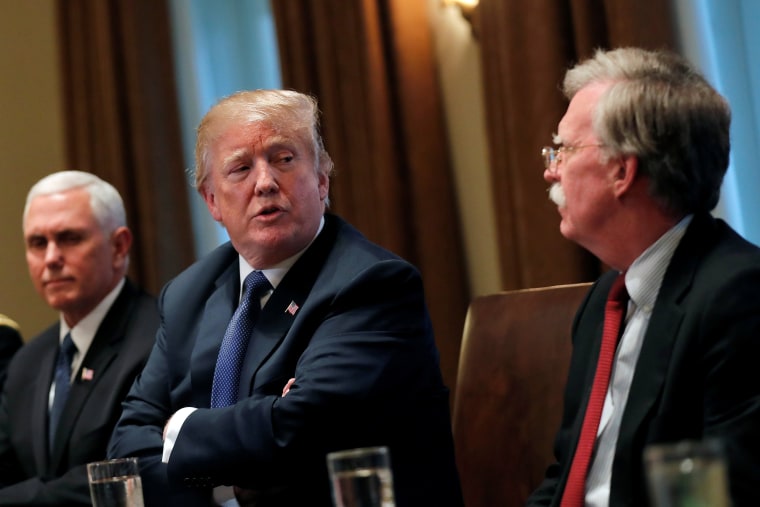 Rosenwald is vice president of the William Rosenwald Family Fund, which funds a host of pro-Israel groups including the Middle East Forum. She has also sat on the board of a number of mainstream pro-Israel organizations and is a member of the Council on Foreign Relations.
Gatestone has also received financial backing from Robert and Rebekah Mercer, the billionaire father-daughter team who have supported conservative candidates in the U.S. including Cruz and Trump. The Mercers also co-founded Cambridge Analytica, the data company being scrutinized by special counsel Robert Mueller as part of his investigation into Trump's ties to Russia.
The Mercers' role in the proliferation of right-wing media also includes funding the alt-right Breitbart News in the U.S.
In an archived 2017 web page, Rebekah Mercer was listed as a member of the Gatestone Board of Governors.
The Mercers contributed $100,000 to Gatestone in both 2015 and 2016, according to Gatestone's tax filings, up from $50,000 in 2014. CNN has reported that the John Bolton Super Pac had a 2014 contract with Cambridge Analytica to provide micro targeting and messaging assistance.
Robert Mercer gave $2 million to Bolton's super PAC in 2015 and $1 million in 2016.
'Disseminating false information'
A glance at Gatestone's archive shows how other right-wing groups and publications frequently cite its work.
Gatestone has taken a particular interest in Germany, which has taken in more refugees than any country in the European Union. The sensationalized headline of one story said the German government was "confiscating homes to use for migrants."
According to Germany-based Correctiv, a nonprofit investigative newsroom, the city of Hamburg did force the owner of six rental properties that sat unused for five years to pay for renovations and rent them. However, the "decision had nothing to do with migrants," said Tania Roettger, a Correctiv journalist, who added, "Gatestone was known for disseminating false information."
Gatestone has also fanned the notion of a German "migrant rape crisis," pointing to real incidents, including an assault on women by several immigrants at a New Year's Eve celebration in Cologne, Germany, in 2015. Der Spiegel conducted a detailed investigation and found "many problems" with that narrative.
The website Snopes.com has debunked other reports from Gatestone, including allegations the European Union had ordered the media not to report when terrorism suspects were Muslim.
In February, Gatestone published a post criticizing the British government's plan to create a new national security unit to combat fake news and disinformation, likening it to censorship and a violation of free speech. The post argues there is no place for government in a democratic "marketplace of ideas" and that it could lead to censorship of satire and parody.
Russian media
A search of articles on Sputnik, the Russian government-controlled news agency, turns up three web pages of Gatestone citations.
They include references critical of European leaders including Macron and Merkel.
A Sputnik piece from October 2016 cites Gatestone's research into the "epidemic of rapes and sexual assaults" in Germany and warns against the "Islamization of Germans." An August 2016 article cites Gatestone in claiming "a clandestine rape epidemic seems to be raging" in Sweden.
Rosenwald sent to NBC News a series of articles documenting specific rapes, and there was a violent gang rape in 2016 in a Stockholm suburb that led to protests after the five immigrant defendants were acquitted.
Yet again, the stories dramatize the numbers, which were subsequently amplified by Russian media.
In August 2016, Sputnik published a story citing Gatestone authors claiming rapes had increased 1,472 percent "since the formerly homogenous Sweden state turned multicultural in the 1970s."
A chart by Sweden's National Council for Crime Prevention shows the number of reported cases increased 13 percent from 2015 to 2016, while still lower than in 2014. An increase over the past decade is "partially explained" by a broadening of the definition of rape in 2005 and 2013.
An RT article on Bolton's appointment struck a critical tone, noting that it "further distances Trump from his campaign promises to 'drain the swamp.'"
Still, on Oct. 16, 2016, one Kremlin-linked troll with the handle @prettylaraplace retweeted at Trump a suggestion that he appoint Bolton to his Cabinet.