President Donald Trump's chief of staff, John Kelly, emailed White House employees Thursday night to assure them that the administration takes "matters of domestic violence very seriously."
The letter from Kelly to staffers comes as Trump's top aide has taken criticism for mishandling allegations against high-level West Wing staffer Rob Porter, who was accused of being physically and verbally abusive by his two ex-wives.
"We understand the shock, pain and confusion that these allegations have caused in our workplace," Kelly wrote in the memo, emailed to staff and obtained by NBC News. "It is important for me to tell you — you are not alone."
Kelly also called domestic violence "abhorrent" and said it has "no place in our society." He said the White House has resources available on-site for any staffers seeking counseling after Porter's resignation on Wednesday. He signed off with thanks "for all your work and for your continued service to the American people."
Porter's ex-wives, Jennifer Willoughby and Colbie Holderness, confirmed to NBC News their accounts, first reported in the Daily Mail, that Porter was physically and verbally abusive to them during their marriages.
In an interview with NBC on Thursday, Willoughby recounted telling the FBI about the abuse during background check interviews for Porter's security clearance. "During the FBI background interview for security clearance, I shared with the FBI all of the details that I shared in previous articles, including access to a protective order from June of 2010, and police calls that I had made to our home," she told NBC News' Kristen Welker.
Willoughby also said she thought it was possible that Porter could be blackmailed about the alleged abuse in response to a question from the FBI.
Porter, in a statement announcing his departure Wednesday, called the allegations "outrageous" and "simply false."
Kelly's own reaction evolved over the course of this week. Initially, the White House issued statement attributed to Kelly that was supportive of Porter. That initial statement drew criticism for its praise of Porter as a "man of true integrity and honor."
Former Office of Government Ethics director Walter Shaub lashed out at Kelly Wednesday on Twitter, mocking the idea of him being "the White House's adult."
After a photo of the alleged abuse surfaced, Kelly issued a new response.
Trump's chief of staff said Wednesday evening that he was "shocked by the new allegations" against Porter and said "there is no place for domestic violence in our society." He also said he stood by his prior comments "of the Rob Porter that I have come to know since becoming Chief of Staff."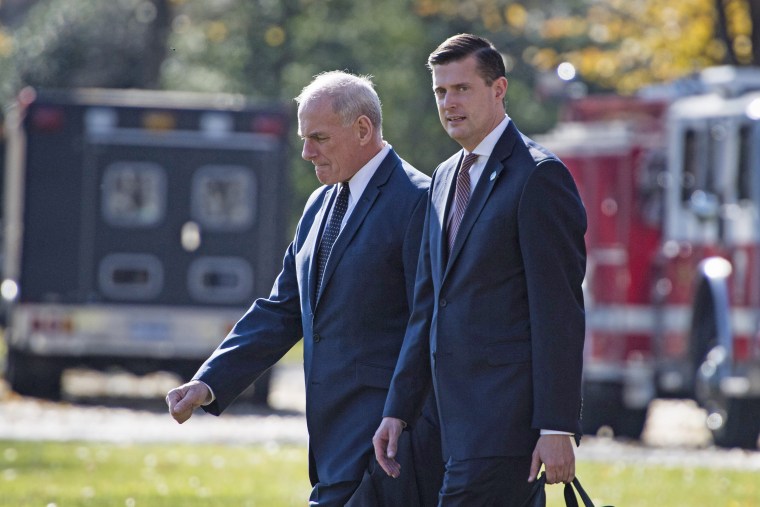 Principal Deputy White House Press Secretary Raj Shah called the allegations "serious and disturbing" during a press briefing Thursday afternoon and confirmed that Porter had been working off a temporary security clearance. Shah admitted that the situation could have been handled better by the administration.
"I think it's fair to say that we all could have done better over the last few days in dealing with this situation," he said.
According to Shah, Trump only became aware of the allegations against his staff secretary Tuesday night and was not previously aware that Porter was using a temporary security clearance while serving in the administration.