MOON, Pa. — Less than two years after Donald Trump promised to make America great, he seemed to declare mission accomplished on Saturday, revealing that his reelection slogan will be "Keep America Great!"
Trump first broached the slogan idea before he was even sworn in last year. But as he hailed his administration's accomplishments on foreign and domestic policy at a rally here, he suggested he had already succeeded in delivering on his original slogan.
"We can't say 'Make America Great Again,' because I already did that," Trump said before thousands of supporters in an airplane hanger.
Trump came to this Pittsburgh suburb to rescue Rick Saccone, the Republican congressional candidate struggling in Tuesday's special election here.
"The world is watching," Trump said. "Get out on Tuesday and vote like crazy."
Related: Mnuchin addresses Trump's policy on North Korea, brushes off vulgar language used at rally
But over the course of more than 75 minutes, Trump seemed more interested in talking about almost anything — and everything — else under the sun, delivering the kind of unfiltered stemwinder rarely given by a sitting United States president.
"What's more fun than a Trump rally?" the president asked.
Trump went through the motions to endorse Saccone and attack his Democratic opponent, Conor Lamb.
But his speech was reminiscent of the one he gave for Alabama Senate candidate Luther Strange days before the state's GOP primary last year, in which his tepid endorsement was overshadowed by his attacks on NFL players.
"Do me a favor, get out on Tuesday. Vote for Rick Saccone, and we can leave right now," Trump said at the top of his remarks, before returning to the topic later.
In between, Trump, who relishes the freedom of the the campaign trail, unloaded his thoughts on a host of other topics:
Oprah: "I'd love to beat Oprah. I know her weakness."

His 2016 election: "One of the greatest nights in the history of television in terms of people watching."

Rep. Maxine Waters, D-Calif., who is pushing for his impeachment: "A very low IQ individual."

His diplomacy with North Korea: "Without Donald Trump, the Olympics would have been a total failure ... a little hard to sell tickets when you think you're going to be nuked."

Washington, D.C.: "A lot of evil there."

Sen. Elizabeth Warren, D-Mass.: "She was so angry, I think she's losing the entire male audience and some of the woman."

His reelection campaign: "I look forward to 2020, because I want to see how far left the person that we're going to run against is going to be."
Trump also attacked his three most recent predecessors: Barack Obama, Bill Clinton and even George W. Bush, a Republican. "He got us into the Middle East," Trump said of Bush. "You know what they did? That was like taking a big stone and throwing it into a hornet's nest."
But more than any other topic, Trump talked about himself, reminding voters he went to Wharton School of the University of Pennsylvania, telling anecdotes about his popularity, even doing an impersonation of what it would be like for him to act presidential.
"You know how easy ... it is to be presidential? But you'd all be out of here right now. You'd be so bored," Trump said, before delivering a stiff imitation of what he said would be a presidential speech. "See that's easy! That's much easier than doing what I have to do. But this is much more effective. Don't forget: this got us elected."
"If I came like a stiff, you guys wouldn't be here tonight," Trump said.
At one point, Trump said that when he visited China he was told that the country imposes the death penalty for drug dealers, and he spoke favorably of other countries' tough penalties, including life in prison and he mentioned Singapore.
Trump claimed that sentences in the United States are too light considering the deaths that drugs can cause, and said "I don't think we should play games."
"These people are killing our kids and they're killing our families, and we have to do something," Trump said. Trump also mentioned the opioid crisis, and said "we have to go after the drug companies. We have to. We have no choice."
"I think it's a discussion we have to start thinking about," Trump said.
Trump also talked about Tuesday's election.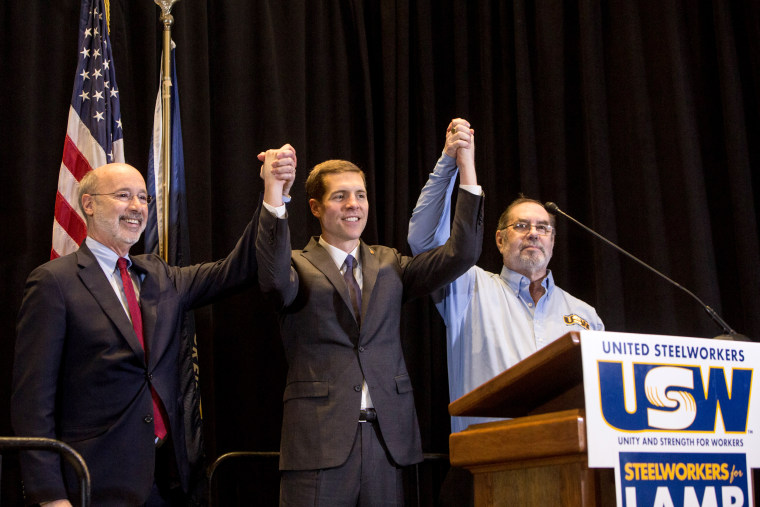 Trump said he was was better looking than Lamb, a 33-year-old Marine veteran and former prosecutor. And he called Saccone, a 60-year-old mustachioed state representative, "handsome."
Trump warned voters not to be "conned" by "Lamb the sham," saying "he'll never vote with us."
But Trump also said he was afraid to meet Lamb, because he might like him. And the president said it "might be possible" that Lamb will follow through on his promise not to vote for House Minority Leader Nancy Pelosi, even though other Republicans are insisting Lamb is a Pelosi stooge.
At the end, Trump brought Saccone back on stage, who thanked the president for coming to the district.
"If President Trump's in your corner, how can you lose?" Saccone said.